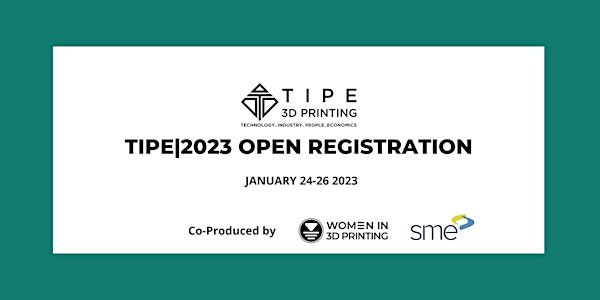 TIPE 3D Printing Conference & Career Fair 2023, by Wi3DP & SME
3 days. 4 tracks. A virtual global event. Join the movement.
About this event
About the TIPE 3D Printing Conference
For its third edition, the TIPE global conference curates, once again, an inspirational all-women agenda of speakers and panelists. TIPE | 2023, though, promises to be the boldest, strongest, and most empowering TIPE edition so far as Women in 3D Printing has partnered with SME, bringing the best of each organization into TIPE.
January 24 and 25: Online conference
January 26: Virtual Career Fair
What to expect:
Get ready for 3-Days, 4-Tracks of additive manufacturing insights - take a look at our agenda!
Visionary talks of the future from leaders shaping the industry
Case studies and additive manufacturing user applications
Introducing the 4 Tracks:
The Technology track is the how behind the industry: It's the hardware, software, materials, and research driving the next generation of additive manufacturing capabilities.
The Industry track dives into the what of additive manufacturing: It's the use cases. What applications drive additive manufacturing adoption and where is 3D printing being used today.
The People track highlights the who behind the progress. It's celebrating the leaders and emerging figures within the 3D printing industry as well as exploring diversity, international business relations, training, recruiting, and other workforce-focused issues.
The Economics track underscores the why behind the rise of additive manufacturing. It's highlighting the business cases for adopting 3D printing: return on investment, time and cost savings, sustainability, and improving the global economy.
About the Virtual Career Fair:
Hear from hiring and recruitment managers about roles in additive manufacturing.
🗓️ RSVP today to secure your virtual seat. Participate in our 'human-centered' virtual networking event to build long-lasting connections with peers and industry leaders.
----------------------
Be the TIPE | Get involved as a speaker, sponsor and recruiter:
👉 Want to become a corporate sponsor to help make this event a reality? Contact us .
👉 Are you recruiting additive manufacturing and 3D printing talent and want to get involved with the career fair? Contact us.
----------------------
FAQ
Is this event only open to women? No! We are open to all and encourage everyone within the industry to participate.
Where is the event hosted? We're hosting our event virtually, so you can tune in anywhere in the world!
----------------------
About Women in 3D Printing
Our mission is to 'Promote, support, and inspire women using Additive Manufacturing technologies,' Women in 3D Printing seeks to foster a more diverse industry.
Over the last 8 years, Women in 3D Printing managed to grow from a simple blog to one of the largest Additive Manufacturing and 3D printing communities worldwide.
About SME
SME is a nonprofit association of professionals, educators and students committed to promoting and supporting the manufacturing industry. SME helps manufacturers innovate, grow and prosper by promoting manufacturing technology, developing a skilled workforce and connecting the manufacturing industry. SME supports manufacturing based on our core belief: Manufacturing is key to economic growth and prosperity.