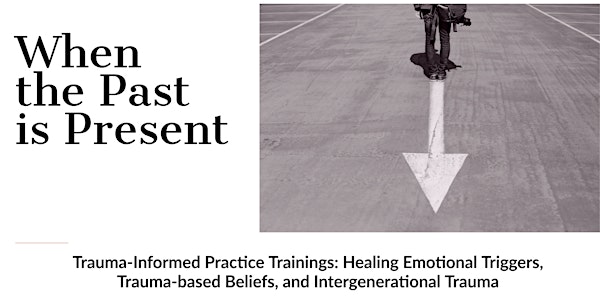 T.I.P Adv. Healing Emotional Triggers, Beliefs & Intergenerational Trauma
Trauma-Informed Practice Training: "When the Past is Present" Healing Emotional Triggers, Limiting Beliefs and Intergenerational Trauma
Refund Policy
Refunds up to 7 days before event
Eventbrite's fee is nonrefundable.
About this event
WORKSHOP DETAILS:
Advanced T.I.P. Training: Healing Emotional Triggers, Trauma-based Limiting Beliefs, and Intergenerational Trauma.
DATE: Sunday November 21, 2021
TIME: 10:00AM am to 3:30PM PST (Vancouver BC time).
ONLINE ( Using Zoom. Participants will be sent Zoom link to room 48 hours prior to the workshop start time)
** Please note, this workshop is limited to a maximum of 24 participants.
Due to requests we are offering this expanded version of the previous short-focused trainings on this same topic. This is an advanced workshop and as such a foundational base of TIP knowledge is highly encouraged. Pre-requisites include any prior trauma-informed training, or completion of at least one of the following TIP trainings:
Trauma-informed practice training Level 1
Trauma-informed Practice Training: "Undoing Aloneness"
Trauma-Informed to Resiliency-Informed Training
Healing Intergenerational Trauma
This workshop is open to those working within the mental health and healthcare fields, as well as those taking the training for general interest.
Background:
This advanced workshop has been created in response to requests from past Trauma-Informed Training workshop participants for a more focused opportunity to learn the skills of healing emotional triggers, limiting beliefs, and Intergenerational Trauma. This is one in a series of shorter, much more focused trainings on these topics being provided in response.
Pre-requisite: completion of any prior trauma-informed training, or one one of the following: Trauma-Informed Training Level 1; From Trauma-Informed to Resiliency Informed Training; or Healing Intergenerational Trauma - important for registration, as this workshop builds on foundational concepts. (If you have any questions regarding pre-requisites please contact the organizer)
This workshop will provide participants with a very clear, easy to understand process that you can use to heal triggers and limiting beliefs. It will also provide a basic understanding of Intergenerational Trauma, and how beliefs are transmitted trans-generationally; including a brief overview of the latest epigenetic research in the area of healing intergenerational trauma. (NB: a longer, more thorough training on healing Intergenerational Trauma is also offered 2021).
This workshop is grounded in research and provides a theoretical framework, along with opportunities for small group work, and work with learning partners, to deepen your understanding of a growing body of trauma-informed knowledge. All exercises are fully optional.
The workshop is informed by the research and work of: Dr. John Briere, Tara Brach, Dr. Susan David, Dr. Ale Duarte, Dr, Linda Graham, Dr. Julianne Holt-Lunstad , Dr. Donald Hoffman, Dr. Rick Hanson, Thomas Hubl, Dr. Bessel van der Kolk, Byron Katie, Dr. Peter Levine, Dr. Brene Brown, Dr. Stephen Porges, Dr. Isabelle Mansuey, Dr. Monica McGoldrick, Dr Resmaa Menakem, Nick Ortner, Dr. David Richo, Dr. Allan Schore, Dr. Daniel Siegel, Jesse Thistle, and Dr. Albert Wong.
This workshop is both for personal interest and also well suited to those working with those affected by childhood, intergenerational, complex, single-incident, environmental, collective, community, or race-based/racialized trauma.
Certificate of Completion will be provided.
*Please note - if you would like to attend this workshop but are unable to due to experiencing financial hardship, please contact us.
Topics Covered:
The Basics: What triggers us and why?
The Neurobiology of emotional triggers and limiting beliefs
Understanding why we hold on to beliefs that keep us suffering
The biggest misunderstanding about emotional triggers
Understanding implicit memory, and its role in the formation of beliefs and triggers
Understanding projection, transference, counter-transference and projective identification
Gain greater understanding of specific/unique triggers associated with Cov19 pandemic : tools for prevention & healing
How to work with emotional triggers and dissociation
Learn a very clear process to quickly identify the trauma based belief underlying a trigger, and the steps to healing. A live demonstration will be provided.
Resourcing and self regulation skills to expand the Window of Tolerance.
How triggers can serve as a catalyst for transformation; for personal, familial, cultural, and societal evolution
Very clear/easy to understand explanation on how beliefs are transmitted trans-generationally. Research and case studies will be included.
Overview of the basic mechanisms of Intergenerational Trauma, including the most recent research on epigenetic transmission. Case studies included
Healing Intergenerational Trauma ( a focus on healing residential school trauma)
How to build Resilience, and foster Post Traumatic Growth
FACILITATOR:
Trish Walsh
Trish is a mental health therapist in private practice, as well as an Instructor, and Trauma-informed Training workshop facilitator, located in Vancouver, British Columbia. From 2008 - 2016 Trish was the Executive Director the InnerChange Foundation where she worked with the Provincial and Federal Government, researchers, clinicians and international experts to increase research, awareness and education in the area of addiction and mental health. Over the last decade Trish has been providing trauma-informed trainings to university students, mental health professionals and the general public. Her work has focused on knowledge translation: specifically, synthesizing research findings in medicine and mental health care to government decision makers; and to physicians, mental health professionals, allied health care providers, along with corporations, community groups and the general public. She has also consulted for several organizations to bring health information to their staff, stakeholders, and the general public. She has a particular passion for conveying research information in an engaging and easy to understand way, aiding decision makers in their funding and public policy decisions, and helping individuals to learn practical strategies for better health, happiness, and personal success. For more info: www.trishwalsh.ca