Event Information
Refund Policy
Refunds up to 30 days before event
Eventbrite's fee is nonrefundable.
A virtual interactive chef-guided workshop to help you prepare, cook, plate and present an extra special Thanksgiving feast.
About this Event
Breville knows this year is a strange one, and it'll feel especially different around the holidays. Traveling home to family may be "off the table", but that doesn't mean your meal can't be just as memorable.
We are excited to team up with hand-selected home chef instructors from Homemade and entertaining & culinary expert Stephanie Nass, aka Chefanie. Together, we'll guide you through preparing, cooking, plating and table presentation for your extra special Thanksgiving feast. Pour a glass of wine and join us as we take away the guesswork and guide you every step of the way.
This is a 2-part workshop series plus VIP donors get access to a bonus session + gift with ticket purchase (Breville Smoking Gun). Breville is hosting this workshop to support you during this very unique Thanksgiving. In addition, ALL ticket proceeds will be donated to our non-profit partner, The Edible Schoolyard Project, that is dedicated to transforming the health of children by designing hands-on educational experiences in the garden, kitchen, and cafeteria, connecting children to food, nature, and to each other. Also in partnership with Imperfect Foods, a food waste-fighting grocery delivery service.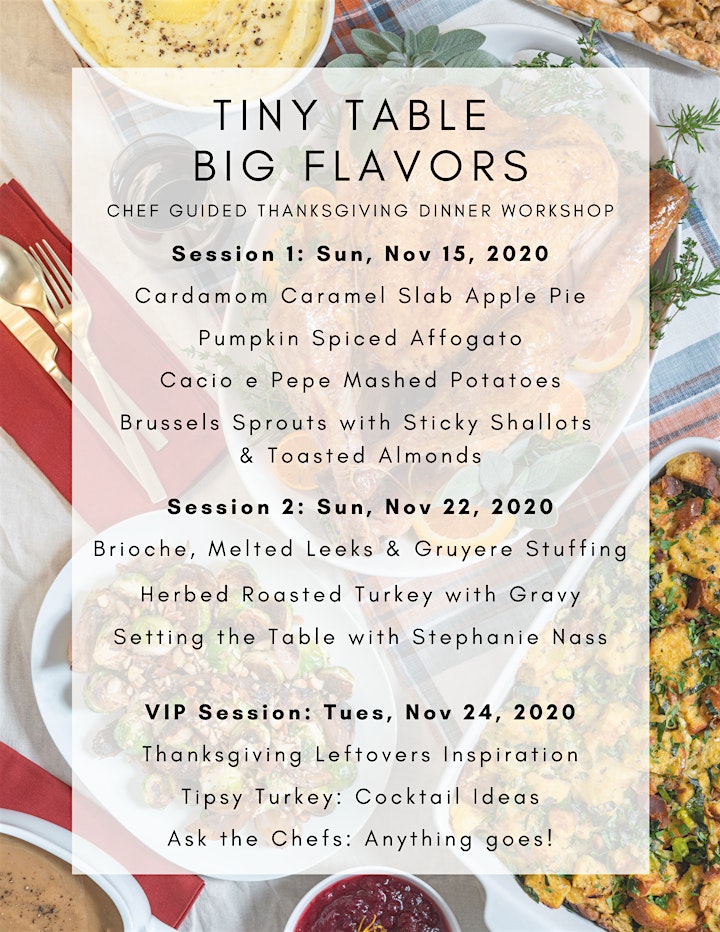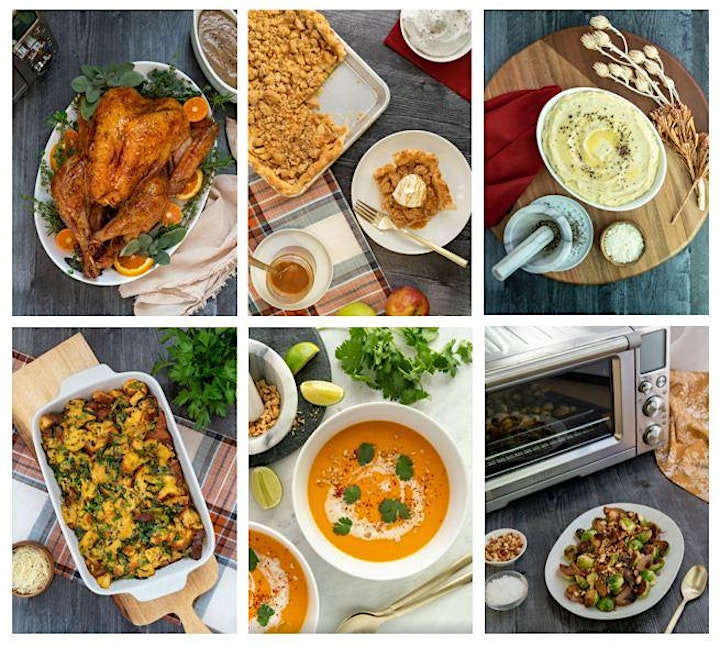 Workshop Dates & Times
Live attendance is optional as all paid donors will be given access to full recording links post workshop. We recommend attending live for the best experience but understand schedules are busy. The workshop consists of the following sessions:
Session 1 | Sunday, Nov. 15th (2 to 5pm PT)
Session 2 | Sunday, Nov. 22nd (2 to 5pm PT)
VIP Session | Tuesday, Nov. 24th (4 to 5pm PT)
What to Expect
The menu curated by our chefs offers a modern twist on traditional favorites yet totally approachable regardless of your experience in the kitchen. Ingredient lists and recipes will be sent in advance of the live sessions. Feel free to cook-along with us, freeze and simply reheat on the big day or use the tools provided and watch the recorded sessions at your leisure as you prepare. The workshop will be virtual, interactive and highly engaging as you will have live access to our panel of chefs.
Virtual Set Up Recommendations
Best viewing is seen via large monitor(s) vs a handheld smartphone. Laptop/Desktop with audio and video capabilities.
Connected to high speed internet access
Best experience is to situate yourself in your kitchen as you may be asked to share your video as you cook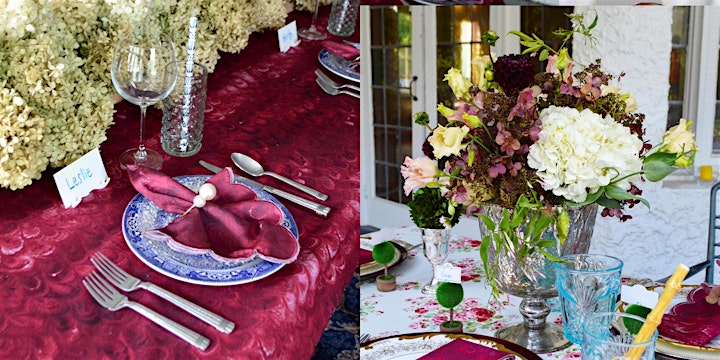 Ticketing Options
All ticket proceeds will be donated to The Edible Schoolyard Project, that is dedicated to transforming the health of children by designing hands-on educational experiences in the garden, kitchen, and cafeteria, connecting children to food, nature, and to each other.
Event will be hosted on Zoom and access will be provided to the email address provided within the ticket checkout.
1) Early Bird Donor - Single Ticket = $25/ea
Includes:
Admission to sessions 1 & 2
Shopping lists and recipes
Early Bird discounted pricing ends Oct. 31st
2) VIP Donor - Single Ticket = $100/ea
Includes:
Admission to sessions 1 & 2
An exclusive bonus session that will cover any last minute questions, cocktails and ideas around leftovers
Shopping lists and recipes
**PLUS a bonus gift of a Breville Smoking Gun ($100 retail value)
**Offer only valid to US Residents.
3) VIP Donor - Bring a Friend Ticket = $75/ea (min. qty 2 tickets)
Make it extra special by turning it into a virtual Friendsgiving! Includes everything in the VIP Single Donor Ticket option at a reduced rate for yourself AND a friend. Must purchase a minimum of 2 tickets, and have information available for each friend you wish to donate a ticket to (email address, shipping information, etc.) in order for them to receive the free gift and access to the event. E-Mail will be sent immediately to your friend directly from Eventbrite after checkout.
Includes:
Admission to sessions 1 & 2
An exclusive bonus session that will cover any last minute questions, cocktails and ideas around leftovers
Shopping lists and recipes
**PLUS a bonus gift of a Breville Smoking Gun ($100 retail value) for you and your friend(s)
**Offer only valid to US Residents.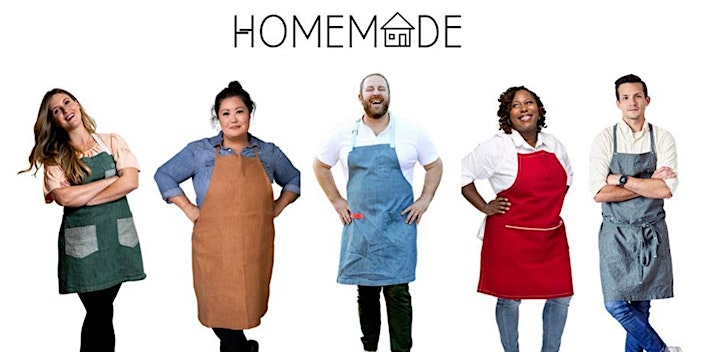 About Homemade
Homemade is partnering with Breville to host an epic personalized virtual cooking event led by the most engaging chefs in America. Co-founders Joel Gamoran and Ben Rosenfeld saw a need for people to be able to gather safely with families, friends, and colleagues around food, and so, Homemade was born. At Homemade, they help groups make lasting memories in their kitchens and bring people together through highly interactive cooking experiences. They are committed to being mindful of their food footprint as we all cook together.
MEET THE CHEFS
Chef Joel Gamoran, best known as the host for A&E's hit series "Scraps," has become one of the nation's most well-known sustainability storytellers. Joel is a graduate of both the Culinary Institute of America and the Culinary Institute of Florence. He spent over ten years as a National Chef for Sur La Table. In 2018 Joel put his passion on paper with the release of his book "Cooking Scrappy" (Harper Collins), inspiring home cooks to turn scraps into delicious meals. Joel also makes monthly appearances on NBC's Today Show, sharing his recipes and sustainability tips to a worldwide viewership. Through entertainment, creativity, humility, and education, Joel brings people together with a common goal of getting good food on the table while being mindful of waste.
Chef Lindsay Leopold knows her way around any kitchen, from her experience working in restaurants, running a culinary program, to her own home kitchen. Lindsay, a graduate of L'Academie de Cuisine in Gaithersburg, Maryland, honed her culinary skills by focusing on classic French cooking and baking techniques. Her Haitian background adds dimension to her French and American style cooking. She's all about bold, bright, colorful, and yummy food. Chef Lindsay has done several media appearances on local radio, television programs, including a demo of Soul Food in celebration of MLK Day at the Smithsonian's American History Museum. Lindsay believes that when her students, family, and friends walk away from her meals and her kitchen, they always walk away with a piece of her heart.
Chef Ben Leonard is a private chef and cooking teacher in Los Angeles, California. After earning a Bachelor's Degree in English for Analytical Writing, he realized cooking was where his future lied. Ben went on to work for celebrated restaurants in his home state of Maine, and then Los Angeles. Four years ago he began exclusively teaching cooking classes at Sur La Table in Woodland Hills, California. During that time, in addition to running the cooking classes, he made numerous television and live cooking appearances. His appearances include hosting a charity dinner for the local community rescue mission, teaching a community kids class, and running events bringing awareness to local restaurants. Ben believes that each of us individually, as well as connections to our friends, families and loved ones, can be improved through cooking. Everyone deserves to feel comfortable and have fun cooking fresh, delicious, healthy food every single day.
Chef Renée Gabbett makes you feel that every meal you share should be celebrated. Exceedingly Midwestern, peppered with Korean and European roots, her style and approach to cooking could be described as New American Comfort Food. Teaching was a very organic and natural transition after working closely with families as a private chef in Chicago and New York. These experiences helped plant a seed for cooking meals that are beautiful and special yet easily created at home. Fifteen years of professional cooking have led to many wonderful and unique experiences. Renée worked as the chef and director of culinary school operations of an International school for pizzaioli based in Venice, Italy. She also designed classes for Goose Island Brewery's global education in beer and food program. Aside from teaching and consulting on cooking with beer, you can find her at Paulie Gee's Logan Square, running catering and private events, and occasionally slinging slices out of the New York slice window.
Chef Ryan Ross is a native of Warrenton, Virginia. She, along with her husband and daughter, have recently moved back to Fauqier county after living in Brooklyn, NY and in Washington State. Ryan has been in the realm of bespoke dining and food–centric events for the last 10 years. She grew up in her Mother's organic health food store, The Natural Marketplace, in Warrenton. Ryan attended the Natural Gourmet Institute of NYC, as well as the Institute for Integrative Nutrition. Ryan is also a certified Holistic Health Practitioner by the American Association of Drugless Practitioners. She is a recipe writer and product developer, and has consulted for plant-based restaurants in Washington state, New York City, on Little Corn Island, Nicaragua, Munich, Germany, and Paris, France and currently at the Red Fox Inn in Middelburg. Ryan is a published author of the N0-Fuss Cookbook for Newlyweds and you can be sure to find more written works by Chef Ryan in the coming future. You can also see her win an episode of CHOPPED, the episode "Light Makes Right," on the Food Network and also catch her co-host the finale episode. She also appeared in the Thanksgiving special of Joel Gamoran's first and second season of SCRAPS on the A&E network.
To learn more, visit them online at withhomemade.com or on Insta @dohomemade.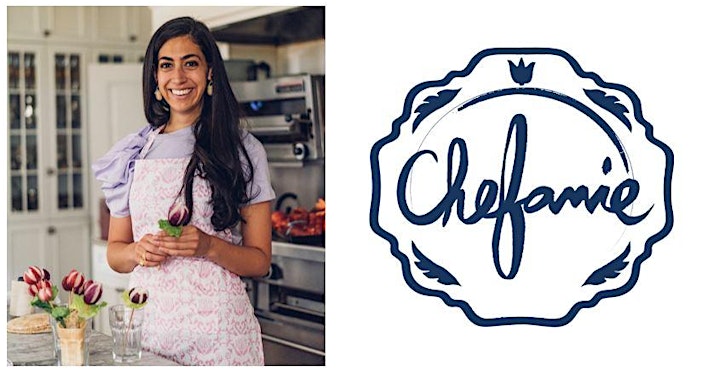 About Chefanie
Stephanie Nass aka CHEFANIE, is a caterer, food blogger, and designer. In 2014, Stephanie launched Victory Club, a supper club to bring people together over the culinary and visual arts. In 2016, Stephanie launched Chefanie Sheets, an innovative dessert "accessory" that can elevate any store bought or homemade dessert. In 2019, Stephanie launched entertaining accoutrements, tableware and accessories, to elevate home entertaining.
Chefanie earned her BA in Art History at Columbia University and her Grand Diplôme in Professional Culinary Arts at the International Culinary Center in NYC. She currently operates in Manhattan. Find more on her website: Chefanie.com.
Who is Edible Schoolyard
The Edible Schoolyard Project is dedicated to transforming the health of children by designing hands-on educational experiences in the garden, kitchen, and cafeteria that connect children to food, nature, and to each other. An Edible Education places the child at the center of their learning and uses food to engage all aspects of the child's education. Through growing, processing, cooking, eating, studying, talking, and thinking about food, students develop skills, knowledge, and behaviors that enrich their academic and nonacademic lives, bolster their growth as individuals and in relationships, and cultivate meaningful engagement with their own health, the health of their communities, and the health of the planet. At the heart of an Edible Education is a just and joyful learning experience for every child. Find out more at edibleschoolyard.org.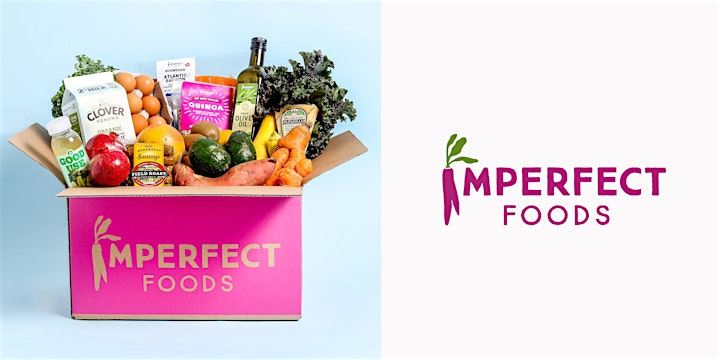 Who is Imperfect Foods
Imperfect Foods is a food waste-fighting grocery delivery service. We source imperfect groceries—including ugly produce and surplus food—directly from farmers, growers and food purveyors and deliver these goods directly to customers' doors through a customizable subscription service that's less than grocery store prices. We're reimagining grocery delivery for a kinder, less wasteful world.
the Smoking Gun®
Level-up your appetizer and cocktail game with the Breville Smoking Gun! Effortlessly smoke food at home with the Smoking Gun. Get ready to enjoy smokehouse flavors that will make you salivate. This amazing kitchen tool allows you to infuse a variety of food and drinks with natural smokey flavors like applewood and hickory with gentle cold smoke.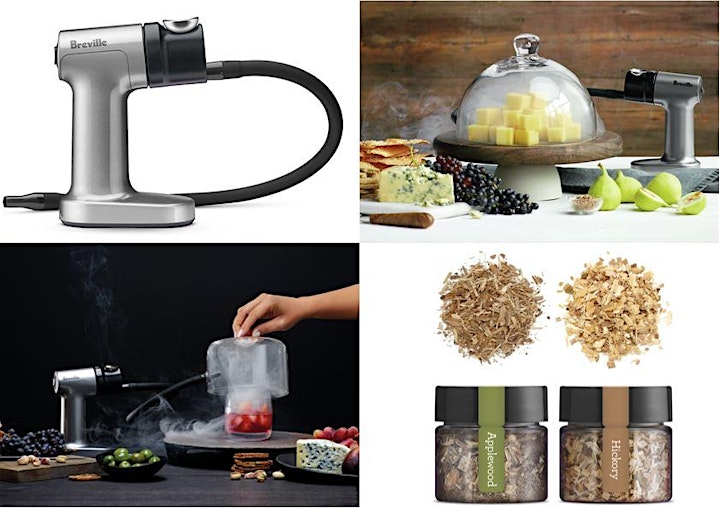 Interested in more Experiences?
Meet the Makers Over Coffee - A Virtual Coffee Tour (COMING SOON)
Date and Time
Location
Refund Policy
Refunds up to 30 days before event
Eventbrite's fee is nonrefundable.