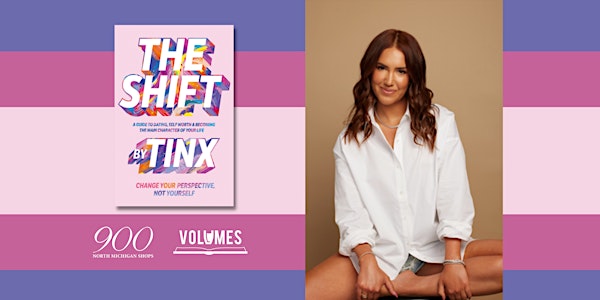 Tinx Book Signing and Meet & Greet Chicago
Tinx is coming to Chicago and we will have signed copies of her book THE SHIFT. Tinx will be meeting with fans for a fun photo op!
Date and time
Starts on Saturday, June 3 · 10am CDT
Location
900 N Michigan Ave 900 North Michigan Avenue Chicago, IL 60611
Refund Policy
Refunds up to 7 days before event
About this event
Join us June 3rd at 900 North Michigan Shops on Chicago's Magnificent Mile as we welcome Tinx! Tinx is on tour with her book The Shift: Change Your Perspective, Not Yourself. Book your ticket to grab a signed copy of her book and meet Tinx herself!
Each ticket holder will receive one signed copy of her new book THE SHIFT! Attendees will get to meet Tinx and a professional photographer will be on hand to take photos of all attendees.
Tickets are slotted for specific times. Please be ON TIME (if not at least fifteen minutes early) for your ticketed time slot. Anyone who misses their time slot will be sent to the end of the line out of fairness for those in line.
If you are parking at 900 North Michigan Shops, each ticket holder will receive a parking validation - making your parking only $10 for 3 hours. Validations will be distributed along with the book at the event.
We expect a rather large amount of attendees, so please arrive early and be ready for your selected time slot.
ABOUT THE BOOK: The lifestyle creator, advice expert, and host of the It's Me, Tinx podcast shares her hilarious and (sometimes brutally) honest wisdom on how to shift your approach to life, step into your confidence, and enjoy the journey.
It's time to get laser focused on what makes us feel happy and fulfilled. Lifestyle creator, advice expert, and podcast host Tinx wants to take your hand and guide you to a new way of thinking about life, love, happiness, and friendships--where dating evolves into era of self-discovery and not just a means to an end, sharing wisdom becomes a collective power, and chaos turns into a source of creativity. Making small but mighty shifts in thinking can be a tool for personal growth that fuels you instead of fatigues you. The point is to know yourself, discover what you fulfills you, and have fun along the way.
In The Shift, Tinx collects all her revolutionary theories and hilarious personal anecdotes in one place, presenting you with a guide to simple mindset shifts that will completely change the way you approach decision making and relationships.
Through her own stories, from the good to the bad, Tinx will help you better understand how to step into your power and own self-worth. Some say you cannot love another before you learn to love yourself: Tinx will teach you how to do both at the same time. And she'll do it while making you laugh out loud.
With her signature wit and candor, Tinx will teach you:
-How to change your scarcity mindset
-How to understand and employ her famous Box Theory dating concept
-How to feed the things that fulfill you
-How living well is the best revenge
-How therapy can reframe struggles into strengths
-How to break up with dignity
-How knowing your worth makes you a better friend and partner
ABOUT TINX:
Christina Najjar, popularly known as Tinx, is a lifestyle creator, advice expert, and podcast host. Tinx's wit and candor have established her as a resounding voice for women, with her uniquely engaging and empathetic approach to content resonating with millions. From her satirical "Rich Mom" content and takes on pop culture, to her theories on sex, dating, and relationships, and her honest reviews and recommendations of everything from food and restaurants to beauty, fashion, and lifestyle products, Tinx possesses an effortless ability to capture the cultural zeitgeist. Tinx has cultivated a devoted fanbase of those who come for her expert advice, often given with her famous mini mic in hand, and to have a great laugh at the same time. In 2022, Tinx launched her podcast and live call-in radio show with SiriusXM, It's Me Tinx, sharing everything her followers have come to know and love about her content while offering an intimate glimpse into her life. Tinx's undeniable impact on social media earned her the distinction as one of Forbes's Top Creators of 2022.
Frequently asked questions
Will Tinx sign other things?
Will Tinx take a photo with me?
Is there food or drink at 900N?
Will I get my book signed?
What if I cannot attend last minute?
About the organizer
Volumes Bookcafe is an independent bookstore and cafe in the heart of Chicago's Wicker Park neighborhood.