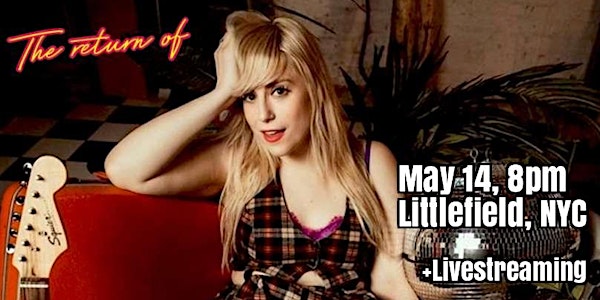 Tinder Live! with Lane Moore
Live Tinder. Live comedians.
Location
littlefield
635 Sackett Street
Brooklyn, NY 11217
Hosted by Lane Moore featuring Joyelle Nicole Johnson and John Fugelsang!
About this event
"Tinder LIVE! is truly addictive entertainment…[it's] ingenious. Moore transforms the banter on a dating app into compelling long-form improvisation. Ms. Moore, a cagey and humane performer, has developed an instinct for turning the raw materials of sexually charged chat with ordinary strangers into honed and generous jokes. "Tinder Live" has a comic momentum and energy that is unusual. The way she manipulates tone and pace reveals an artist supremely confident in her form, not to mention a flirt par excellence." -- The New York Times.
Tinder Live has been named one of the best comedy shows in NYC for good reason. Produced and hosted by comedian Lane Moore (The Onion, HBO's GIRLS, Brooklyn Magazine's "50 Funniest People In Brooklyn," former Cosmopolitan Magazine sex & relationships editor), Tinder Live is a totally improvised, anything-can-happen interactive comedy showstopper with helpful and oftentimes ridiculous Tinder tips, tricks, real-time swiping, and messaging (and sometimes even real-time phone calls with Tinder matches)! You'll relate to Moore's live-swiping and laugh at her reactions and find inspiration in her ridiculous, random emoji-filled messages (and sometimes even phone calls!) to would-be suitors. It's also a great show to attend with a date, Tinder or otherwise. If you've ever been on an online dating site (or a bad date in general), you need to see this show.
The New York Times, New York Magazine, Time Out New York, and Village Voice, have listed the show as one of the best comedy shows in NYC. Brightest Young Things called it "the greatest show on earth," and CBS called it one of the Best Comedy Shows in NYC, saying, "Moore's commentary will make you cry laughing as she randomly sends texts messages to those that peak her interest. It's seriously funny."
The show has also been praised as one of the best comedy shows out there by The Huffington Post, Cosmopolitan, The Guardian, Fast Company, VICE, Vulture, Hello Giggles, Gothamist, Germany's Süddeutsche Zeitung, Brooklyn Paper, Bustle, Metro UK, Paper Magazine, New York Observer, Flavorpill, Brokelyn, Brightest Young Things, Brokelyn, Brooklyn Magazine, and Brooklyn Vegan.
Featuring special guests Joyelle Nicole Johnson and John Fugelsang!
Limited seating. Your ticket does not guarantee a seat.
Lineup is subject to change.
-----
Joyelle Nicole Johnson is a Brooklyn based stand up comedian, writer and actress. She can be seen on the final season of HBO's Crashing and is currently the warm up comic for Hasan Minhaj's Patriot Act on Netflix. Joyelle made her network TV debut last year on Late Night with Seth Meyers and most recently wrote for the final season of Broad City.
She has performed on Comedy Central's digital series Comics to Watch, Wyatt Cenac's Night Train for Seeso, Laff Tracks for TruTV as well as being a panelist for Refinery 29/Facebook Watch's After After Party and MTV News. Joyelle was selected for the 2018 FOX Comedy Showcase, was a finalist in NBC's Stand Up for Diversity Showcase and has performed at festivals like Sketchfest, Bonnaroo, The New York Comedy Festival and Bumbershoot. And while transitioning to the headliner that she is today she regularly features for Hannibal Buress, Maria Bamford & Russell Peters.
She also combines her dream of comedy and activism by touring with Daily Show creator Lizz Winstead's Lady Parts Justice League.