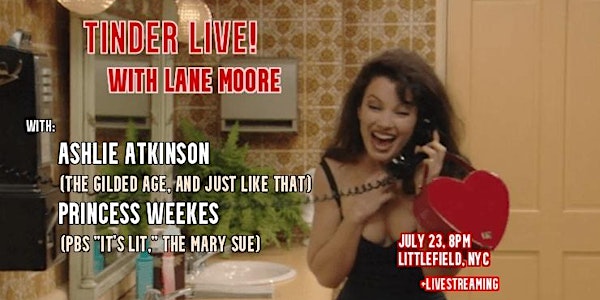 Tinder Live! with Lane Moore & Ashlie Atkinson & Princess Weekes
Live Tinder. Live comedians.
Location
littlefield
635 Sackett Street
Brooklyn, NY 11217
Hosted by Lane Moore with Ashlie Atkinson
About this event
Tinder Live! With Lane Moore is the critically acclaimed comedy show where Moore projects her dating app onto a screen, swipes through profiles live on stage, and the audience votes whether she swipes right or left, to cathartic, hilarious, and surprisingly kind results.
"Truly addictive entertainment…it's ingenious. The way she manipulates tone and pace reveals an artist supremely confident in her form." —The New York Times
"Compassionate and hilarious…it's a smash." –– Spin Magazine
"Always hilarious." —Time Out
"A hilarious comedy show. Moore isn't cynical about love, she's just put in a lot of time in the trenches." —New York Magazine
"Tinder Live captures all the magic of this truly ridiculous era in app-based dating in real time. You'll relate to Moore's live-swiping and laugh at her reactions and messages to would-be suitors." — Vulture, who listed Tinder Live in their list of vital NYC comedy shows
"A ridiculously good time. It's a gonzo romance extravaganza with a treasure trove of ridiculous tips, tricks, and swipe etiquette. Lane Moore hilariously rips apart arrogant, misogynist, or frightening creepers, while genuine, sweet, or earnest schlubs receive a merciful left swipe and remain unmocked." —Village Voice
"Smart and hilarious. This generation's version of The Dating Game." — Hello Giggles
"An anything-can-happen, interactive comedy showstopper." — NBC
"Moore's commentary will make you cry laughing. It's seriously funny." — CBS
Tinder Live With Lane Moore has been featured and praised worldwide as one of the best comedy shows around by The New York Times, The Atlantic, Spin Magazine, The Guardian, Paper Magazine, VICE, Paste Magazine, Fast Company, Cosmopolitan, The Washington Post, Entertainment Tonight, Good Morning America, New York Magazine, The New York Post, Time Out, Huffington Post, CBS, and New York Observer.
Limited seating. Your ticket does not guarantee a seat.
Lineup is subject to change.