Relationship Real Estate is a workshop designed to help real estate agents close more transactions and build their NOW money!
About this event
This event is 9:00 a.m. to 3:00 p.m. on January 10th and 11th, 2022 with a cocktail party to follow from 3:30 p.m. to 5:30 p.m. on January 10th. The median income for a Real Estate Agent in 2020 was $49,700 – Hooquest.com. I don't know about you but that is absolutely ridiculous! Join me to learn how I sold 42 properties my first year in AZ not knowing anybody! Learn how my team has closed hundreds of transactions consistently because of this training I created for them! Learn how to obtain warm body leads that WANT you to contact them without paying for them! You owe it to yourself to master your craft in real estate! WE DO NOT ASK YOU TO BUY MORE PRODUCTS OR SERVICES! This workshop is all you need to create the success you are looking for in your real estate career.
• Get more leads without paying for them
• Corporate level sales training specific to Real Estate
• 16 Steps to Real Estate Success
• The Psychology behind the sales process
• Overcoming objections and closing sequences
• In depth Personality Profiling and Mirroring and Matching
• How to get more offers accepted in a crazy market
• The Listing Presentation made easy with a 95% close rate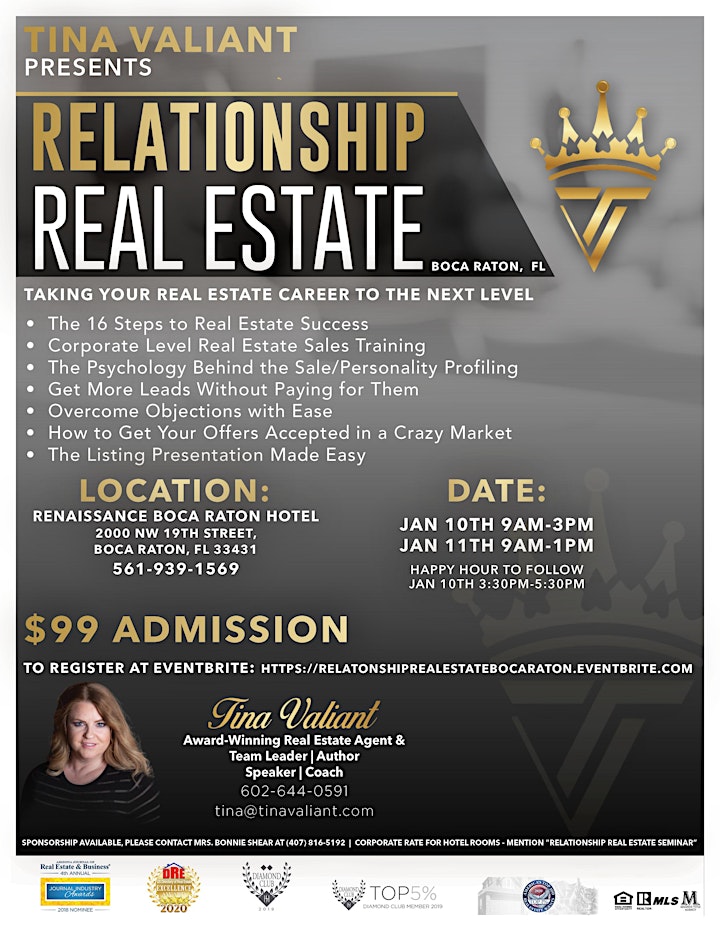 With over 20+ years real estate experience, award-winning agent, author, speaker, and Real Estate Coach, Tina Valiant's career began in Orlando, Florida where she was the top sales agent in Timeshare sales consistently year after year, and was known for her work in foreclosure defense, short sale negotiation, and loan modification -- negotiating over 1000 mortgage loans and helping hundreds of homeowners & investors save their property from foreclosure.
She now sells real estate in the Phoenix, Arizona market where The Arizona Journal of Real Estate & Business nominated her "Rookie of the Year" during her first year of sales. Since that time, her team, The TKay Group has become one of the top teams nationwide, and Tina has earned a reputation throughout the country as an award-winning Team Builder, Real Estate Trainer, and Sales Coach!
Valiant is the author of Finding Your Voice, a personal development book for women seeking to get unstuck from emotional and relational issues that block their success, and is publishing her second book at the beginning of 2022, Relationship Real Estate.
For more information on training with Tina, or to invite her to your event, contact her at tina@tinavaliant.com