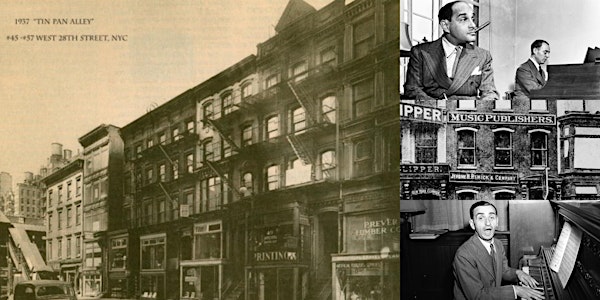 'Tin Pan Alley: The Birthplace of America's Music Industry' Webinar
Can't make it live? Register and get access to the full replay for one week! New York Adventure Club | www.AdventureClub.com
About this event
If you walked over right now to the Manhattan intersection of West 28th Street and Broadway, what would you hear? Unfortunately, like too many streets in NYC these days, probably only construction and car horns. But over 100 years ago, you would have been greeted with something else entirely: a cacophony of sounds from aspiring composers, singing and banging away on the piano, from the sidewalk to walk-up music studios. This is the story of one neighborhood in New York that transformed the city into the songwriting and music publishing capital of the world — a role it still maintains over a century later.
Join New York Adventure Club as we shine a spotlight on the former New York City neighborhood of Tin Pan Alley, the birthplace of the American music industry, which produced some of the most prolific songwriters of the early 20th century.
Led by award-winning author Will Friedwald, who is widely considered one of the nation's most prolific music writers, our virtual journey down Tin Pan Alley will include:
The origin story of Tin Pan Alley, and how a stretch of West 28th Street in Manhattan became the home for independent music publishers and songwriters from around the world
The evolution of the American music business, from the early days where songwriters were largely anonymous, to the mid-1960s when The Beatles and Bob Dylan changed the fundamental business model, to today's '360' management deals
The music styles that converged in the former neighborhood, including jazz & blues from New Orleans, cowboy songs from the American West, and theatrical scores from the theatres in Europe
Stories about the early music legends, such as Irving Berlin, Richard Rodgers, and Cole Porter
Rare and vintage audio & video clips of the legendary Tin Pan Alley songwriters in action, such as Johnny Green playing "Body and Soul and Harold Arlen singing "Stormy Weather — none of which can be found online
Afterward, we'll have a Q&A with Will — any and all questions about Tin Pan Alley are welcomed and encouraged!
Can't make it live? Don't worry, you'll have access to the full replay for one week!
See you there, virtually!
*Immediately upon registering, you will receive a separate, automated email containing the link to join this webinar
**For the best possible viewing experience, please ensure you're using the latest version of your internet browser — Google Chrome is the most compatible. Exact technical requirements and a webinar user guide will be shared in the automated confirmation email upon registration.
***A full replay of the experience will be available to all registered guests for up to a week
About Will
Will Friedwald is a featured arts writer for The Wall Street Journal and Vanity Fair, and the award-winning author of ten books on music and popular culture, including the new Straighten Up and Fly Right: The Life and Music of Nat King Cole, as well as A Biographical Guide To The Great Jazz And Pop Singers, Sinatra: The Song Is You, Stardust Melodies, Tony Bennett: The Good Life, Looney Tunes & Merrie Melodies, and Jazz Singing. He has written over 600 liner notes for compact discs, received ten Grammy nominations, and appears frequently on television and other documentaries. He is also a consultant and curator for Apple Music.
Testimonials
"Super knowledgable presenter, interesting photos and great film clips. Nice adaptive use of the technology and comments area." -David
"The lecture was very informative. Good photos, Speaker was articulate and fun." -Sandra
"Will is a great host and fireside chatter. The insights and history were very well conveyed. The talk held my interest." –Beck
"Perfect pace and tone, informative, and very satisfying! The film clips were especially interesting. I hadn't seen a lot of these. I found the 19th century history to be especially interesting." -Matthew
"Great presentation—instructor was knowledgeable and had a deep interest in the subject. Great visuals and music clips. Presenter also had a sense of humour. Thank you." -Jeanne
"Really interesting presentation with photos, commentary and videos from the comfort of my apartment!" –Diana
"Informed host, interesting topic, well presented. A nice escape from the bad vibes in the outside world. And I could enjoy it in my pj's!" –Mary
"The vintage photos and film clips were amazing." -Carol
"Very informative with a lot of historical photos and sound clips." -Karen
"I already did recommend it. Fantastic. I learned more than I expected." -Elmer
"I liked all the stories, music, history & interconnections, just EVERYTHING!" -Sharon
"As a vocalist, this was very informative historically speaking" -Camille
"Will was engaging and knowledgeable about may different facets of the topic" -Joanna
"Very comprehensive discussion -- great clips. Liked the opening outline of the structure of the presentation." -Anne
"Details; rare film clips; information about the development of Tin Pan Alley; old photos;" -Natalie
"I was very impressed with Will's presentation as well as his off the cuff knowledge on the subject of "Tin Pan Alley". I also enjoyed his "asides". This was my first time I've signed into NY Adventure Club and I expect to be back." -Andrée
"A highly knowledgeable and entertaining lecturer, with superb photos and videos!" -Harold
"The information presented was excellent." -Betsy
"Wonderful clips, historical explanations and great enthusiasm of the presenter." -Stephen
"I liked the clips and the close up shots of peoples names and faces so I can remember who they are and what they did." -Marlene
"The host was terrific. Very personable and knowledgeable!" -Barton
"Lots of interesting info plus I like Will Friedwald." -Lenore
"Excellent clips and screen shots (e. g., of sheet music)." -Robert
"As a student of popular culture and the arts, there was interesting new information presented in regard to turn of the 19th and early 20th century music and performance." -Nina
Disclaimer
By attending a New York Adventure Club experience, you accept our terms of service.
Categories: Virtual, Art & Entertainment