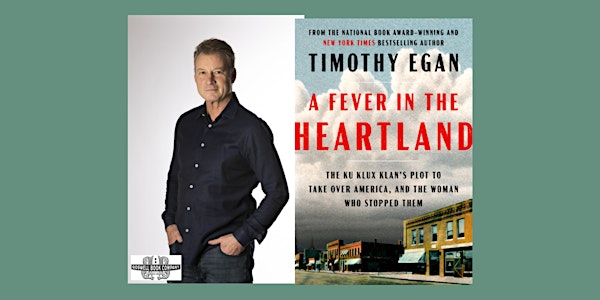 Timothy Egan, author of A FEVER IN THE HEARTLAND - a Boswell event
Timothy Egan, author of A FEVER IN THE HEARTLAND - an in-person Boswell event
Date and time
Starts on Wednesday, April 12 · 6:30pm CDT
Location
Boswell Book Company 2559 North Downer Avenue Milwaukee, WI 53211
About this event
Boswell Book Company presents an evening with Pulitzer Prize-winning author Timothy Egan, author of A Fever in the Heartland: The Klux Klux Klan's Plot to Take Over America, and the Woman Who Stopped Them.
The Roaring Twenties has been characterized as a time of Gatsby frivolity. But it was also the height of the uniquely American hate group, the Ku Klux Klan. Their domain was not the old Confederacy, but the Heartland and the West. They hated Blacks, Jews, Catholics and immigrants in equal measure, and took radical steps to keep these people from the American promise. And the man who set in motion their takeover of great swaths of America was a charismatic charlatan named D.C. Stephenson. Within two years of his arrival in Indiana, he'd become the Grand Dragon of the state and the architect of the strategy that brought the group out of the shadows. But at the peak of his influence, it was a seemingly powerless woman – Madge Oberholtzer – who would reveal his secret cruelties, and whose deathbed testimony finally brought the Klan to their knees.
From Erik Larson, author of The Splendid and the Vile: "With narrative elan, Egan gives us a riveting saga of how a predatory con man became one of the most powerful people in 1920s America, Grand Dragon of the Ku Klux Klan, with a plan to rule the country—and how a grisly murder of a woman brought him down. Compelling and chillingly resonant with our own time."
Timothy Egan is a Pulitzer Prize-winning reporter and the author of nine other books, most recently the highly acclaimed A Pilgrimage to Eternity and The Immortal Irishman, a New York Times bestseller. His book on the Dust Bowl, The Worst Hard Time, won a National Book Award for Excellence in Nonfiction. His account of photographer Edward Curtis, Short Nights of the Shadow Catcher, won the Carnegie Medal for nonfiction.
Click here to order your copy of A Fever in the Heartland from Boswell. Signed copies and personalization available on pre-orders. Please note that signed copies will not be shipped until after the event.