Timeless Principles for Exceptional Businesses: Roundtable Discussion
Description
What does it really take to have an exceptional business and life? As part of its 25-year anniversary, The Alternative Board (TAB) has accumulated a volume of 25 timeliness principles that exceptional businesses incorporate into their strategy, culture and operations. These lasting principles have been accumulated by working with tens of thousands of business owners across the world in the past 25 years. Whether you run a professional, construction, retail or a wholesale business, time and time again, business leaders who succeed follow some of the exact same principles regardless the industry, size or location. You can expect to identify multiple actions you can immediately implement to improve your business.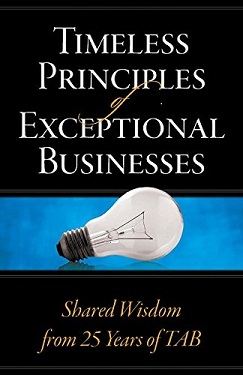 Attendees will be introduced to and participate in a roundtable discussion of some of the most important principles utilized by leading businesses. This workshop includes stories and anecdotes that make this talk both interesting and informative. Topics include:
Keys and steps to building a strong growth strategy and where to start.

Freeing up time in your schedule to focus on those activities that will have the greatest strategic impact on your business.

Incorporating key performance indicators to run a more measurable and predictable business that is focused on results.

The most important factors and steps to exiting your business on your own terms.
These topics are the foundation of this thought-provoking and engaging discussion, presented by local TAB Director Valerie Koenig, and include stories and lessons from real-world businesses that participants will be able to adopt in their own businesses. Each topic includes actual examples from small- to medium-sized business owners and experts who took their businesses (and lives) from good to great.
There is no cost for this event, but attendance is to business owners by invitation only, seating is limited, and you must be registered to attend. For your convenience, we've scheduled this same event for two separate dates - we hope one of these works for you:
Friday, June 22 from 12:00 pm - 1:45 pm
Friday, June 29, from 12:00 pm - 1:45 pm
Lucky attendees will receive a complimentary copy of the Timeless Principles book. A light meal will be served. We hope to see you there - because you will leave this event with ideas and strategies that can have an immediate impact on your life and on the success of your business.
FAQs
What are my parking options?
Inexpensive parking is available at Ali'i Place, 1099 Alakea Street.