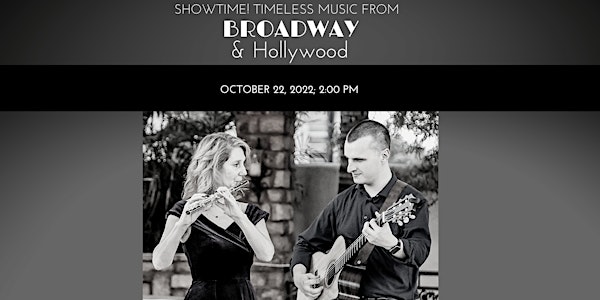 Timeless Music from Broadway & Hollywood - on Flute & Guitar!
Songs that make Broadway & movies great, that make your heart soar! Unique art gallery concert with wine reception. October 22 at 2:00 PM.
When and where
Location
WHAM Community Art Center 16560 North Dysart Road Surprise, AZ 85378
About this event
An Instrumental Concert of Timeless Music from Broadway and Hollywood
*NOTE: CONCERT BEGINS AT 2:00 PM.
The Award-winning SoSco Duo invites you to come hear the songs that make Broadway and movies great, that make your heart soar!
This concert features purely instrumental music, delving into the musical world of Broadway's most famous composers. You will hear your favorite melodies from Phantom of the Opera, Sound of Music, The Godfather, Man of La Mancha, Lawrence of Arabia & many more, played like you've never heard them before - on flute and guitar! During the concert, guitarist and historian Alex Mack will weave in stories and legends behind some of these beloved tunes from the stage and screen. An afternoon not to miss!
The Powerful Music from Broadway and Movies
When characters reach a point where they can't help but explode with feelings of love, success or joy, music is there to amplify emotions to a level beyond spoken words. The songs are lively, celebratory, and infectious. This allows the audience to share the characters' passion and excitement. And that's why so many people love this music.
PURCHASE YOUR TICKET'S NOW. LIMITED SEATING!
(Part of your ticket price will be donated to WHAM Community Arts Center, our host. Support the arts!)
Ticket Price Includes:
Art Gallery Admission
Concert
Wine & snack reception
About the Venue - WHAM Community Art Center
This concert brings the power of instrumental music to the casual, yet inspiring, setting of the WHAM Community Art Center's art gallery. This will be a one-hour program in a unique performance venue.
About the Musicians
SoSco Duo has been honored with the award "Best Musician/Band" by Best of Our Valley for three years in a row – 2017, 2018 and 2019. They have also been nominated for the Governor's Arts Award in the small business category, an award presented by the Arizona Citizens for the Arts in partnership with the Office of the Governor.
In 2021, the duo entered several original music compositions into Artlink's 21st Annual Juried Exhibition, Contemporary Voices. As a result, they were selected to perform live at one of the four Contemporary Voices Sections, hosted at FOUND:RE Contemporary.
Visit SoSco Duo's website: https://soscoduo.com/
Hear SoSco Duo's recordings & watch their videos: https://soscoduo.com/recordings/