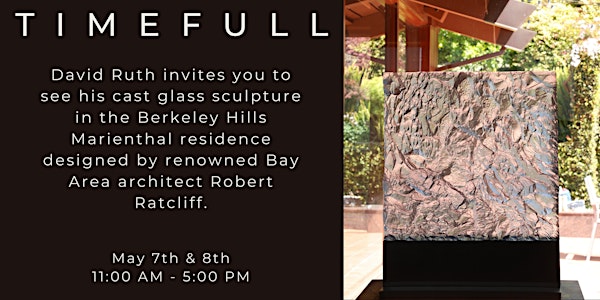 TimeFull by Artist David Ruth in the Berkeley Hills
Artist David Ruth's TimeFull Tour continues in the Berkeley Hills at the Marienthal residence designed by Robert Ratcliff.
When and where
Location
Marienthal Residence 1 Montrose Road Berkeley, CA 94707
About this event
David Ruth cordially invites you to an exclusive viewing of Geologic Editions and Sculptures at the Marienthal residence designed by renowned Bay Area architect Robert Ratcliff.
Please join us for this exclusive look into David's latest work in this historic architectural gem.
Reception: May 7th & 8th 11:00 AM - 5:00 PM
The Geologic Editions and Sculpture represents David Ruth's singular achievement in cast glass. The series of sculptures is formed of composite patterns of rock and ice taken from Antarctica and the Berkeley Hills. This work is the result of more than thirty years of study and experience that employs melding expression of ideas with the formulation of colored glasses. The Geologic Editions represent a continental collision in deep time using patterns of geology to tell a human and geologic story through light. Please join us for a celebration of this glass sculpture at the Marienthal House.
A special thanks to Barbara and Kim Marienthal for their hosting.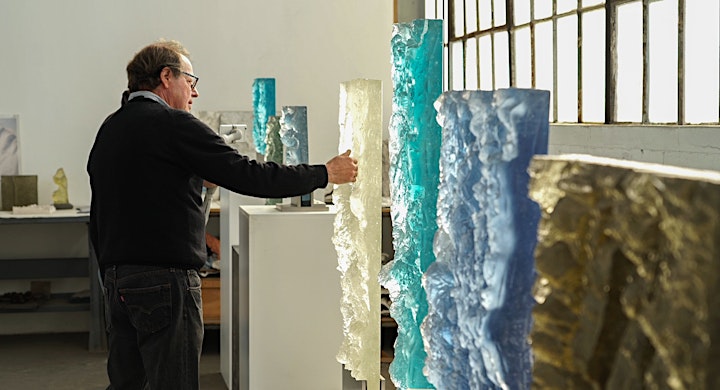 David Ruth is a San Francisco Bay Area artist who is internationally known for setting cast glass in architectural spaces. Melding the transcendence of light and the sensitivity of contemporary sculpture with the ancient art of glassmaking, his artworks inspire viewers to see new possibilities in form, color, and imagery.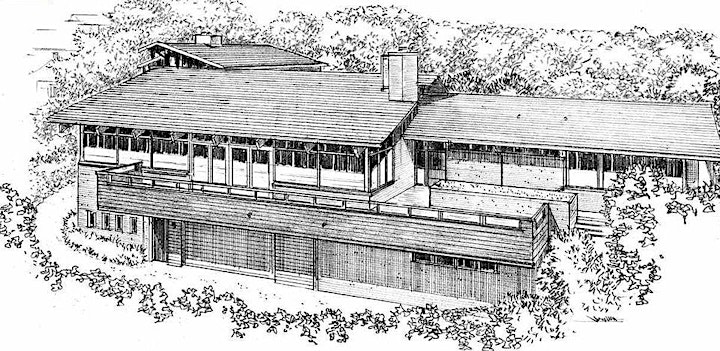 The Marienthal house was originally commissioned by a professor at UC Berkeley and was constructed in 1953 by renowned Bay Area architect Robert Ratcliff. It exemplifies the Berkeley Hills mid-century modern style with an emphasis on natural elements throughout the home and surrounding nature. It features reclaimed redwood from a decommissioned bridge in Sonoma County, adobe brick, glazed tile, and floor to ceiling glass windows. These architectural elements amplify the continuity between the inside and outside spaces seemingly blending them into one.