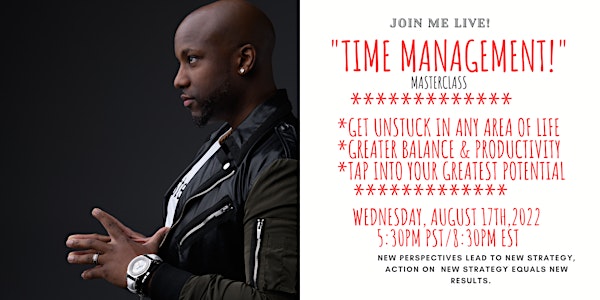 Time Management MASTERCLASS
This workshop is in honor of my 44th birthday! I am excited to share secrets that I have earned and paid for to help you better
About this event
JOIN Leadership/Self-Mastery Coach, Bestselling Author, and Speaker Andre Van Lun for a powerful masterclass outlining 3 tactics for time management mastery in 2022 and beyond! Expect an hour of learning to fuel a lifetime of growth.
Andre has worked with some of the world's greatest brands, CEO's of fortune 50 companies, entrepreneurs, executives, celebrities, and soldiers to unlock their dormant potentials. He has helped them transform their bodies and find well-being. He has helped many high-performer clients find balance between great success, family, and their health and wellbeing, while securing purpose and fulfillment in their lives.
In this powerful masterclass learn how to hack - Time - Energy - & your own thinking to rapidly create more money, better relationships, a healthier body, and tap into greater potentials. Andre shares wisdom and knowledge that he has paid for or earned through working with thousands of minds, bodies, and souls on across the globe. He melds, psychology, human ontology, behavioral modification, and spiritual practices to help people not only achieve desired results, but to maintain them as well. Dre has transformed his own life, defied incredible odds, and created the life of his dreams. He is now a coach that leaders call to transform their lives from the inside out.
Dre shares distinctions and principles (not taught in any school) that you can apply immediately to transform any area of life that could benefit from you having an expanded awareness.
Leadership, self-mastery, and personal development have saved and enriched his life. Sharing this information with the planet is his purpose. He is the hands-on father of 2yr old twins, a loving father and husband, he has been an entrepreneur for 21yrs, and is also a mentor, and investor into at-risk youth across the nation.
Locate and secure your login credentials for the event.
This masterclass is FREE! but RSVP is required.