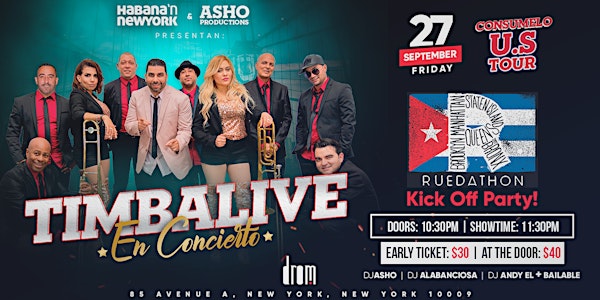 Timbalive en Concierto Exclusivo! Ruedathon Kick Off Party & Concert!
When and where
Location
DROM 85 Avenue A New York, NY 10009
Refund Policy
Contact the organizer to request a refund.
Eventbrite's fee is nonrefundable.
Description
HabanaN'NewYork & Asho Productions present:
Timbalive en Concierto Exclusivo!
Ruedathon Kick Off Party & Concert!
Friday September 27th
Music by DJ Asho , DJ Ala Banciosa & DJ Andy EL + Bailable
Doors Open: 10.30 PM
Showtime: 11.30 PM
Early Tickets: $30
At the Door: $40
DROM | 85 Avenue A | New York, NY 10009
About Timbalive:
In August 2008, renowned music director Leo Garcia decided to take Timba, a subgenre within the wide spectrum of Cuban popular music, to its next level as he founded Timbalive on the other side of the Florida Straights.
His plan was to make and popularize pure Timba music in the United States. This modality of music had been around for several decades but had no strong representatives in the United States until Timbalive saw light, or better yet, brought light to the dance floor all across the world. To accomplish his vision, Leo gathered highly talented musicians educated and trained in the island, bringing the purest Timba elements to the table.
They recorded their first album in May 2009 under the wings of producer Byron Ramos. The record included songs of their own inspiration and from other songwriters. Since the release of "From Miami a la Habana", Timbalive has featured on top-ten charts around the world. They received the Revelation Album Award in France that same year and toured all throughout Europe the following one. They also won Best Timba Album in Peru in 2009.
Since that point on, Timbalive has toured Europe, Mexico, Canada, South America, and multiple States in the US, making this band a reference for dancers and Timba lovers in several continents. Songs from their first album such as "El Dinero", "Ave Maria Que Calor", and Como Miami No Hay Na" are still played by DJs in radio stations and nightclubs worldwide, fulfilling Leo's vision of having an international Timba band based in Miami.
A second album, "La Timba PA' To' el Mundo", was available in 2011. This record obtained a nomination for Best Album in Cubadisco Awards, the most important recognition in the Cuban recording industry.
After several world tours that included Asia and a third album, "Con la Musica Cubana No", the group presented "Gasolina de Avion". This album title refers to the power sound on it, which is boosted with valuable collaborations. Artists such as Grammy winner Descemer Bueno, Los 4, Roberton from Los Van Van, and Maykel Fonts, among others, give this material a higher dimension. The first single, "Todo lo Que Tu Quieras", was released on November 18th, 2015.
NEW ALBUM & DISCOGRAPHY
̈CONSUMELO ̈
"Consumelo" followed in August, 2018. This was another work that gathered some of the most popular artists in Cuban popular music. Mayito Rivera, Issac Delgado, Cesar "Pupy" Pedroso, Emilio "El Niño" Frias, Jose "Pepito" Gomez, and Dayan Carreras are some of the stars that feature on it. This album is a comeback to the essence of the Timba soundand flavor that marked their first album "From Miami a la Havana".
They went back to their foundation, consolidating their trademark sound. Songs like "El Solar", written by Miguel Ruiz and featuring Mayito Rivera and Osain Del monte, encapsulate the spirit of Rumba de solar and Timba like no other. However, the album is balan- ced out by pieces such as "Me Quiere la Otra", which has a more romantic and melodic mood while still being a danceable number. This song features Emilio Frias. "Dejame Ir" is
another gem on this record. This song was written by Grammy winner and sensational songwriter Amaury Gutierrez and sung by the great voice of Issac Delgado.
Several songs in this album are interpreted by some of the singers that were in the band's original lineup. That's the case of "Consumelo", "Malisima" (by the rumbero mayor Boris Monterecy), "Que situación", "Calentando" (by the princess of Timba Aylin Dallera), and "Niño", a song written by Grammy winner Yadam Gonzalez with former Anacaona Eylen Remon on vocals, who also does the first salsa cover of famous Flashdance's soun- dtrack "What a Feeling". Everything here was under the ambitious production of Leo Garcia and musical arrangements of Byron Ramos. Together with Timbalive, they've created one of the most important Cuban records in the last decades.