Event Information
Location
Allstate Building
Cafeteria
8711 Freeport Parkway
Irving, TX 75063
Description
Attend Tim Wackel's Workshop for Toastmasters!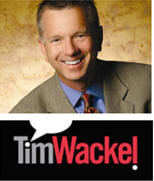 On Thursday, August 29,
noted sales training expert
Tim Wackel
will provide a free workshop for Toastmasters (District 25 and District 50). In this fun, interactive and information-packed workshop, you'll learn how to develop and nurture a healthy sales mentality. You'll also:
· Discover how the right attitude and techniques can help you sell many ideas, products and services.
· Gain insight about how to apply sales fundamentals in Toastmasters and other areas of your life.
· Leave more prepared and enthusiastic about finding and attracting guests to your club and about how to get companies, churches and other organizations interested in forming a new club.
Secure your seat today for the workshop, which begins at 7 p.m. in the Allstate building, 8711 Freeport Parkway in Irving.
Date and time
Location
Allstate Building
Cafeteria
8711 Freeport Parkway
Irving, TX 75063
Organizer of Tim Wackel's Sales Training for Toastmasters