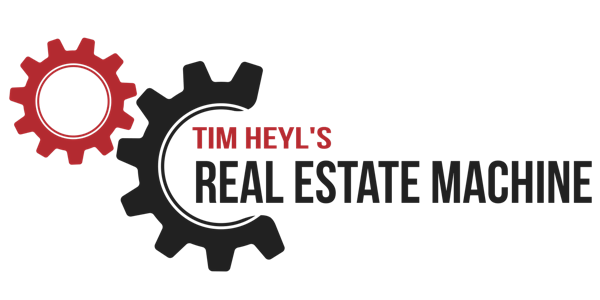 Tim Heyl's Real Estate Machine - Tampa, FL
When and where
Location
The Westshore Grand 4860 W Kennedy Blvd Tampa, FL 33609
Refund Policy
Contact the organizer to request a refund.
Description
Join us at Tim Heyl's NEW Real Estate Machine in Tampa!
Attended one of our REM events in 2016? You'll love the NEW version of Tim's Real Estate Machine, completely re-written and updated to give YOU a clearer path to leverage and owning a team that runs without you!
REM will be a content-filled day of learning, as Tim presents to you the tools, systems and processes that have made The Heyl Group one of the top teams in Real Estate.
Wednesday, July 26th - 8:30am-4pm
CHECK OUT THE VIDEO FOR TIM'S REAL ESTATE MACHINE BELOW!
https://www.youtube.com/watch?v=jOPEqFoHdZY
_________________________________________________________________________________________________________


Want to turn your business into a machine? Want to supercharge your business? Don't try and design the path alone — come learn from the expert who has already done it at a high level.
Tim Heyl, mega expansion agent, not only shows the destination—he demonstrates the path to get there. If you want success, you need to learn how to behave like a successful agent, and Tim can light that path.
Content:
Tim Heyl's Real Estate Machine is a hard-hitting one-day class that walks through the most important aspects of developing your team platform. Tim explores his path from sale #1 to the 7th level, with all the challenges, lessons, tools, systems, and best practices learned along the way.
Topics covered include:
The MREA Models: How to leverage the Organizational, Lead Generation, Economic, and Budget Models for your business
The 7 Levels: The path from solo agent to Expansion Empire explained
Tim's Story: Tim's (not so direct) path to success, with all the ups and downs along the way
Top Heyl Group Tools: The systems, scripts, and partners that have fueled Tim's success
You'll walk out of REM with the mindset of a builder. You'll also receive copies of tools that you can integrate into your business today to boost productivity, reduce chaos, and cut through the fog that real estate can produce. Tools include trackers, scripts, forms, checklists, and more.
Audience:
Agents who are on or intend to be on the Millionaire Real Estate Agent path to leverage, desiring to own a business that runs without them.
---
TESTIMONIALS:
"I had the pleasure over the weekend to take Tim Heyl's Real Estate Machine in Austin, TX. Wow. Take the class. Tim and his team have created a really simple business blueprint built (say that 3x fast) on the MREA models that is both efficient and detailed - one might even say machine like. They willingly shared these models and openly answered questions without reservation. After #kwmc, I was confident my brain would be overloaded and not able to absorb any more information. I was wrong. At the end of the day I walked away with clear action items for myself and a visibly higher level of energy. Take the class." - Joe McCue
"Sharing because I honestly had some of the hugest, most tangible, most applicable, most integratabtle, ahas out of this class on Saturday. Probably more than any other class I have attended all year. And for those of you who know me, know that I've traveled quite a bit! He lays it all out. All the details all his market advantages… All the systems. Tons of tools. Absolutely the most valuable take away from mega camp. That team is one of the most polished I've seen yet and they are so happy to share with everyone in the class to help others succeed. (And I don't say that lightly...)" - Vanessa Noble
"After two Family Reunions and two BOLDS and having only been in real estate for 13 months I was beyond impressed. Tim's very genuine and pragmatic style of presenting shows a step by step recipe for success for the neophyte or sage agent! His parents did a great job raising him! His simplistic way of describing how to untangle the web of KW after you drink the kool-aid was very refreshing. Step by step how to be successful. The best workshop I have ever been to! After going to his class and taking Bold again for the third time next month I feel I am very grounded to double my last years business which even shocked me at how well I did in 10 months. Tim's class should BE A MUST and not an option for every new agent!"
"Amazing, this is the best value yet for me. Everyone should attend this and save lots of money and efforts by knowing how to implement the models and avoid so many mistakes."
*Cancellation Polcy: To get a full refund, cancel within 7 days of event. Cancellations received after that time will be credited the amount paid toward future Tim Heyl events for up to 5 days post event date.