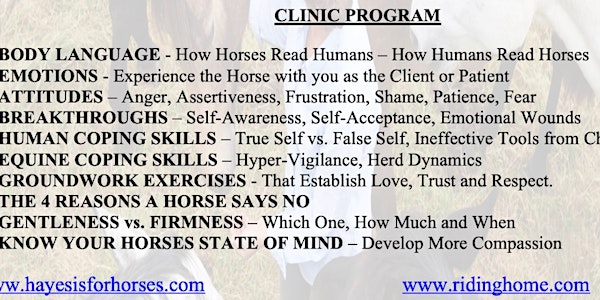 Tim Hayes 1 Day Equine Therapy
Excellent for all equine therapy providers, educators, parents, and mental health professionals
When and where
Location
The Cottonwood Equine Center 11 CC Lane Joliet, MT 59041
Refund Policy
Contact the organizer to request a refund.
Eventbrite's fee is nonrefundable.
About this event
1-DAY EQUINE THERAPY CLINIC WITH TIM HAYES
Natural Horsemanship Clinician & Author of RIDING HOME– The Power of Horses to Heal
FRIDAY, SEPTEMBER 10. 2021 – 10AM TO 4PM
BENEFIT FUNDRAISER FOR COTTONWOOD EQUINE COACHING
www.cottonwoodequinecoaching.com
Excellent for All Equine Therapy Providers, EAL, EAP, EFP, EAT, Instructors, Support and Administrative Staff, Social Service Workers, Parents and Mental Health Professionals Working with PTSD, Violent, Sexual, Divorce and Childhood Traumas, Addiction, Autism, At Risk Youth, War Veterans and anyone interested in Horses, Humans & Healing
Groundwork Only – No Riding - Horses provided by Cottonwood Equine coaching
$250 PER PARTICIPANT – 12 Participants – Maximum - AUDITING $25 - per person
Excellent for all equine therapy providers, educators, parents, and mental health professionals
COVERED ARENA – RAIN OR SHINE
Cottonwood Equine Coaching
11 CC Ln
Joliet, MT 59041
TO REGISTER - FOR INFORMATION - FOR DIRECTIONS
CONTACT: Abby Moreland – 307-751-1796 – or email: abby@thecottonwood.org
CLINIC PROGRAM
1. BODY LANGUAGE - How Horses Read Humans – How Humans Read Horses
2. EMOTIONS - Experience the Horse with you as the Client or Patient
3. ATTITUDES – Anger, Assertiveness, Frustration, Shame, Patience, Fear
4. BREAKTHROUGHS – Self-Awareness, Self-Acceptance, Emotional Wounds
5. HUMAN COPING SKILLS – True Self vs. False Self, Ineffective Tools from Childhood
6. EQUINE COPING SKILLS – Hyper-Vigilance, Herd Dynamics
7. GROUNDWORK EXERCISES - That Establish Love, Trust and Respect.
8. THE 4 REASONS A HORSE SAYS NO
9. GENTLENESS vs. FIRMNESS – Which One, How Much and When
10. KNOW YOUR HORSES STATE OF MIND – Develop More Compassion
www.hayesisforhorses.com www.ridinghome.com