Description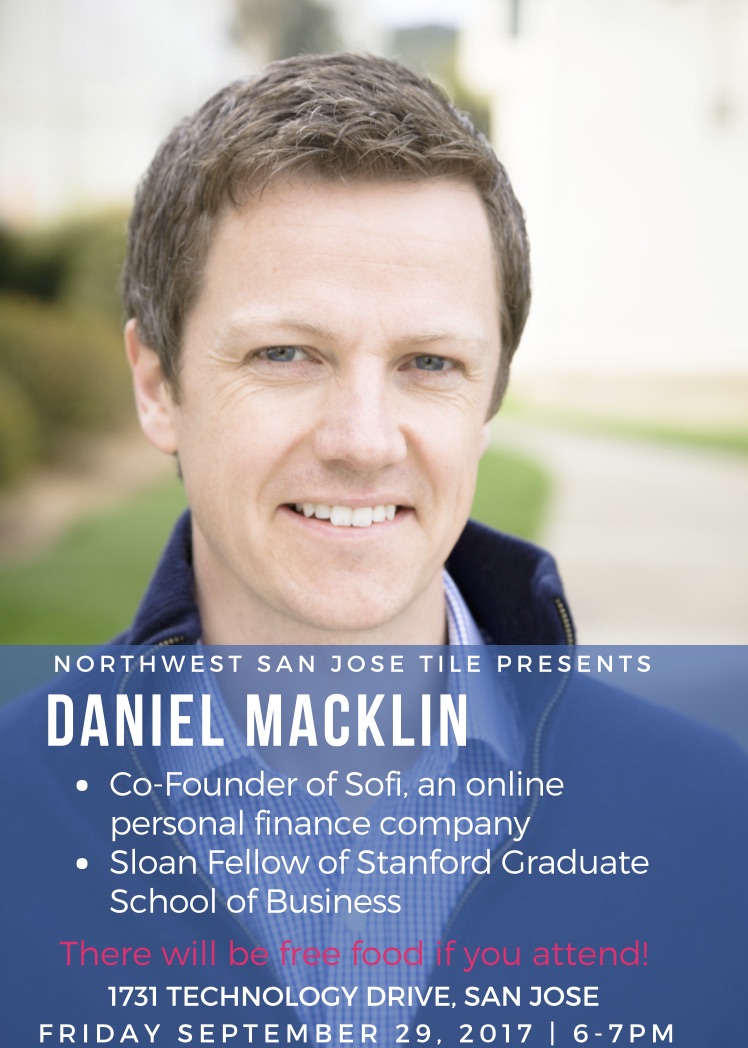 TILE has invited Dan Macklin, the co-founder of So-Fi, to talk to us about his experiences as an entrepreneur including his journey starting a company and the importance of good customer service in building a trusted brand.
He is a Co-founder at SoFi, the largest online lender in the U.S., valued at more than $4 billion after a Series F financing of $500 million in 2017. After six great years, he left SoFi in the summer of 2017 to pursue new opportunities. At the time of his departure, SoFi had lent $20 billion in mortgages, personal loans and student loan refinancing to 300,000 customers (members). The company employed more than 1000 people across five states.
During his time at SoFi, he was VP Business Development, responsible for developing distribution channels across online aggregator platforms, influencers, industry associations and employers. More than 700 companies were offering SoFi student loan refinancing and mortgages as an employee benefit. Latterly, he was VP Community & Member Success, responsible for maximizing the overall experience for SoFi's growing member base, helping great people achieve success with their money, career and relationships. Innovative member benefits included career advice, an entrepreneur program and a comprehensive program of events around the country ranging from Mortgage 101 sessions to singles nights.
Prior to SoFi, he spent twelve years at Standard Chartered Bank across London, Singapore and Shanghai. This included leading Enterprise Sales in China as well as heading up the Group CEO's Office.
He is a graduate of the University of Durham in England and the Stanford Graduate School of Business and has been interviewed by publications including Bloomberg, CNBC, Financial Times, Forbes, Reuters and Wall Street Journal. He was named as one of the 25 Inspiring Entrepreneurs to Watch in 2017 by Inc and, much to the amusement of his kids, was selected as one of the 40 Coolest People Under 40 in Silicon Valley by Business Insider.