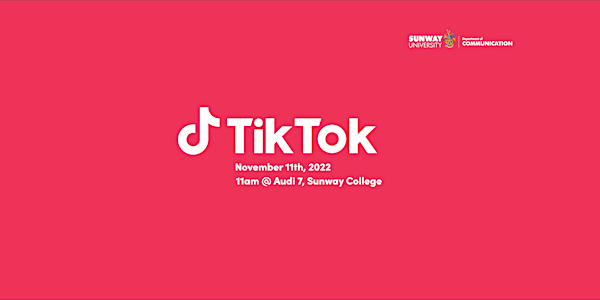 TikTok Malaysia Workshop
TikTok Malaysia's Creator Workshop
When and where
Location
Audi 7, Sunway College 5 Jalan Universiti Petaling Jaya, Selangor 47500 Malaysia
About this event
TikTok Malaysia's Creator Workshop by TikTok Malaysia
This workshop will not only help students understand the TikTok algorithm, but it will also provide students with the tools they need to become TikTok Gurus.
TikTok had 14.59 million users aged 18 and above in Malaysia in early 2022.
TikTok ads reached 61.2 percent of all adults aged 18 and above in Malaysia at the start of 2022.
TikTok's ad reach in Malaysia was equivalent to 49.4 percent of the local internet user base at the beginning of the year, regardless of age.