Description
Weekend passes on sale 3/15 at 6:00 p.m. PST
About Tiki Kon
Tiki Kon is the Pacific Northwest's tropical-pop extravaganza. It's 3 days of tiki themed live music, dance, symposiums and panels, shopping, fashion, cocktails, and the country's longest running home tiki bar tour.
This year's theme, Pagent of the Pacific, was the theme of the 1939 Golden Gate International Exhibition, where mainstream America were introduced to the wonders of Polynesia. It was the pre-Tiki decade that saw Don the Beachcomber and Trader Vic open their first restaurants, and when air travel across the Pacific was becoming a reality. Our theme is an origin story of adventure, romance, and exotic tropical destinations.
Learn more
Tickets: tikikon.com/tickets
Lodging: tikikon.com/get-room
Location: tikikon.com/location
Schedule: tikikon.com/lineup/schedule
About Us: tikikon.com/about/what-is-tiki-kon
Add-On Tickets Available 5/1/2019
Hale Pele private mug release party, Martin Cate rum symposium, and art workshops. These are events with limited capacity and are offered as premium add-on tickets.
View all Tiki Kon 2019 Tickets: http://sandybottomproductions.eventbrite.com/
Pre-order your official limited edition event "mug" by VanTiki
Order with your weekend passes to guarantee you get one! Available as an add-on to any weekend pass order. Merchandise may only be picked up by the person who placed and paid for the order. Photo ID required.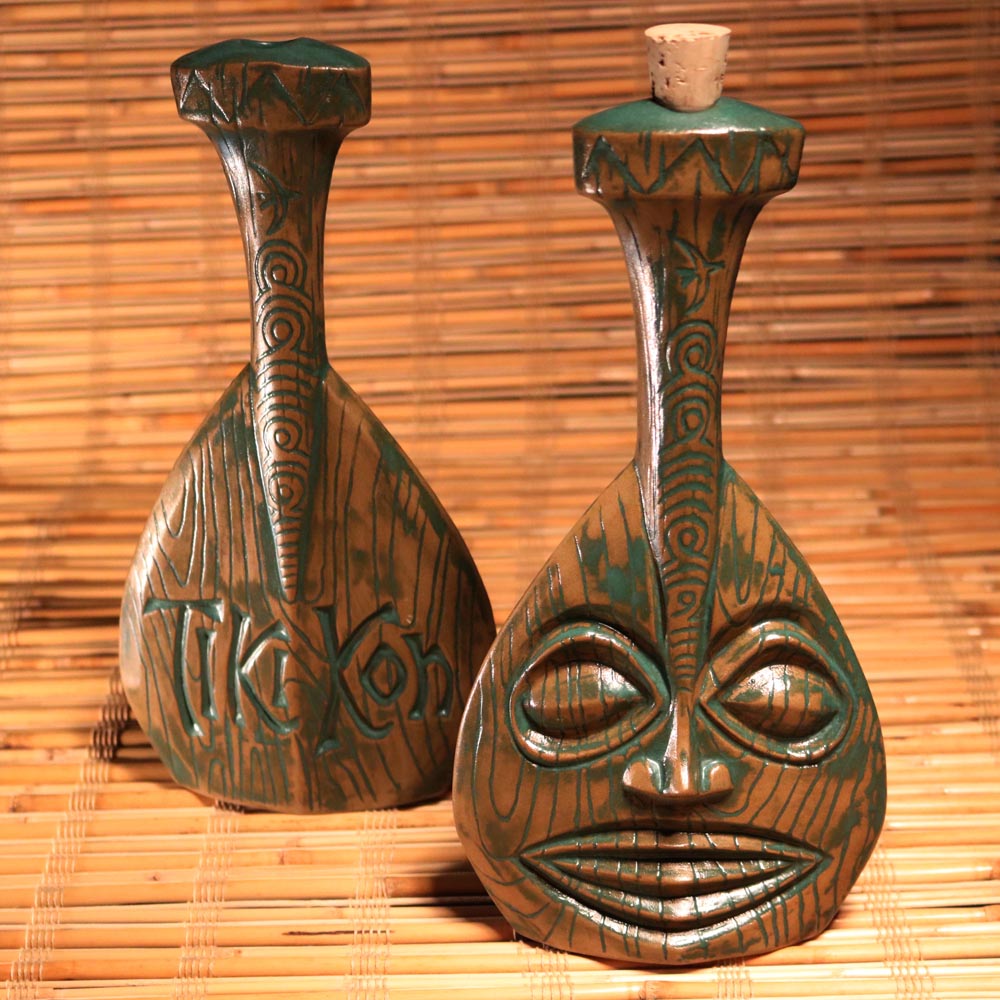 This year's official limited edition mug by VanTiki isn't a mug, it's a decanter! Inspired by the voyaging paddles used by the Polynesian peoples as they traversed the vast Pacific by canoe, this exquisite work of functional art is your passport to the Pacific. Available as an add-on when you purchase passes, or may be purchased in person at Tiki Kon while supplies last. Stands 10" tall and holds 8 oz of your favorite top-shelf spirit.

$99 each
Pre-order your official screen printed event poster by VanTiki
Available as an add-on to any weekend pass order. Merchandise may only be picked up by the person who placed and paid for the order. Photo ID required.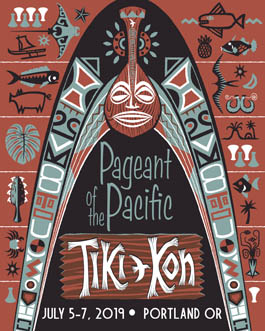 The poster pays tribute to our Tiki origins, with symbolism from the Kon-Tiki and the Pageant of the Pacific murals by Miguel Covarrubias for the 1939 Golden Gate Exhibition. 4 color screen printed, 11 x 17 inches. Final version includes list of performers.
Pre-order: $18
At Tiki Kon: $20
FAQs
View full FAQ list: tikikon.com/about/faq
Do weekend passes include hotel accommodations?
No, hotel rooms must be booked separately. If you use the booking link on our website, you can get our great group rate that starts at just $139/night.
Are there ID or minimum age requirements to enter the event?
Yes and no. Please check our event schedule to see whether individual shows and activities are strictly 21+ only.
While parts of Tiki Kon are technically all ages, we believe the event is best enjoyed by adults, and many of our guests use this event as an opportunity for a romantic, child-free weekend. If you do bring children, we ask that they be monitored at all times and well-behaved, or be taken away from the venue for a time-out if they are causing a disruption. There is no charge for babies in arms, but otherwise, all guests who attend our shows and occupy space in the event venues must have valid admission.
What are my transportation/parking options for getting to and from the event?
We recommend taking public transit or rideshare. The DoubleTree at Lloyd Center is right on 3 MAX lines. If you are driving, the hotel offers $10/day parking for attendees.
What's the refund and transfer policy?
Tickets are refundable until 6/28/2019 at 11:00 a.m. Sign up or log in at Eventbrite to modify your order. You may cancel your registration, upgrade (if available), change your information or transfer your registration to another person. Check your email confirmation for details.
I have dietary restrictions. Will there be something for me to eat at the Saturday banquet dinner?
The banquet dinner and show is included with all Deluxe and Super Deluxe weekend passes. We offer standard, vegetarian and gluten free menu items at our banquet dinner, and dishes will be clearly marked. We will also have detailed ingredient lists available at the banquet, in case you have a specific allergy you need to watch out for. Unfortunately, we are not able to support all dietary restrictions and cannot 100% guarantee against cross-contamination. If you are uncertain whether your needs will be met, there are lots of dining options in the Lloyd Center area, including a great on-site restaurant. As soon as we know the full buffet menu, we will post it on our website. View the event page.