Description
"It's all about tightening the weave of community. Everybody's got a place at the table. If you're breathing, you're part of it. Right now, especially in these times, we need more opportunities to be together with each other." ~Melanie DeMore
Join us for a lively, music-filled Thrive Sunday on June 3rd - Tightening the Weave of Community - with noted song leader, activist, and educator Melanie DeMore and the celebrated, soul-moving Thrive Choir.

How can the power of music, singing, and community heal our hearts in these troubled times? How can raising our voices together be the source of greater connectedness and a force for political and social change?
What: Thrive Sundays are an opportunity to connect with a diverse and inspiring group of people; to be uplifted by music, singing, poetry, and story; and to experience the transformative power of community in service to a just and flourishing world for all.
When: Sunday, June 3 from 4 - 6pm (please arrive on time!)
Food & Connecting from 6 - 7pm
Where: First Congregational Church of Oakland (walkable from 19th Street Bart station)
2501 Harrison Street
Oakland, CA 94612
(This venue is wheelchair accessible.)
Co-Hosts: Adorable & Aryeh Shell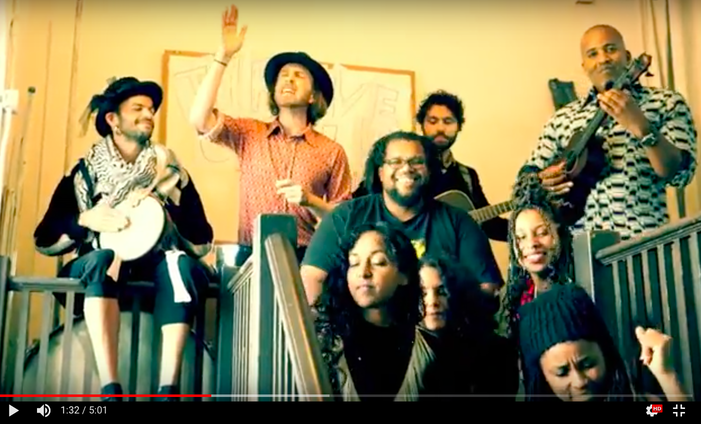 Thrive Choir:
The
Thrive Choir
was born to sing music for the revolution. They are a diverse group of vocalists, artists, activists, educators, healers, and community organizers based in Oakland, California - directed by Bay area musicians Austin Willacy and Kyle Lemle. Their heartfelt and soul-stirring original music is a fusion of gospel, soul, and folk.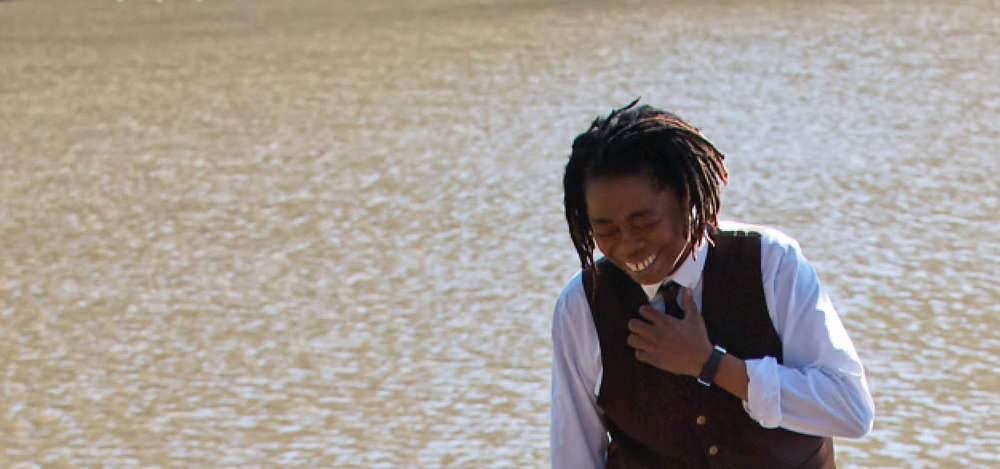 Guest Speaker & Artist:
Melanie DeMore
is a singer/songwriter, composer, conductor, and vocal activist who believes in the power of voices raised together. She is one of the most outstanding vocal artists of today helping to preserve the African American Folk Tradition through song and Gullah stick pounding. Melanie was the subject of a documentary called 'Stick and Pound' which showcases this tradition. She has a career spanning 30 years dedicated to teaching, lecturing, mentoring, conducting, directing, and inspiring children and adults about the power of song as social and political change. Melanie is a sought after presenter, conductor, and soloist at national and international choral and music festivals, including Festival 500 in Newfoundland, Canada and Chorus America. She is sought after as a song / prayer facilitator, creating spontaneous choirs for The Trinity Institute, The Haas Institute for a Fair and Inclusive Society, and the Powell Foundation as well as many varied spiritual and faith based organizations. She is adjunct faculty at the California Institute for Integral Studies, lead teaching artist for CalPerformances at UC Berkeley, a featured presenter for SpeakOut! the Institute for Social and Cultural Change, and the Artistic Conductor of The Oakland Children's Community Choir with Living Jazz. She was a founding member of the Grammy nominated, Linda Tillery and the Cultural Heritage Choir and has had the pleasure of sharing the stage with such varied artists as Odetta, Richey Havens, Pete Seeger, the Trinity Choir, MUSE Cincinatti Women's Chorus, and many others. Learn more at
http://melaniedemore.com
.
Cost: No one will be turned away for lack of funds. There is a suggested sliding scale contribution of $10 - $20 to help us cover our costs. You are invited to contribute what you are called to and able to.


RSVP here on Eventbrite.
Please RSVP here, and invite your family, friends, and neighbors, keeping in mind that we are building an intentionally diverse community of people from many races & ethnicities, cultural backgrounds, sexual orientations, gender identities, abilities, income ranges, and ages. You can
invite people on the Facebook event here
.
Food: Please bring a vegan dish or snack to share with others during the social hour following the program.
Volunteers: We are seeking volunteers to help with the set-up and break-down of this event. If you are available to arrive early or stay late, please let us know at team@thriveeastbay.org.
We look forward to seeing you!
In partnership,
the Thrive East Bay Team