Description
TIG Welding Weekend Intensive

Saturday August 5th & Sunday August 6th
10 am to 3 pm with 1/2 hour lunch break each day
Members $280
Non-Members $300
Materials fee: $20
TIG (Tungsten Inert Gas) welding is the process of welding using a tungsten electrode, filler metal rod and an electric arc to produce a weld. TIG welding is commonly used for stainless steel, aluminum and bronze, and specialty applications such as bike frames and roll cages because it produces a finer, stronger weld than other processes. It is more difficult to master than MIG welding, but the results are a higher quality, cleaner weld.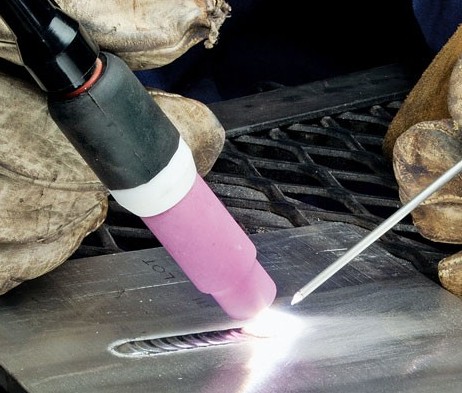 This workshop that takes place over the course of two 4.5 hour sessions will teach you how to use and understand the components of the TIG welding machine, how to set up a joint, finishing, and practice welding a variety of materials.
PREREQUISITES:
This is open to anyone 18 and up. MIG or stick welding experience helpful. Please wear hair tied back, closed toe boots, jeans, and long-sleeved shirts.
MATERIALS:
Your materials fee pays for steel & gas. We provide safety protection including welding masks, goggles, leather jackets and gloves.
REFUNDS/CANCELLATIONS:
Class size limited to 6 students. Minimum 4 students. We reserve the right to cancel the class if we do not have the minimum amount of students. If we cancel, we will refund you in full and notify you.
You may cancel and get a full refund up to three days before the class. After that, refunds are contingent on us being able to fill your seat. Under no circumstances do we offer refunds to individuals who cancel on the same day. This ruins the party for everyone.