Description
Learn all about Tax Increment Financing (TIF) from the comfort of your home, office, lair or headquarters. This is a new service in our ongoing effort to explain the basics of TIFs and how they work in Illinois and Chicago!

Join the THOUSANDS of people who have been Illuminated at public meetings by the TIF Illumination Project all over Chicago.
The presentation is a total one hour - you can email questions or ask questions during the event (tom@civiclab.us).
The presenter is Tom Tresser, founder and lead organizer of the TIF Illumination Project.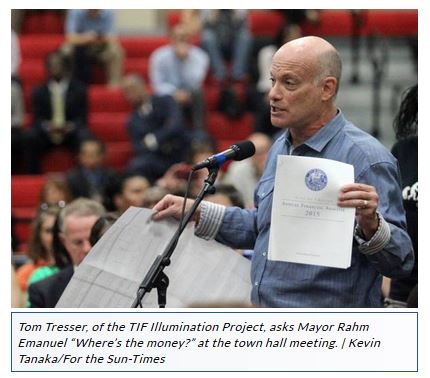 "I've attended two of Thomas Tresser's TIF presentations, and I can promise you that what you will learn from him will make your blood boil. If you're okay with the fact that Rahm Emanuel is giving your property tax dollars to millionaires instead of spending it on improving the "blighted" areas of YOUR city, then don't sign up for any of his webinars or attend any of his meetings." So says Mimi M. !
We'll be using a simple web-based webinar tool that will require you to establish a free account at GoToWebinar.com.As soon as you purchase a seat using EventBrite you will get an email with instructions on how to access the webinar. We will email you several reminders.

The cost for this webinar is $10 (plus a small processing fee to EventBrite).Shortly after the webinar you will receive a link to a private web page with a video of the presentation plus a copy of the slide deck. All attendees will also be invited to join a private Facebook CivicSchool alumni group where you can meet and exchange resources and updates with like-minded folks. We'll also be posting articles and other tasty civic items exclusively to that space!

The TIF Illumination Project has been turned down 15 times for funding by local and national funders who SAY they support good govement reporting efforts, civic engagement work and innovation in investigative journalism. So - it's up to YOU to keep this work alive.
This simple URL for this EventBrite page = http://tif-101-march-8.eventbrite.com.