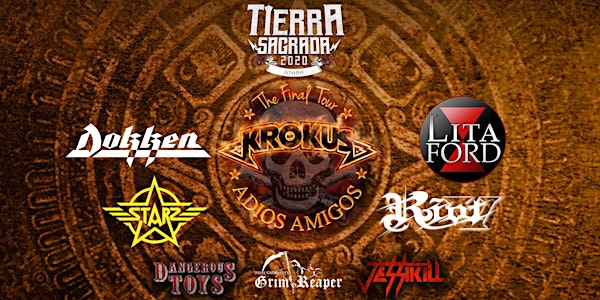 Tierra Sagrada Otoño ft. Krokus/Dokken/Lita Ford/Starz/Riot/+more!
DIN Productions and AM5Live! Presents
Performers
Tierra Sagrada Otoño, Krokus
Dokken, Lita Ford, Starz, Riot, Dangerous Toys, Grim Reaper, Jessikill
Location
Sunken Garden Theater
3875 N St Mary's Street
San Antonio, TX 78212
Krokus with special guests Dokken, Lita Ford, Starz, Riot, Dangerous Toys, Grim Reaper, Jessikill,& More! Sunken Gardens 2pm Doors/2:30 show
About this event
Tierra Sagrada Otoño
Krokus / Dokken / Lita Ford / Starz / Riot / Dangerous Toys / Grim Reaper / Jessikill / + More!
Saturday, September 19th, 2020
Sunken Gardens Theater - San Antonio
Doors 2pm / Show 2:30
General Admission and VIP available
VIP Includes - Ticket to the Festival, Early Entry, Commemorative Event Poster and VIP Laminate, Event T-Shirt, Private Bar Area, Exclusive VIP Watching Area, and Various Meet and Greets
Krokus - Adios Amigos - The Final Tour
Back in September 2018, the legendary Swiss hard rock band Krokus announced that they were going to be embarking on a farewell tour called "Adios Amigos". The European Tour has been going on all through 2019 and will end with a sold out show on December 7th in Zürich, Hallenstadion, Switzerland. 2020 the band will say "Adios Amigos" to England, USA, Canada and Mexico to complete the world tour.
Throughout this time the band has also worked on one last project for their fans. The ultimate Krokus-Vinyl -Box featuring 9 albums, 100 Songs and a lot of nostalgia will be released on November 22nd. Adding to the 8 original albums, the box features a 9th album with 9 previously unreleased studio and live recordings.
This explosive box contains the following albums:
●Metal Rendez-Vous
●Hardware
●One Vice At A Time
●Headhunter
●Hoodoo
●Dirty Dynamite
●Long Stick Goes Boom live
●Big Rocks
●Unheard & Livedirt
Since 1975, Krokus has stood for high-quality, honest-to-goodness, hand-made power rock. No other Swiss rock band sells albums and its back catalogue worldwide like Krokus. The band has already sold over 15 million records, toured the world, and received Gold and Platinum Discs in the USA and Canada. The milestones in their rock career are dotted around the world: from Australia and the USA to Mexico, Russia, Japan, and China. Krokus was the first Swiss band to sell out the legendary Hallenstadion in Zurich and has received a Diamond Disc for selling one million albums in Switzerland alone.
1980 saw the band set out to conquer America, Canada, and England, quickly consolidating its reputation as a strong, no-nonsense live band. Soon they were part of unforgettable headline tours and on the same bill as incredible bands such as AC/DC, Van Halen, Rush, Ted Nugent, Judas Priest, Motörhead and many, many more. These were wild times, full of big adventures, which saw the band not only going Gold and Platinum in the US and Canada, but also being made honorary citizens of Memphis, Tennessee.
But it hasn't all been one long high: death, sickness, and internal strife pushed the band to the brink of collapse. The story of Krokus is like no other. It is full of highs and lows, sell-out stadium concerts and sweaty club gigs. These five musketeers of rock have outlasted trends and survived treacherous US managers, tough splits, bad deals, shady lawyers, drugs, awful fast food, endless bus trips, disco, grunge, grotesque record companies, and double-dealing advisers.
In the course of their legendary career, Krokus has rocked over 2,000 shows on five continents, countless cities, unique locations, crazy gigs, and loyal fans. Krokus came back in their original line-up in 2008.
The legendary English journalist Malcolm Dome quite rightly said: 'If you look at the long-term output of this band, Krokus is clearly one of the best hard rock bands of the last 40 years.