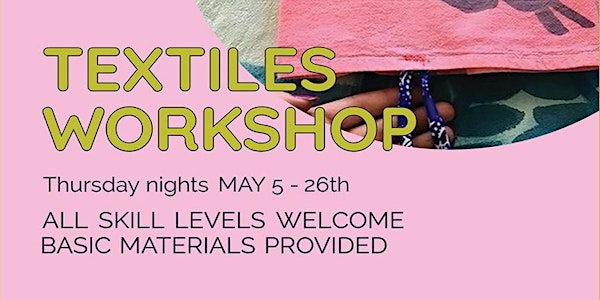 Tied Together: Subversive Bandanas, Textile Screen-print and Dye Lab
Tied Together: Subversive Bandanas, Textile Screen-print and Dye Lab
When and where
Location
Mission Cultural Center for Latino Arts 2868 Mission Street San Francisco, CA 94110
Refund Policy
Contact the organizer to request a refund.
About this event
May 5 through 26, 2022
Thursday nights from 5:30 to 8:30 pm
4-week intensive – Must register for entire session.
Teaching Artist: Dana Wisbar
Ages: 14 and Up
Fee: $125
LESSON DESCRIPTION
Participants in the class will create their own bandanas using analog and digital processes; dying fabric, learning to pin fabric to print tables, make color separations, register their prints, and screen print with dyes and pigments. Emphasis will be designing within a chosen cultural, social, political, intimate, linguistic, or decorative framework; how will this bandana be used, what will it signify, and who will wear it?
Looking at past and current examples of bandanas and bandana use, students will identify several sources of inspiration to draw from. This can take the form of cultural, social, political, or design movements. Can be in the form of color matching, or draw inspiration from past or current bandana designs. Participants will be encouraged to explore a variety of printmaking techniques such as: rubylith, Koh-I-Noor ink, paint pen on duralar, or even utilizing photoshop.
Learning Outcomes
Participants can use dyes, print with pigments, register their prints, pin fabric to print tables, consider basic design principles such as color way, who they are designing for, and use fabric repeat design and screen-print on paper or t-shirts, as well as digital design.
Materials & Setup
T-Pins
Gloves (green heavy duty ones. These can be shared.)
Blue Painters Tape
X-acto knife
Mylar
Koh-I-Noor ink (if student desires to work in this medium)
Paint Pens (optional)
Thumb Drive (If student desires to work in photoshop)
Plastic Yogurt Containers for Pigment (water based pigments can be purchased at Anthem Screen-printing)
Baking Soda
Soda Ash
Learning Activities
Opening circle, brief lectures on history and techniques, sharing photos of inspiration for the week, as well as sharing what direction you think you'll be going in your print, critique/sharing final designs, challenges and successes and if your intent changed within the process.
Assessment
Instructor will personally give demonstrations, but also walk around and check student progress and if they are in need of assistance. Weekly check-ins with the group can hopefully catch any struggles students may be having individually or collectively.
Extension
Weekly inspiration sharing will keep students thinking about how they are creating and what they are creating. Instructor will also share her own sources of inspiration. This can be in the form of color ways you like, designs you like, people you admire, news that pertains to your chosen themes.
Instructions/Procedure
Hand-outs in class will include a how-to of quick dye baths, color mixing with procion dyes, and in class lectures will include the do's and don't of washing out screens, coating screens, and what not to do to an exposure unit.
TO LEARN MORE VISIT: missionculturalcenter.org