Description
TIECTW, IBM, and SVCTBA IoT Forum for Start-ups and VCs
Internet of Things (IoT) has emerged as one of the hottest topics in today's tech world. Silicon Valley Chinese Technology and Business Association (SVCTBA) is teaming up with Taiwan Innovation Entrepreneurship Center (TIECTW), and IBM Watson IoT to host a full-day IoT event at Plug & Play Tech Center to present in-depth information and open conversations around IoT and its ecosystem. The event is also being co-sponsored by Chinese American Semiconductor Professional Association (CASPA), Nangkang IC Design Incubation Center (NKIC). The event is being run by SVCTBA, TIECTW, IBM, CASPA, and NKIC to introduce and promote innovations in IoT in the United States, Taiwan, and around the world. The event will feature keynote speeches from TIECTW, IBM, industry leaders, and venture capitalists. By gathering high-level executives, industry experts, investors, and start-up companies, we are providing a platform for networking and prospecting. We invite you join us on November 18, 2016 at Plug & Play Tech Center in Sunnyvale to gain knowledge and insight into important IoT related challenges and opportunities!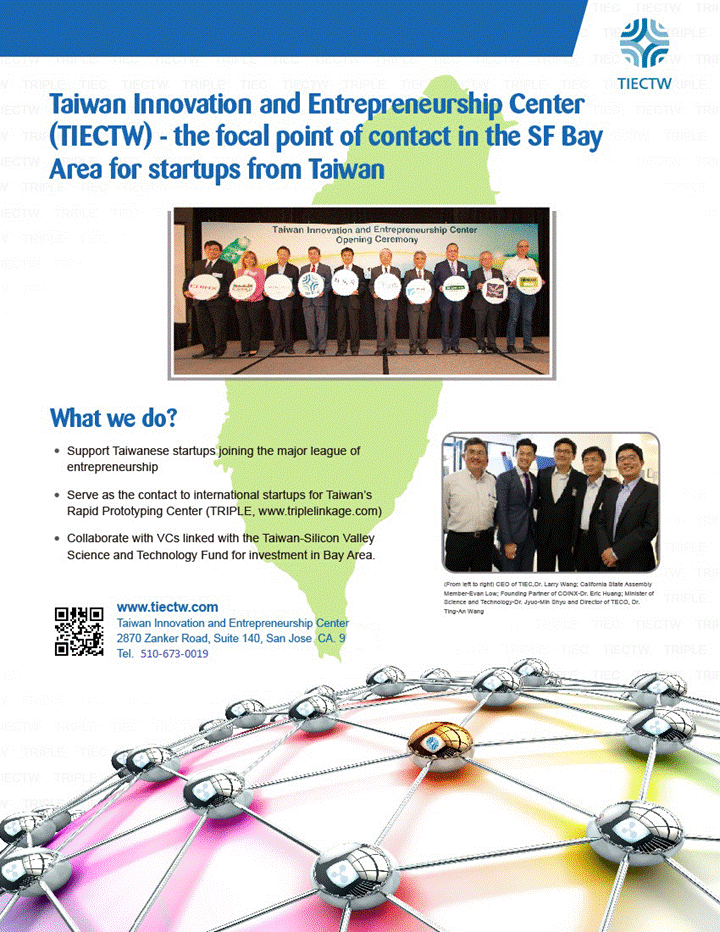 IBM Watson IoT platform extends the power of cognitive computing to the billions of connected devices, sensors and systems that comprise the IoT (Internet of Things).
Agenda:
Morning Session
09:00 – 10:00: Registration & Networking
10:00 – 10:15: Opening Remarks by SVCTBA, TIECTW, IBM and CASPA
10:15 – 10:25: Presentation by TIECTW - Dr. Larry Wang
10:25 – 10:50: Keynote Speech by IBM - Amit Fisher
10:50 – 11:00: Presentation by IoT_Inc - Bruce Sinclair
11:00 – 12:00: Startups Pitch Session 1
Lunch Break
12:00 – 13:00: Lunch; Afternoon Session Registration

Lunch will be served. RSVP now!
Afternoon Session
13:00 – 13:20: Keynote Speech by The Fabric - Prem Talreja
13:20 – 13:30:
Presentation by Electric Imp - Padma

Duvvuri


13:30 – 14:30: Startup Pitch Session 2
14:30 – 15:00: IoT Innovation & Investment Panel
15:00 – 15:10: Winner Award
15:10 – 15:30: Closing & Networking




Keynote Speeches:
Cognitive IoT - what? - Amrit Fisher, IBM
By 2020, over 20 billion connected things will be installed globally. In parallel to this dramatic growth, we are seeing how Cognitive Computing and AI enable new types of interactions between people and machines, resulting in new business opportunities for all industries. In this talk we will be focusing on examples of how technologies like IBM Watson coupled with IoT connectivity can merge the Internet-of-People with the Internet-of-Things to create amazing using experience.
Smart or Connected or Internet Product? - Bruce Sinclair, Iot-inc.
While the terms, smart product and connected product are commonly used, they represent just part of the story. Only an Internet product can produce enough incremental value for IoT to reach escape velocity. Understanding the differences is critical for vendors and customers alike.


Start-up Companies Pitching:
Atan2
Ambygear
Brain Rhythm
BriteThings
EmpowerYou
Foris.io
LongGood LTD.
Neuro
OptoXense
RainDance
Realiteer
Redstring
Titanium Falcon
VOR Inc.
Vufine
WaterSource
Xstream Trucking
Event Organizers:
Angie Krackeler

IBM Worldwide Developer Ecosystem

Startup Technical Engagement & Enablement Manager

Ming Lee

SVCTBA

President

Larry Wang

TIECTW

CEO
Speakers:
Padma Duvvuri

Electric Imp

Head of Business Development

Amit Fisher

IBM Watson IoT

Program Director

Bruce Sinclair

Iot-Inc.




Prem Talreja

The Fabric

VP
Judges and Panelists:
Josh Bradshaw

WorkTechWork




Tom Chiu

Enspire Capital

Venture Partner

Henry Fan

Innovative Capital Ventures

Managing Director

Tony Huang

Techlink Ventures

Managing Partner

Bingjie Li

Westlake Ventures

Executive Director

Vasily Nikolaev

Quantum Wave Fund

Partner

Prem Talreja

The Fabric

Vice President