Description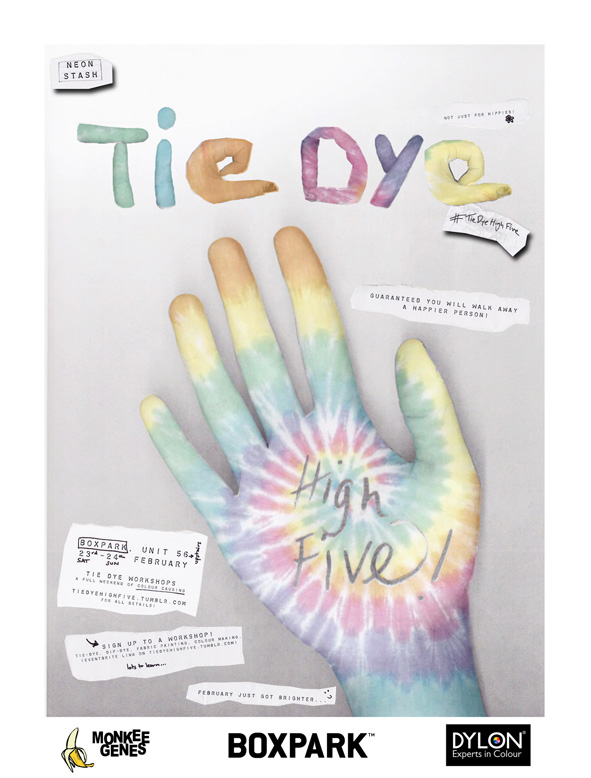 Creative crew, Neon Stash has partnered up with DYLON® to bring 'Tie Dye High Five' to Boxpark, Shoreditch! On the 23rd and 24th of February, Unit 56 at the world's first pop-up mall will be ready to welcome you for some tie-dye, dip dye, DIY or dye action. It's not just for hippies, trendsters or cool kids of the 90's, this tie-dyeing trend is open to all. Everyone could do with a bit more colour in his or her life this winter! Sign up to a workshop, learn the art, get some tips or simply come and sneak a peek at what we're up to.
Our aim? To spread colour, brighten the grey days, satisfy your eyes and have you walk away a happier person! B.Y.O.W's (bring your own whites) or snag a pair of fresh white Monkee Genes, which will be on offer throughout the weekend. The perfect canvas to get creative on!
So, have we captured your creativeness? Have we enticed you with the concept of colour in these grey winter days? We promise to impart the wisdom of the tie-dye and, not only this, but you will likely be transformed as a person (research claims tie-dye makes you a happier person). Warning: you'll never wear white again!
Sign up for a workshop now!
*Practice the art of tie-dye. With instruction on traditional tie-dye techniques- splatter, swirl, shapes, fabric painting and freestyle!
*Workshop goer's are encouraged to get playful, messy and creative.
*With guidance on fabric care from DYLON.
*All attendees get an exclusive Tie Dye HIgh Five tee and the chance to purchase some Monkee Genes for £20 (normally £60).
*Rummage in the Building Trust box for extra whites and scraps- all money donated from this goes to The Building Trust charity!
*With an instant inspiration board with polaroid snaps of what creative creations have been created throughout the weekend plus follow all on #TieDyeHighFive
*Finally, workshops go-ers will be treated to a cup of tea from Teapigs and perhaps a cake (if we've time to bake).
*Oh also there will be special guests at some of the workshops...more info to follow
Organiser of Tie Dye High Five (in partnership with DYLON)
An obsession with extremely bright things has resulted in the PR and creative platform that is Neon Stash! From corporate to core brands, unique local projects to giant global events. We've been busy all over the place!
Not all business, Neon Stash collects and documents all things creative and cool in the skate, snow and surf world. We are inspired and fueled by the boardsports world, with our words & photography capturing many people, places and events in the action sports world! We are inspired by all that comes along with this lifestyle; nature, colour, creative, arts and life. Our blog follows everything interesting out there.