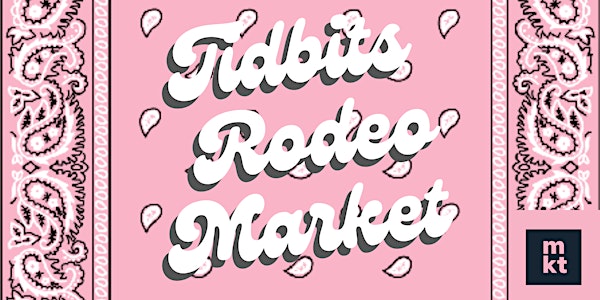 Tidbits Rodeo Market
Dust off your boots! Shop apparel, accessories, boots & Texas gifts.
When and where
Location
M-K-T 600 North Shepherd Drive Houston, TX 77007
About this event
The Tidbits Rodeo Market returns Feb 11. Tidbits has teamed up with local, independent brands for a shopping market at M-K-T Heights with a Texas twist.
All tickets include a Ranch Water, courtesy of Southern Pours.
Bring your friends and stroll our indoor vendor stalls to shop custom hats, boots, bandanas, bolos, apparel, jewelry, custom denim, art, turquoise and Texas gifts from...
ACASA // Anne Genung // Arloom // Bumble & Brim // Carla Valencia // Clara Rose Boutique // Confettees // Dos Margarita Salsa // EDIT // Fraulein Boot Company // Gather Goods // Golden Thread // Independence Trading Post // Kate Swail Designs // Katie Kime // Margarita Mercantile // Modern Vintage // The Pop-Up Co-Up // Saturday Silks // Spice Paper Designs // Southern Pours // Sunshine Tienda // Sweet Elaine's // Tyler Darling // V Is For Vintage ... and more!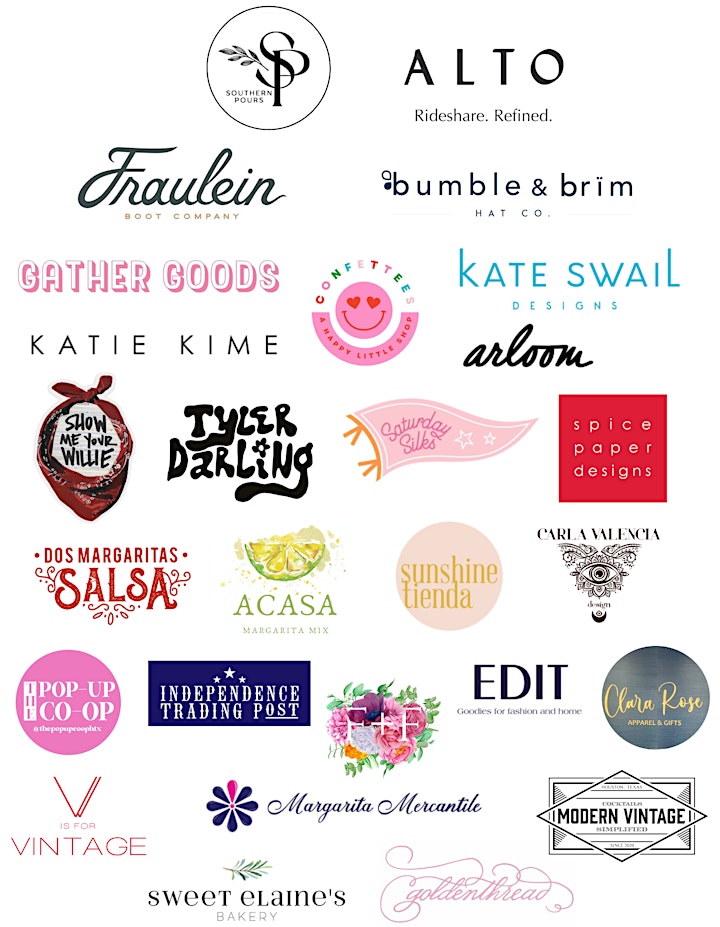 Choose one or all ticket types. All tickets include a Ranch Water from Southern Pours. Tickets will not be available for purchase at the door.
General Admission tickets are $5 and include a Ranch Water. Choose from the time slots below.
10 a.m - 12 p.m.
12 p.m. - 2 p.m.
2 p.m. - 4 p.m.
Custom Bandana Bar tickets are $20. When you arrive, mosey up to our Bandana Bar, where your custom bandana will be waiting for you. Your Custom Bandana Bar ticket includes a Ranch Water, a 100% black bandana custom-stitched with a word and color of your choice and all-day shopping access.
Hat Band Workshop ticket are $45. BYO hat to our intimate workshop taking place inside the market at 2:30 p.m. The florist behind Frankie & Flora will lead us through a one-hour hands-on class, where you'll select feathers, scarves and vintage brooches to make your own accessory (pictured below) that you can switch between hats during Rodeo Season. Your ticket includes a Ranch Water, all materials and instruction and all-day shopping access. (Hat not included.)
Kids under 12 are free.
See our Ticket FAQs below for more information.
Interested in becoming a vendor? shop@gotidbits.com
Advanced online tickets are required. No walk-ups allowed. Sorry, no refunds after purchase.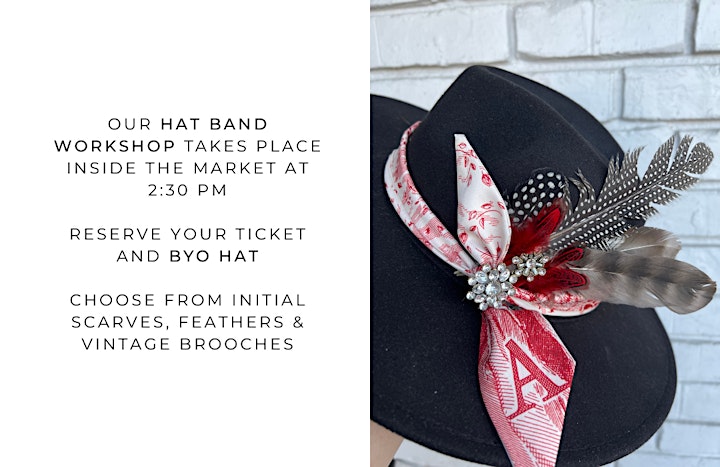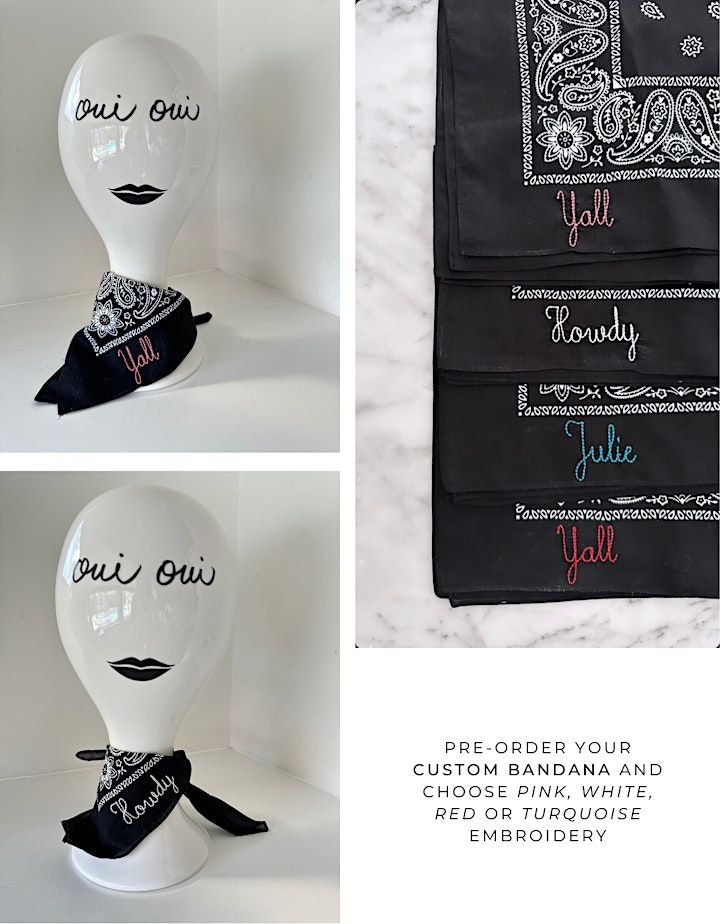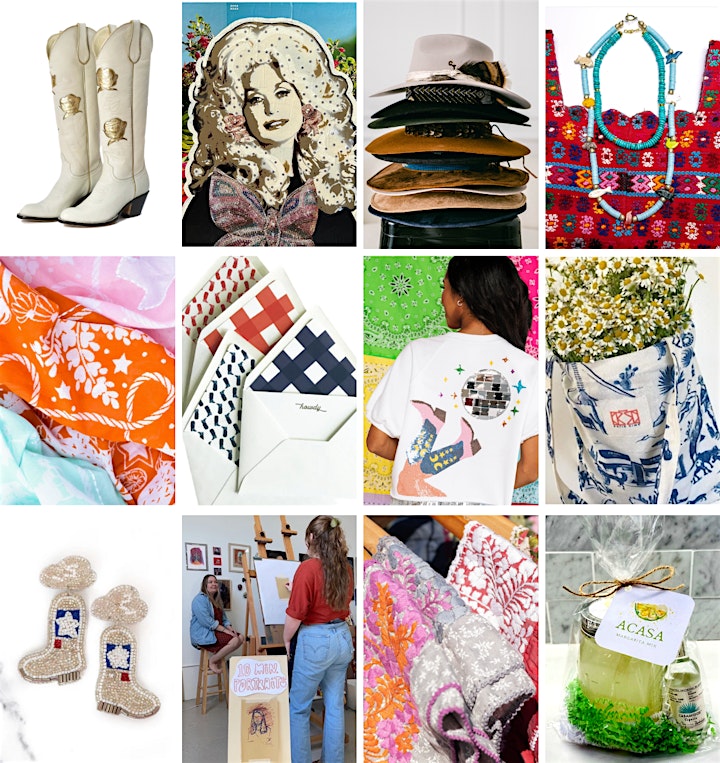 Frequently Asked Questions
Should I wear my boots to the event? Wear anything you want! We'll be in our Western wear.
Where does the Rodeo Market take place? Our entrance is in Building1 of M-K-T, near Sweetgreen and Chloe Dao.
I have a Custom Bandana Bar ticket. Where do I get my bandana? You'll receive your bandana at check-in, so you can rock your new accessory at the event if you'd like. Custom Bandana Bar ticket holders have all-day shopping access.
When does the Hat Fascinator Workshop take place? Buy your advanced ticket to our workshop, which takes place inside the market at 2:30 p.m. BYO hat and check in with us at the main entrance. You can shop before and after class.
Can I get my bandana monogrammed at the event? No, custom bandanas are pre-order only.
How do I tell you what I want stitched on my bandana? When purchasing your ticket, choose your thread color (white, pink, red or turquoise) and your single-word embroidery on your black bandana. The cursive word's first letter will be capitalized, the rest are lowercase. Max number of letters is 10. Single words only; no spaces between words; no special characters.
How do I get more than one bandana? For multiple custom bandanas, please buy multiple tickets.
I want a custom bandana but can't make the event. After you purchase your Custom Bandana Bar ticket, send us an email at shop@gotidbits.com and we will make other arrangements for you to pick up your bandana.