Join our annual benefit to celebrate our various partners and supports the work of the Newtown Creek Alliance.
About this event
Since 2002 the Newtown Creek Alliance (NCA) has been the voice of Newtown Creek; working with industry, agencies, and residents alike to promote awareness, remediation, access, resilient businesses and ecological improvements for our local waterway and upland communities. 
Join us and your neighbors for a celebratory event hosted this year by NYC Department of Environmental Protection at the Newtown Creek Nature Walk. The event, hosted within the newly completed phase 3 of this beloved waterfront open space (enter at the end of Kingsland Ave), will include drinks and light food, speeches and celebration of our honorees. The event will be entirely outdoors, please hold Friday October 22nd as a rain date.
This year we are very excited to honor three distinct persons/organizations who have made substantial contributions to Reveal, Restore, and Revitalize Newtown Creek: Laura Hofmann; George Trakas; and Sane Energy + No NBK Pipeline (See full bios below).
Come celebrate our 19 years of achievement, Toast our honorees and support the ever important work ahead of us. Together we can continue to transform our waterway and the community's relationship to it.  See info about Sponsorship Levels here.
Interested in volunteering at the event? Sign up for a shift here.
-----------
Flier photo courtesy: Mitch Waxman.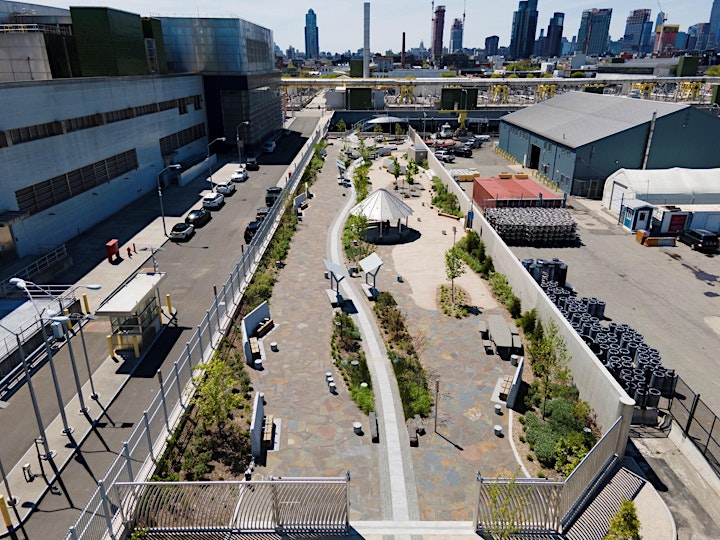 Laura Hofmann (Restore Award)
For over 30 years, Laura has worked tirelessly to both bring attention to environmental and health hazards in Greenpoint and the Newtown Creek watershed, while also fighting for the inclusion of the community's voice in city, state and federal plans that directly impact local neighbors and workers. In addition to her work with NCA, Laura has been an outspoken member in local groups including the Newtown Creek Monitoring Committee, Organizations United for Trash Reduction & Garbage Equity (O.U.T.R.A.G.E.), the Kosciuszko Bridge Stakeholders Advisory Committee, and the Superfund CAG to name a few.
As a founder of NCA we are eternally grateful for her vision, activism and stewardship of the waterway. Laura is the embodiment of the Restore Award, and we are so excited to present her with this recognition.
George Trakas (Revitalize Award)
George Trakas is a renowned environmental sculptor whose work recycles derelict urban spaces in order to explore relationships between nature, the built environment, and human presence.
We honor George for his hard work in envisioning, designing, and executing the beloved Newtown Creek Nature Walk, the first public investment made to reconnect surrounding communities to Newtown Creek. Not only does the space provide public waterway access, artistic interpretations and educational components, but it is also a model of successful community planning where George worked closely with the DEP and NCMC members for over a decade in a collaborative fashion.
The final phases of the Nature Walk opened in April of this year, completing 22 years of community collaboration and work. We applaud George for his diligence and commitment to environmentally-centric design.
Sane Energy & the No North Brooklyn Pipeline (Reveal Award)
Sane Energy Project and the No NBK Pipeline Coalition are leading the ongoing fight against the expansion of fossil fuel infrastructure in the Newtown Creek watershed.
Their work to stop National Grid's North BK fracked-gas pipeline and related expansion at the Newtown Creek LNG facility has included a diverse group of stakeholders and activists along the route and brought national media attention to this environmental justice issue.They've staged numerous successful protests, garnered support from nearly 100 elected officials statewide, filed lawsuits and legal challenges, engaged in the prolonged Rate Case arguing for and exposing the injustice of having local residents pay for destructive fossil fuel infrastructure, and also organized a rate-hike strike for local customers. We are honored to recognize Sane Energy and the broad coalition of pipeline activists for leading this uphill battle.
Many thanks to our sponsors!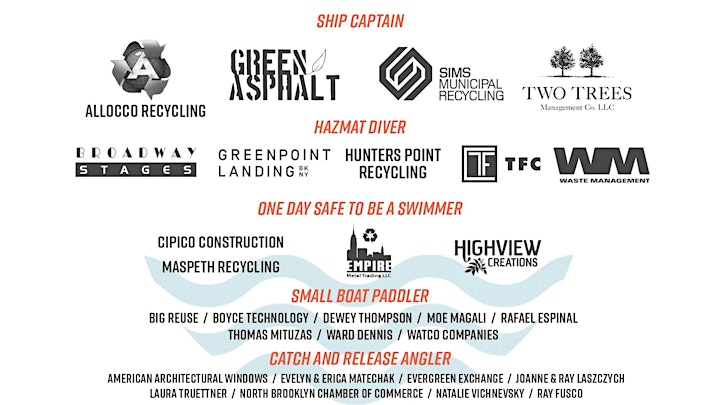 Organizer of Tidal Toast 2021: A Newtown Creek Celebration
The Newtown Creek Alliance is a community-based organization dedicated to restoring, revealing and revitalizing Newtown Creek. 
The Newtown Creek Alliance represents the interests of community residents and local businesses who are dedicated to restoring community health, water quality, habitat, access, and vibrant water-dependent commerce along Newtown Creek. Since 2002, the Alliance has served as a catalyst and channel for effective community action and our efforts have made a positive and enduring impact on the health and quality of life of Creek-side communities.