3 Days of Rock Music on 92 Acres of Riverfront Paradise.
About this event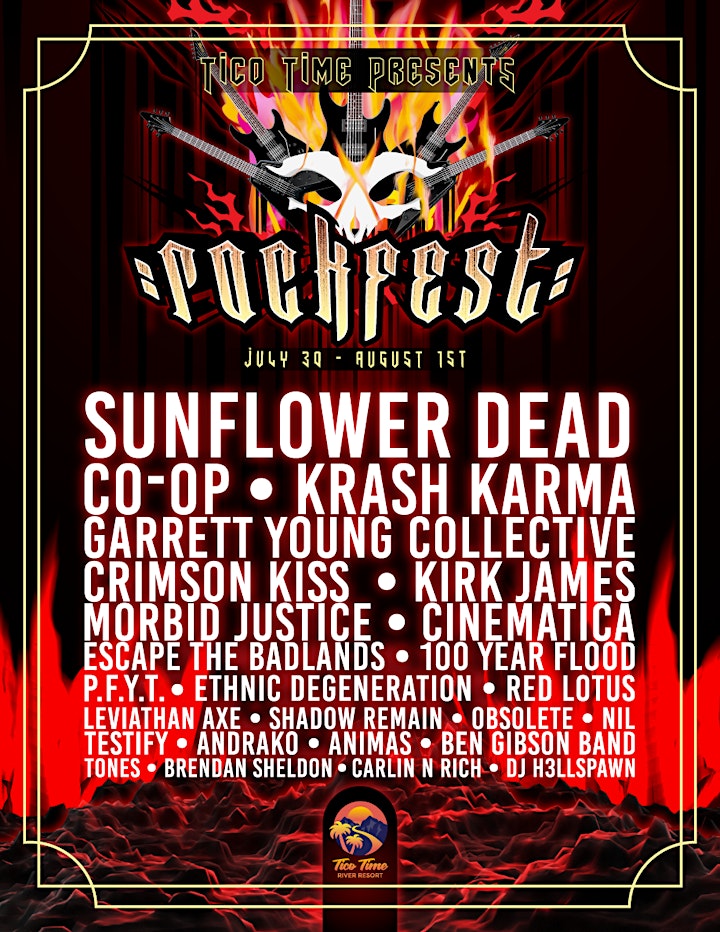 Fireworks shows, Art, Food, Vendors, Local Brews, Entertainers, Magic Show, POI/Fire Spinning Performances, After Parties, Waterslides, Waterslide Jumps, Beach Volleyball, Ponds with Complimentary Paddleboards. Fun for the the entire family!! kids 10 and under are free, 11 and over are regular price.
NO RE-ENTRY / IN AND OUTS per day (Vehicles and people will not be allowed to leave the Resort premises and return the same day. This is for all reservations RV sites, tent camping, and day passes. Exceptions for rv and tent campers may be made by asking the office to leave and return to the festival during non peak traffic hours.
CAR CAMPING
Car Camping is per vehicle and includes a 15' x 30' space for your vehicle and tents, etc. All vehicles in the car camping area require a car camp pass upgrade. No electric or water provided at sites. Self contained fire pits with bottom are allowed.
RV SITES
35' x 65' RV Site includes Admission for 2 adults & 2 kids(18 & under). Kids 10 and under are free (do not add them in your RV Reservation online). Build a huge fun group camping site with your friends. Sites have water, 30 or 50 amp electric, and septic. Unlimited vehicles, rv's, and tents. Usage of the available grass area directly behind sites is allowed. Site includes Fire Pit & Picnic Table. Max 20 people per RV site. Extra adults or kids over 10 are $30 each per night. Stay extra night or a full week for best value.
PRIMITIVE TENT CAMPING
Primitive Tent Camping is located on the east side of the river to the south of the property. Tent Camping area is about 8 acres. Hand carts provided first come first serve. Shuttle Van with trailer for gear will be provided on first come first serve basis Thursday and Sunday as available.
ALLOWED ITEMS IN THE RESORT AND STAGE VIEWING AREA
BEVERAGES are allowed (crazy , huh !!!) – Everyone at the Resort is required to follow all Federal, State, and San Juan County Laws and Regulations.
PETS are allowed at the Resort and all PETS regardless of size must be on a leash if pet is in contact with the ground. PETS are not allowed within 800' of the Main Music Stage
SHADE TENTS: Allowed in designated areas only. Shade Tents only allowed at very back of Main Stage Viewing Area and Tent Camping Areas (Must be attached firmly to the ground or have minimum 100 pounds of weight ballast)(High winds are possible at the Resort)
Cigarettes and lighters, Deodorant, E-cigs/vapes, Earplugs, Fanny packs, Personal Items, Flags/Banners or handmade signs (no advertising), Glowsticks & glowing/illuminated costumes or jewelry, Food, Snacks, Hula hoops—including LED hoops, Coolers, Inflatables, LED poi, Lip balm, lip gloss and lipstick, Non-professional flash/still cameras, handheld video devices under 5", Powder makeup, Rain ponchos and umbrellas measuring less than 12" when collapsed (, Reusable water bottles, Selfie sticks, Small bags, backpacks, purses, Sunglasses & hats, Sunscreen lotion, Personal Health Items.
PROHIBITED ITEMS NOT ALLOWED AT THE RESORT WHATSOEVER
NO Costumes that resemble public safety uniforms (police, swat, fire, security, or medical) in any way
NO Drones, remote-controlled aircraft, toys
NO Glass containers of any kind anywhere on the property outside of a tent or RV
NO Laser pointers and air horns
NO LED gloves or LED microlights used for light shows
NO Markers, pens or spray paint
NO Professional photo, video, or audio recording equipment (no detachable lenses, tripods, big zooms or commercial-use rigs)
NO Stickers, flyers
NO Toy guns, water guns, slingshots
NO Weapons, Explosives, or Explosive Materials of any kind (includes guns, pocket knives, fireworks)
NO electric or gas vehicles (includes Golf Carts, Side x Sides, small devices able to move a person)
NO use of vehicles inside the Resort (Except for 1 trip going to your RV site and 1 trip leaving your site per day, or 1 trip to your parking spot and 1 trip leaving your parking spot per day)
NOT ALLOWED IN THE STAGE VIEWING AREA
No Balls or Frisbees, or anything thrown in the air
Shade Tents only allowed at very rear of Main Stage Viewing Area
Festival Policies
• NO Re-entry/ins & outs per day
• NO Camping outside designated RV Sites or Tent Camping Areas
• NO Refunds or exchanges
• NO Moshing, crowd-surfing or stage-diving
• NO Unauthorized/unlicensed vendors
• NO Unauthorized solicitations, handbills, sampling, giveaways, etc.