Description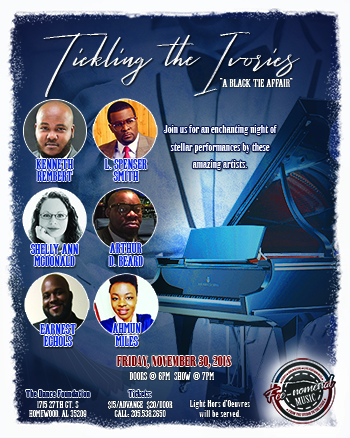 Tickling the Ivories is a Black Tie Affair, which features some of Birmingham's most talented pianists and vocalists. These artists will display their passion for the arts through the "Tickling of the Ivories" (playing the piano). This night will highlight various genres of music, from classical, gospel, jazz and even original compositions. Some artists will even sing a few tunes to further mesmerize you during their stellar performances.
Featured Artists:
Kenneth Rembert * L. Spenser Smith * Shelly Ann McDonald * Arthur Beard * Earnest Echols * Ahmun Miles
We hope to see you there!!
Doors open at 6pm
Show starts at 7pm
P.S. Light Hors d'Oeuvres will be served!