Dit evenement is afgelopen.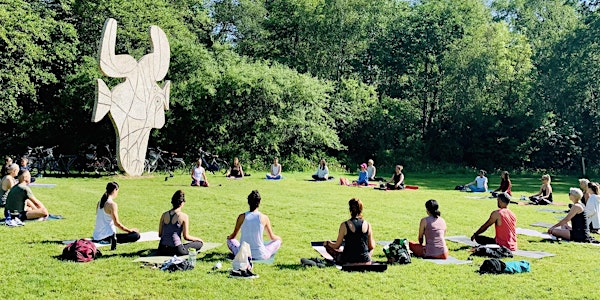 Summer of Yoga '22 @Vondelpark
Summer outdoor Yoga every Sunday morning @Vondelpark Come join us for an invigorating Vinyasa Flow class✨
Waar en wanneer
Locatie
Vondelpark Picasso statue 1071 Amsterdam Netherlands
Kaart en routebeschrijving
Beleid voor refunds
Neem contact op met de organisator om een restitutie aan te vragen.
Eventbrite-kosten zijn niet restitueerbaar.
Over dit evenement
🧘🏻‍♀️ //INFO//🧘🏻‍♀️
This is a class for all levels. Modifications are given where necessary, be prepared to move😀. Challenging postures are explored including balancing poses, inversions and backbends. Every class ends with a well deserved guided savasana (final relaxation)
📍//Location//📍
Vondelpark Amsterdam Picasso statue: https://goo.gl/maps/rJxJtQkNx3fSbRcZ7
☀️//WEATHER//☀️
If the weather is >19℃ or rainy🌦, class is cancelled for that day.
🎒//WHAT TO BRING//🎒
Bring your own mat and towel! 

💰//CONTRIBUTION//💰
Cost per class is €11 on Eventbrite, €10 on site: www.ayogacollective.nl. Tikkie is possible, cash is even better🙂
🌳//ABOUT SUMMER OF YOGA '22//🌳
This class is part of the Summer of Yoga '22. Summer of Yoga '22 is an initiative of Amsterdam Yoga Collective and is all about practicing yoga outdoors with awesome likeminded people. You'll be guided by our experienced and compassionate yoga teacher @SethSuperfresh. It takes place from June '22 until the end of September in the most beautiful and iconic parks of the city.
We'll be hosting about 10 classes per week on a broad spectrum (Yin, Vinyasa, Hatha, Power, Meditation, special events etc.)
The full schedule will be shared soon.
🕉//JOIN US//🕉
Join our WhatsApp group for the latest where you will:
🌳 stay updated on all classes we're teaching in the parks of Amsterdam🧘‍♀️
☀️ Stay up to date on changes due to weather etc. 🌦
📅 Get notified with any specials and other community events AYC is organising
WhatsApp (closed group): https://chat.whatsapp.com/Bl7dA9tyJC75OEJBPNgYwq
Telegram (open group): https://t.me/SummerofYoga22
AYC Instagram: https://www.instagram.com/amsterdamyogacollective/
Seth Instagram: https://www.instagram.com/sethsuperfresh/
Facebook: https://www.facebook.com/amsterdamyogacollective/
Website: www.ayogacollective.nl