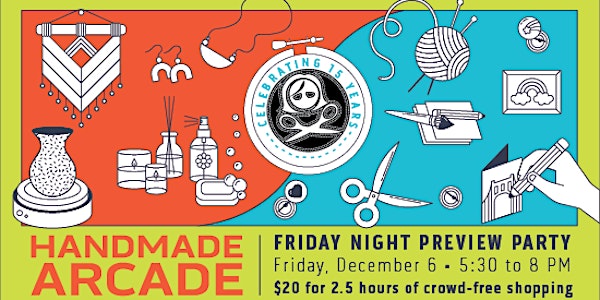 Tickets sold at the door. Friday Night Preview Party - Handmade Arcade 2019
When and where
Location
David L. Lawrence Convention Center 1000 Fort Duquesne Boulevard Hall B Pittsburgh, PA 15222
Description
Online tickets are closed.
Get your ticket at the door.



Cash preferred for faster and easier processing.



********************************************************************
Want to be the very first to shop at Pittsburgh's leading holiday marketplace!
Avoid the huge crowds and enjoy an intimate Friday evening shopping experience the night before Handmade Arcade opens to the public.
Friday Night Preview Party attendees will:
* GET A FIRST LOOK at Handmade Arcade's award-winning marketplace
* SHOP EARLY from more than 200 featured vendors in Pittsburgh's largest craft market
* ENJOY 2 1/2 hours of crowd-free shopping time at the region's premiere shop-small, buy-local event
* MEET THE MAKERS from Pittsburgh and beyond
* MINGLE with Pittsburgh's craft and maker communities
* PARTICIPATE in one-of-kind raffles featuring handmade artwork and products
* CELEBRATE Handmade Arcade's 15th anniversary
* HELP SUPPORT Handmade Arcade's mission
---
We are excited to announce the CONFIRMED Vendor List for the Friday Night Preview Party! SHOP EARLY and AVOID THOSE CROWDS!
We are excited to announce the CONFIRMED Vendor and Sponsor List for the Friday Night Preview Party! SHOP EARLY and AVOID THE CROWDS!
----------------------------------------------------
1flychicken creations
2468 Kids
3D Origami Art Studio
837 North
Abandoned Pittsburgh
Adey Designs
Alchemy Loop
Alternate Histories
Amanda Blake
Amelia Kieras Paper Arts
Ameraucana Handmade
Apothecary Muse
Arbor House Soaps
Array of Happiness
Arsenal Handicraft LLC
Audra Azoury Jewelry & Gifts
Barker's Herbs and Heirlooms
Baxter and The Bear
bel monili
Better Than Jam LLC
Black Ship Grooming Co.
Black Walnut Woodworking
Brittany Dael
Broken Plates
Buildings by Shane
Busy Hook Happy Heart
Butala Clay
Buttercup and Thistle Soaps
Camp Copeland Studio
Cannibal Paper Goods
Christine Shirley
CJ7DESIGNS LLC
Clark Morelia
Cleveland Street Glass
Coded Clay
Collarbone Jewelry
Commonwealth Press
Corchet
Cord & Iron
Costa Ricart
Crafty Intentions
Cuppa Stitches
Dragonfly Lake Scents
East Wheeling Clayworks
East Wheeling Clayworks
Elevated Woodworking
Emily McGaughey - Screen Printing & Illustration
Emmanuelle Ceramics
Etna Print Circus
Eunoia Artworks
everyday balloons print shop
Faire Fauna
Fall Hill Bead and Gem
FeltHappiness
Flannel Board Fun
Fleece & Thank Ewe
From These Woods
Frost Finery
garbella
Get Felt Up!
Gingerly Press
Go Carr Go
Halfway Hygge
Handmadebyjaelee
Hannah Grace Clark Painting
Hannah Hoffman
Hanover Designs
Hazelmade
Heather Rose Sewing Boutique
Hip Modern Soap Co
Hollyhue Clothing
huffalo
Ian M Petrie Ceramics
ILoveEnamelPins.com
Inclined Designs
JENCI
Jenna Vanden Brink Ceramics
Jennifer L Worden Arts
JESHAKA
Jowdy Studio
Karen Krieger Studio
Karen Melvin Art
Katie Bird Handmade
Keeney Design
Keep It Clean Naturals
Keith Hershberger Ceramics
KerfCase
Keystone Steel Co.
KikiReadsComics
Kitty Lou Handmade
KLoRebel Art
Klugworld
Knot to Scale Embroidery
Lavish Lamb LLC
Letterpress Jess
Lightning Bug Gift Co.
Lily In Flux
Lines and Shapes Jewelry Shop
Little Birdie Design Studio
Little Evelyn
Liz Pavlovic Design
Lovett Sundries
Lumen Electronic Jewelry LLC
Lumpkin and Feltandfold
Luster
lynne&lucille
MadKnits
MaeveMade
Maia Leppo
Make + Matter
Malagueta
Mary Wells Design
Max Wesoloski art
McCabins
MeganCrafts / Cold Friends
missy mae tutus
Mod Evil Studio
Moon & Yarn
Naked Geometry
Nellie Rose Textiles
North Ave Candles
Oceanne
Oddball Press
Old Blood Jewelry & Wears
Old Salts Leatherworks
OliviaClaire Designs
Once They Were Trees
Pennyknot
Plant Lady Wannabe
Queen of the Gravity Urge
Questionable Press
Ragtrader Vintage
Reconstruct Wood
Reconstructing Ideas
Red Rocket Farm
Redbudsuds
Refresh Collective
reiko yamamoto studio
Riverwood Trading
Rivet Leatherworks
Rocks and Salt
RPM Treasures
SASHA
sew much, sew nice
Shovel + Spade
Simon's Grandaughter
SLP.made
Small Mall
Social Living
Sorcery Science
South Atlantic Stitching Company
Splishy Splash Craft
Squirrel Tacos
Stak Ceramics
Stitch Party
Stitchburgh Boutique
Strange Hours Atelier
strawberryluna
Studebaker Metals
Studio Glass Company
Sub Rosa Tea
Tadpole Creations
The barefoot forge
The Circle Craft
The Happy Groundhog Studio
The Lost Borough
The Makist
The Rots
The Rowdy Ladybug
Things by Al
Threadbare Cider and Mead
Trilleypads
Una Biologicals
Vandalia Metal
VaultArt Studio
Vintage Robot
Wehgo
Whimsical Wonders
White Swan Illuminations
Wild Helix
With Wild Blood
Wood-N-You Like It
Worker Bird
WorkshopPGH
Woven Spectrums
Yanihandmade
YEAHYELSHA
Yellowcake Shop
you can call me YOKO
Yurko Stitch
Zenspire Designs
Handmade Arcade celebrates the cutting edge of craft by connecting creators and consumers through making, sharing, and learning.