Description
TICKETS ALSO BE AVAILABLE AT THE DOOR $70
BILETAT MUND TI BLINI TEK DERA $70
MEN & WOMEN ARE WELCOME TO ATTEND!!
ALL TABLES HAVE BEEN SOLD OUT
ADDITIONAL DETAILS AVAILABLE BELOW THE FLYER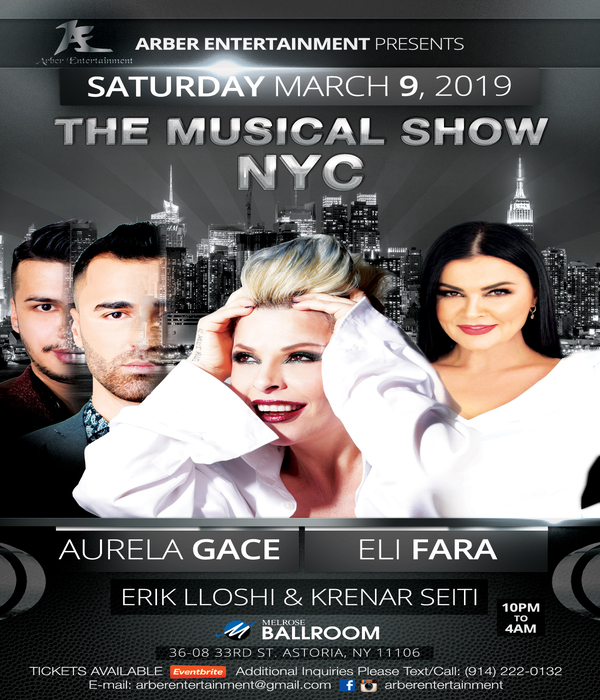 ---
I. ALL TICKET SALES ARE FINAL. NO REFUNDS*
II. MUST HAVE A VALID ID TO ATTEND THIS EVENT
III. EVERYONE between the ages 16-20 MUST HAVE A VALID ID AND MUST BE ACCOMPANIED BY A PARENT OR LEGAL GUARDIAN**
- BOTTLE SERVICE (VIP) TABLE RESERVATIONS -
IV. Tables have a ONE bottle (Around $300) minimum spending.
V. TICKET/S ARE NOT INCLUDED WITH YOUR VIP TABLE.
VI. Your table reservation is officially confirmed AFTER YOU PURCHASE TICKETS ONLINE.
- PLEASE NOTE -
In order to accomodate all guests BOTH Arber Entertainment and Melrose Ballroom reserve the right to relocate your table if the total number of your guests has changed.
Arber Entertainment is NOT REQUIRED to provide anyone with the exact table number or location, prior to the event.

FEEL FREE TO CONTACT US IF YOU HAVE ADDITIONAL QUESTIONS Text/Call: (914)222-0132 / Message us on Facebook & Instagram

---

*Refund requests maybe considered ONLY if either one of the main artists, (Aurela Gace and/or Eli Fara) DO NOT perform at this event.

**Please contact Melrose Ballroom for acceptable forms of identification Telephone: (718) 255-6921