TICKETS AVAILABLE AT THE DOOR- MANNIE FRESH (LIVE) & Yukmouth (Live)

Saturday, September 17, 2016 at 9:00 PM

-

Sunday, September 18, 2016 at 2:00 AM (PDT)
Event Details



HGMNY presents:
MANNIE FRESH (LIVE)
 YUKMOUTH (LIVE)
THIZZ MARKIE 
 NETO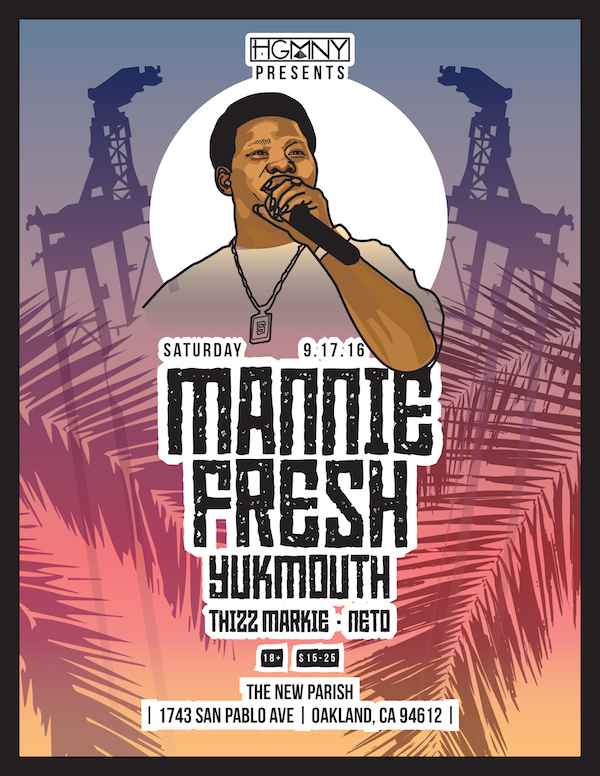 ---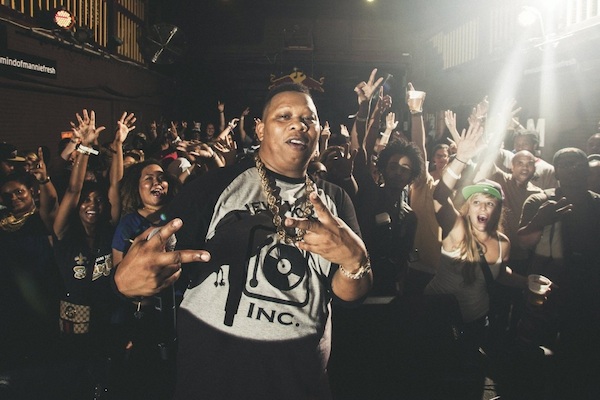 Mannie Fresh is known to fans and throughout the music industry as an amazing producer, artist, and entertainer but he started out as one of the best DJs in New Orleans and he is now returning to his musical roots. The multiplatinum, Grammy nominated producer responsible for creating hits (for UGK, Trina, Gucci Man, The Notorious B.I.G. and of course Cash Money) is now back to spinning full time, moving the crowd and DJing in clubs across the country. In between his DJing duties he is still making it happen in studios with Kanye, Bun B. Drake and the iconic Dr. Dre.
Mannie's first exposure to the entertainment business was over a decade ago in 1984. As a member of New York Incorporated, Mannie and his rap crew were responsible for some of the best parties in the city. As their fame grew Mannie caught the attention of rapper Gregory D and they formed a rap duo. They were quickly signed to RCA and released an album in 1992 entitled The Real Deal. Rap fans in the Big Easy fell in love with the album but it didn't make much noise on a national level. Even though the group didn't work out Mannie and Gregory D split but remained friends and soon another opportunity came along. Brian "Baby" Williams offered Mannie a chance to join his fledging crew Cash Money. Working with Baby, and other Cash Money members Lil Wayne, Juvenille and BG they created an impressive discography of hits and rode a wave of success straight to the top of the charts. Fueled by Mannie's quirky, inspiring production in the late nineties Cash Money became the preeminent, southern, rap label. Mannie Fresh's beats defined the sound of Cash Money, with Juvenille's megahits, "Ha," "Back That Azz Up," Lil Wayne's "Go D.J.," and the crew's "Cash Money Is An Army," "Bling Bling," etc. Mannie has cemented his place in hip hop history as one of the most talented producers ever. Baby and Mannie also formed their own group, Big Tymers and released a slew of great singles and albums, "Still Fly," "Get Your Roll On," and "#1 Stunna." Mannie also released his own solo album, The Mind of Mannie Fresh.

Mannie has always pushed the envelope, mixing layers of hip hop, funk and southern bounce with his sense of humor and warm personality proving that he is a force to be reckoned with. Mannie split with Cash Money in 2005 and later signed with Def Jam Records. He continues to work with some of today's biggest stars producing bangers for T.I., Bun B., Young Jeezy and Rick Ross. He's now focusing on launching the careers of his own artist with his own imprint, Chubby Boy Productions. As Mannie Fresh pursues his new passions he remains grounded by DJing and interacting on a personal level with all his fans.
---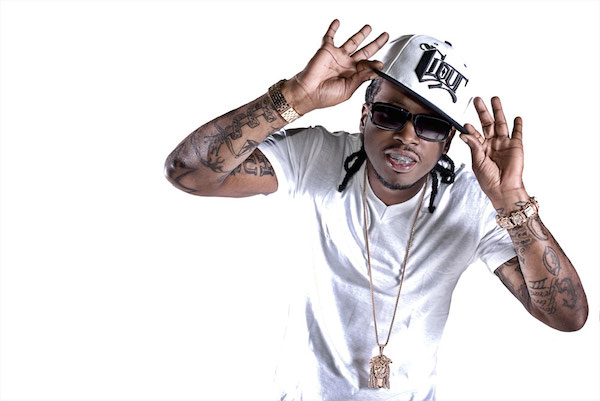 As one-half of the East Oakland, California, multi-platinum Hip-Hop duo, Luniz, Jerold Dwight Ellis, professionally known as Yukmouth, is definitely a  legend in his own right.

Luniz initially hit pay dirt thanks to their, still-to-this-day, popular weed anthem, "I Got 5 on It, an interpolation of the Club Nouveau classic, "Why You Treat Me So Bad," which appeared on their 1995 million-plus selling group debut, Operation Stackola [Noo Trybe/Virgin]. Nearly two and a half years later, the rap two-some returned with their gold certified sophomore set, Lunitik Muzik. Following their second release as a collective, Yuk inexplicably split from his, then, partner-in-rhyme, Numskull, taking his burgeoning Smoke-A-Lot imprint down south to Mr. J Prince's Rap-A-Lot Empire.

"I think when I signed with J Prince, it started the beef between me and Numskull," Yuk believes wholeheartedly. Re-assessing the situation, he recalls, "I don't know why, but Num started dissin' me outta nowhere and I was feelin' funny about the contract when I left C-Note Records saying they can get a new member of the Luniz, and I'm kicked out the group. [...] But, shit squashed [now] [...] me, Numskull and C&H did another Luniz album on Rap-A-Lot called Silver & Black."

Yukmouth's first solo outing,Thugged Out: The Albulation, at that particular time, a ground-breaking double CD, emerged in November of '98, moving well-over 500,000 units, and garnering favorable reviews from fans and critics alike.

Flash forward…Over the course of the last eleven years, and four hit records, later, and Yuk, who also moonlights as a member of the Thug Lordz, alongside Sac-town's own, C-Bo, returned this past summer with, arguably, his most well rounded project-to-date, the aptly named, Free At Last.

On the nineteen-track entry, the, now, 36-year-old, Grammy-nominated emcee is joined by a plethora of peers and friends in the biz; including, Ya Boy, Jay Rock, Young Money's Gudda Gudda, Tity Boi from Playaz Circle, Messy Marv, Choppa City, Roccett, 2Eleven, Mistah F.A.B., Chop Black formerly of The Whoridas, Dru Down, Curren$y, Richie Rich, Beeda Weeda, 3X Krazy's Agerman, L.E.P./Bogus Boys, Kafani, Shade Nate, Lee Majors and up 'n' coming singer Jannine V. Free At Last, the follow-up to last year's star-studded The West Coast Don, is his second solo collection sans Rap-A-Lot, a partnership that had been in place since his premiere solo offering more than a decade ago.

"I'm no longer on Rap-A-Lot Records, I'm signed to my own label, Smoke-A-Lot Records. It's no problem with me and Rap-A-Lot Records, we just decided to part ways," Yuk clarifies, when asked about the sudden dissolution from his, former, parent company. Re-iterating, the self-proclaimed "Worldwide Mobb Figga" is humbled, "[...] I grew up on Rap-A-Lot music, so to be signed was a dream come true. Shout out to J Prince for lettin' me do my thang and supporting my solo career through all the years — One hunid!"

Free At Last is only a small example of all that Yuk has in store for the coming months. With immediate plans to continue building his Smoke-A-Lot brand, 2010, '11 and beyond, is looking more-than promising for the self-made musical millionaire. There's his impressive roster of talent–Thuglordz (him & BO), whose just launched Thug Money is now available at all major digital and retail outlets, The Regime, Dru Down, Kuzzo Fly, Chop Back, T-Lew & Lil Hyfe–continuations of the popular compilation series United Ghettos of America, entited Passport and Eye Candy Volume 2, and his next solo body of work, tentatively titled Thug'n & Mob'n. And, of course God willing, another Luniz LP may also be on deck. "[Numskull's] locked up in jail, so when he gets out we doin' another Luniz album. [...] FREE NUMSKULL!" Yuk loudly shouts.

"In the future, I'm droppin' more movies. My DVD game about to step back up to an all-time high. Also, look out for the movies I'm starring in, like, FIVE-K-ONE, starring Clifton Powell and Melvin Jackson Jr. from HBO's THE WIRE — The future lookin' real bright for da kid!" Yukmouth announces excitedly, and then, sounding very grateful, reflects on his storied history, "I wouldn't change nothin' because the shit I went through as an artist made me and gave me the game I needed to start and run my own record label.

In closing, Yukmouth, who has nothing but love for those millions of devoted followers who have had his back, literally, from his whole inception into music, graciously concludes, "Shout out to all my fanz dats been holdin' a ni99a down since day one, without Y'all I'm nothin'! So, keep supportin' me, and I'll keep droppin' HEAT ROCKS 4 Y'all!
---
18+
Have questions about TICKETS AVAILABLE AT THE DOOR- MANNIE FRESH (LIVE) & Yukmouth (Live)?
Contact HGMNY
TICKETS AVAILABLE AT THE DOOR- MANNIE FRESH (LIVE) & Yukmouth (Live)