Dit evenement is afgelopen.
A journey of going back to your ROOTS
A journey of going back to your roots…to uncover a deeper sense of belonging &freedom. With guided meditation, intuitive dance, reflections.
Waar en wanneer
Locatie
Bluebirds Yoga WEST 4 Jan Evertsenstraat 1056 EC Amsterdam Netherlands
Kaart en routebeschrijving
Beleid voor refunds
Neem contact op met de organisator om een restitutie aan te vragen.
Eventbrite-kosten zijn niet restitueerbaar.
Over dit evenement
THE WORKSHOP
And just like that, it's almost the end of the year again. Another year, another cycle of our lives to cherish and learn from. A special time to quiet down and look inwards.
In this 2.5 hour workshop, I would like to take the time to do that - create space for you to stop, connect and reflect. To everything that you already are, and you are made of - taking a journey together of going back to your roots. So that you can connect even more deeply to who you are and where you come from, and embrace more fully your uniqueness and all the qualities that you carry.
There will be time to play, time to dance, time to connect, time to share. Time to simply be. Time to experience and discover something new. About you. Beyond the limitations of the conditioned mind. By simply connecting to your inner world with a pure, open and playful heart.
It will be my pleasure to create a safe space for you and guide you with the help of:
Guided visual meditations to open up our hearts and connect to our intuition
Intuitive dance to get into the wisdom of our body and let it flow freely
Embodiment exercises to have experiences beyond the conditions of the mind
Reflections to anchor our experiences
Group sharing to connect
My intention is that through this experience you uncover a deeper sense of BELONGING. And feel what HOME really feels like. To YOU.
So that your roots can grow bigger, and your wings can fly higher.
I hope to see you there!
Light & Love,
Rositsa
P.S. The exact content is not revealed in detail on purpose. So that you come in with an open mind (and heart) and submerge into the experience fully without any expectations.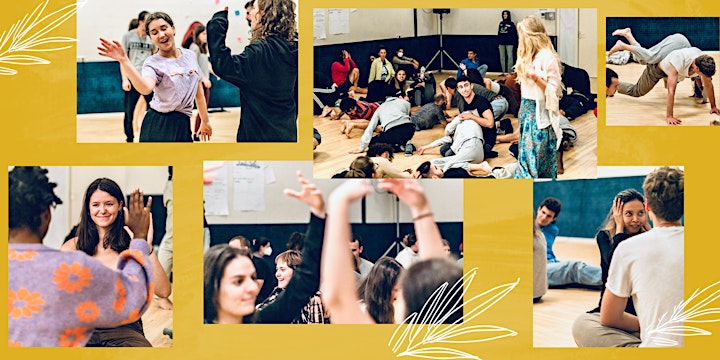 WHO IS IT FOR?
This workshop is first and foremost for anyone who resonates with the offering. If it grabbed your attention, you feel intrigued, or possibly somewhat uncomfortable … well maybe it is something for you to take part in then.
It's for anyone who is curious to discover something new about themselves in an experiential way. Free of expectations and judgment.
It's for anyone who dares to let their heart open up. To feel. To be moved by the power of music, dance, words and silence.
It's for anyone who wants to connect deeper to themselves. And to others.
With more kindness, with more acceptance, and love.
WHAT TO BRING?
Open heart and comfy clothes. The rest will be taken care of.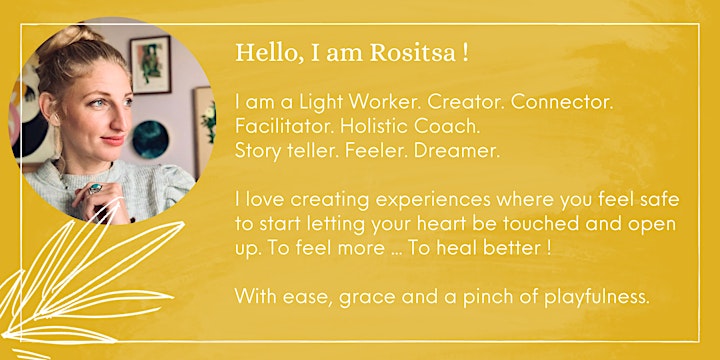 MY BELIEF
I believe we can all live more peacefully and more freely if we allow the wisdom of our hearts and souls to shine through. And we dare to follow it.
With patience. With curiosity. With grace.
Together hand in hand with all our fears and insecurities that might come through. Holding them kindly. With love and light.
I love creating experiences where you feel safe to start letting your heart be touched and open up. With ease, grace and a pinch of playfulness.
So that we can feel more. So that we can heal better. So that we can live more wholeheartedly, more courageously, more freely. Every experience is different and is offered to move you, inspire you, liberate you.
It is my deepest honour and pleasure to be one more sparkle of light guiding you on this life-long journey of self-discovery and acceptance. With music, dance, movement, meditation, story-telling, rituals, sharings, and more I am holding a safe space for you to connect deeper to yourself and others. Letting your light shine through and rejoice!
P.S. You can find more details about me and my work here: https://linktr.ee/see.me.feel.me.free.me

PRACTICAL DETAILS
What: 1 session of 2.5 hours, offered in 2 days/time slots that fit you best
When:
Saturday 3rd December 16:00 - 18:30
Sunday 11th December 14:00 - 16:30
Where: Bluebirds West, Jan Evertsenstraat 4-8, 1056 EC Amsterdam
Questions: Contact me directly (see.me.feel.me.free.me@gmail.com)