Tickets, Contributions and Concert Information for June 27, 2021 concert
About this event
CONCERT TO HONOR THE MEMORY OF DR. DAVID A. WASSER
ARDENT SUPPORTER OF SARATOGA CHAMBER PLAYERS & OF ARTS IN GENERAL
PROGRAM
HAYDN: Flute Quartet in C Major, Op. 5, no. 6 for flute, violin, viola and cello (1732 – 1809)
GORDON JACOB: Six Shakespearean Sketches, for flute, viola & cello (1895 – 1984)
I. "How Sweet the Moonlight Sleeps on Yonder Bank"
II. "Foot it Featly"
III. "Here's a Dance of Clowns"
IV. "Grace in All Simplicity"
V. "And a Babbled of Green Fields"
VI. "In Sad Cypress"
DVORAK: String Quartet in Eb Major, Op. 51 (1841 – 1904)
Susan Rotholz, flute; Jill Levy & Michael Roth, violin; Sarah Adams & Michael Roth, viola; Eliot Bailen, cello
PLEASE NOTE: All attendees are expected to be fully vaccinated or present proof of a negative COVID-19 test within 72 hours of the concert and must wear a mask at all times. Tickets are limited to assure safe distancing.
For questions, please contact us at ed@saratogachamberplayers.org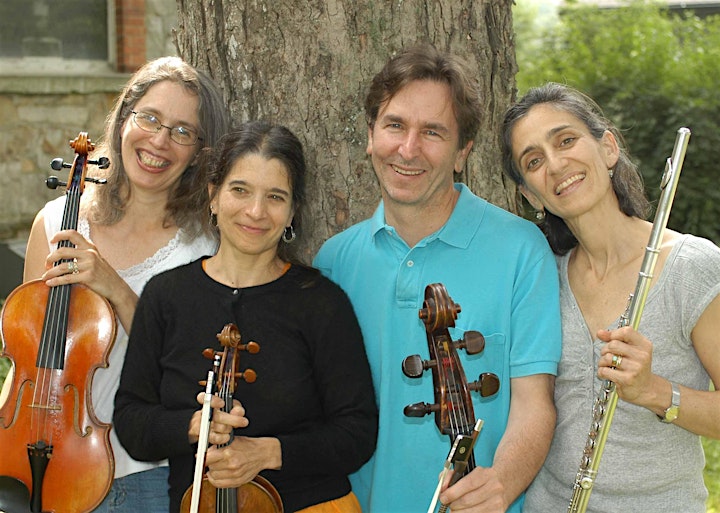 Your support is critical for musicians & our school outreach program. Tickets sales do not cover the cost of concerts or special projects.
Underwriter: $2000 -
Golden Patron: $1000 - $1999
Diamond Patron: $$500 - $999
Patron: $250 - $499
Donor: $100 - $249
Friend: $50 - $99
Other:
Adult Tickets: $30
Senior Tickets: $ 25
Student Tickets: $20
Groups of 10+: $20/ticket
Pay What You Will for Ticket: $ __