Tiburon International Film Festival

Thursday, April 11, 2013 from 7:00 PM to 9:00 PM (PDT)
Event Details
 The Empty Home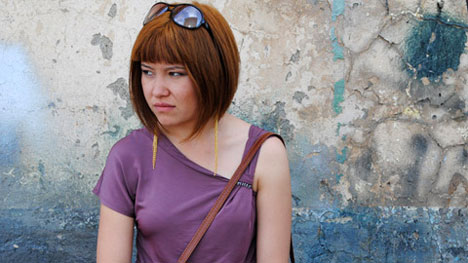 Running Time:  98 minutes
Country:  Kyrgyzstan / Russia
Language:  Kyrgyz, Russian, French with English subtitles
Genre:  Fiction
Venue:  Playhouse Theater, 40 Main Street, Tiburon
Cast:  Maral Koichukaraeva, Atal Omurbekov, Bolot Tentimyshov, Asan Amanov, Cecile Plage, Denis Sukhanov
This well-paced production opens on Ascel, a girl on a country road in Kyrgyzstan, who sells apricots from a bucket with her brother. It's quickly understood what a self-determined, practical, and energetic girl Ascel is as she avoids one man, marries another, and runs off on her wedding night to make her way to the big city. "They're tough in Moscow, too," a relative warns Ascel, and sends her off to live in an underground shelter and factory which she enters through a mythical hole in a wall.

Ascel tries, with her small bag of tricks, to "make it." But you can't make a person street smart, no matter how practical and adaptable they are, if they've never been outside their tiny village. Though she's no innocent, she's barely a mature individual and doesn't comprehend that dreams of success can come at a high price. The Empty Home is a surprising and touching micro-odyssey of a woman's first step into the intersection of village life and modernity.
When & Where
40 Main Street
Tiburon, 94920


Thursday, April 11, 2013 from 7:00 PM to 9:00 PM (PDT)
Add to my calendar
Organizer
Tiburon International Film Festival (TIFF)
12th Annual Tiburon International Film Festival, a showcase for the independent films from around the world is set for April 11-19, 2013.
Tiburon International Film Festival