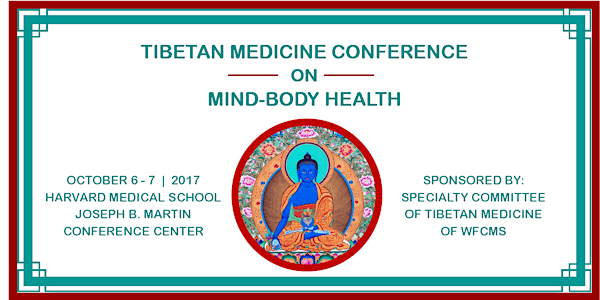 Tibetan Medicine Conference 0n Mind-Body Health | 2017
When and where
Location
Harvard Medical School - Joseph B. Martin Conference Center 77 Avenue Louis Pasteur Boston, Massachusetts 02115
Description
Mind-Body Health in Tibetan Medicine: Crossing the Great Divide
The 2017 Tibetan Medicine Conference on Mind-Body Health, taking place at Harvard Medical School in Boston MA, is the third annual conference of the Tibetan Medicine Committee of World Federation of Chinese Medicine Societies (WFCMS). Past conferences sponsored by WFCMS took place in Xining, Qinghai Province (2015) and Lhasa, Tibetan Autonomous Region (2016) in conjunction with the celebration of the 100th anniversary of Men-Tsee-Khang.
The aim of the 2017 Tibetan Medicine Conference is to strengthen international academic exchange on mind-body health, and encourage cross-disciplinary cooperation through mutual understanding and shared effort. With serious dialogue between traditional Tibetan medical practitioners and Western scholars, scientists, and clinicians, the conference may help identify goals for future research and establish international collaborative efforts that can carry forward the Tibetan medical tradition, raise its standards, and better serve humanity.
Jiumei Pengcuo, TMD, chairperson of the Specialty Committee of Tibetan Medicine of WFCMS and president of Qinghai Jiumei Tibetan Medical Group will give the opening lecture on Friday, Oct. 6 at 8:30am, followed by three keynote speakers:
Rudolph Tanzi MD, PhD - Joseph P. and Rose F. Kennedy Professor of Neurology Harvard Medical School Vice-Chair, Neurology; Director, Genetics and Aging Research Unit Massachusetts General Hospital | The Potential for Natural Products in Treating Alzheimer's Disease

Yumba - Vice-Director, Men-Tsee-Khang, Lhasa | Science of Astrology in Tibetan Medicine

Janet Gyatso PhD - Associate Dean of Academic Affairs, Hershey Professor of Buddhist Studies, Harvard University, Divinity Schoolm | Challenges for the Study of Tibetan Medicine
---
Registration Information
The Tibetan Medicine Conference is FREE.
Please look over the conference schedule before registering. To ensure proper seating, make your selections from the registration options listed under the GREEN REGISTRATION BUTTON on this page. Note that 1A/1B, 2A/2B, and 3A/3B are concurrent sessions taking place in separate rooms. Select ONLY ONE OPTION from each pair.
If seating for a session is full, the system will not permit you to make that selection. Please choose another option.
Please refer to the conference schedule page for updates or schedule changes. The structure of the conference and each plenary session theme will remain the same, however certain circumstances may require changes in speaker order, or change of speakers. Thank you for your understanding!
---