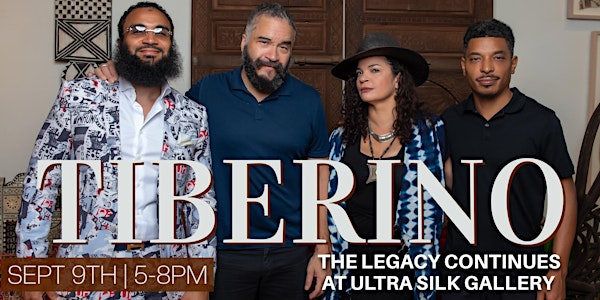 TIBERINO: The Legacy Continues Art Exhibition | Opening Reception
You are personally invited by Ultra Silk Gallery to our 2nd Fridays Art Exhibit showcasing the works of Raphael, Ellen & Gabe Tiberino
When and where
Location
Ultra Silk Gallery 3808 Lancaster Avenue Philadelphia, PA 19104
About this event
The Tiberino name resonates in the world of art for decades. The history of Ellen Powell Tiberino and Joseph Tiberino are well documented in the halls of museums, galleries, and private collections all over the world. Now we focus on the children of this amazing couple, Raphael, Ellen and Gabriel Tiberino. All accomplished artists in their own right.
The Tiberino Family, more than anything else, is a love story. The influence and nurturing of two extremely talented artists provided the lifestyle, atmosphere and backdrop for their talented offspring to blossom and flourish. Working in a variety of mediums, Raphael, Ellen and Gabriel are able to merge the old with the new. Through their eyes, we're able to see the ongoing legacy of their families contribution to the art world. This younger generation is able to speak in a style that's uniquely theirs but harkens back to the traditional style. The Legacy of Love continues...
"Tiberino: The Legacy Continues" Art Exhibit Opening Reception featuring works from the entire Tiberino Family will be held on Second Friday, September 9th 2022 from 5PM-8PM at Ultra Silk Gallery (3808 Lancaster Avenue Philadelphia PA 19104). Exhibit will be open for viewing during business hours until Wednesday, October 6th 2022.
VISIT OUR WEBSITE HERE TO RSVP