Tiaras Night Out

Saturday, June 22, 2013 from 7:00 PM to 9:00 PM (EDT)
Event Details
TIARAS NIGHT OUT!!
JOIN INFINITY DIAMOND CLUB FOR A FABULOUS NIGHT OF WOMEN'S LIBERATION, FREEDOM AND EMPOWERMENT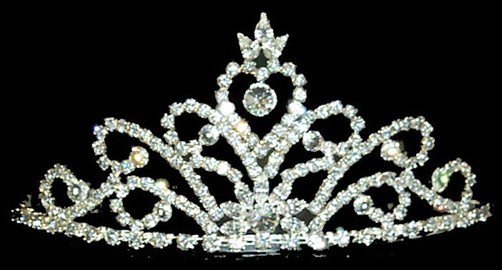 THEME: WOMEN AND BODY IMAGE
We will enjoy a night of fun, sisterhood and fellowship while we discuss body image issues that women face in society. We will discuss freely and openly around issues we have had and may still have and discuss ways we can support, love and help each other move forward with embracing all of who we are as dynamic and beautiful women!! Then what better way to help us as women feel sexy, vibrant and alive than in the safe space of sisters, we can learn pole dancing techniques and exercies that help us to be sensual as well as fit.
Step 1 - Please register online with Infinity Diamond Club via Eventbrite ~ $15.00.
Step 2 - You MUST Sign Upr online with Turn Me Loose Fitness Studio (no cost). The link to their Turn Me Loose Fitness website. Below are your instructions for their website.
CONTINUE - In the UPPER RIGHT HAND CORNER in orange you will see the words "sign up" select that. This will prompt guests to set-up an online account which has at the bottom our studio liability waiver which has a check box MAKE SURE TO READ WHAT YOU ARE CHECKING OFF IN THIS BOX IT STATES "STUDIO LIABILITY RELEASE"….THIS IS YOUR WAIVER. To proceed they need to check the box (which is the release) and hit create account...they are all set up & will receive a thank you confirmation email that their account has been created.
Print out the Thank You letter you received as this is your confirmation and bring a copy with you to the studio or have the thank you letter available on your phone for party check in.
VERY IMPORTANT: ABSOLUTELY POSITIVELY NO LOTIONS OR OILS on the skin.This is for safety reasons your guest could get seriously injured by applying any lotions or oils to their skin and the people using the pole after you. PLEASE PLEASE PLEASE we can't stress enough how important this rule is. Instructor reserves the right to stop anyone from Pole Dancing if there is oil or lotion on the skin.
Attire:
Pants that go above the knee, or shorts. Shoes depend on the party. Fitted tank top or tee shirt. ABSOLUTELY POSITIVELY NO LOTIONS OR OILS on the skin. PLEASE PLEASE PLEASE we can't stress enough how important this rule is. Please respect this policy, the instructor or coordinator has every right to ask anyone whom has lotion on their skin to sit out if the instructor sees a consistent residue on the poles. Please no jewelry or shoes with big buckles that may scratch the pole.
 Weight Limit
Our XPoleXPert Competition Grade Poles have a 350 pound weight limit. If you are above this weight please let your instructor know and she can modify movements. At TML we understand women come in all shapes in sizes, Cassandra herself being over the limit at one time understands this can be a sensitive issue, but this is a safety issue and an expense issue. If any damages are done to the poles the credit card on file will be billed for those charges or responsible party will of course be held responsible legally. Please encourage all guest to take this seriously and not an issue of feeling left out EVERYTHING CAN BE MODIFIED so there is something for everyone here at TML. We also have plenty of women's fitness programs that help women get into better shape to be able to progress with pole dancing.
We look forward to seeing you on Saturday, June 22, 2013 at 7:00 pm. If you have any questions, call Priscilla at 919-685-2590!!
When & Where

Turn Me Loose Fitness Studio
6308 Angus Dr
Raleigh, NC 27617


Saturday, June 22, 2013 from 7:00 PM to 9:00 PM (EDT)
Add to my calendar
Organizer
Infinity Diamond Club
Infinity Diamond Club is an inclusive social empowerment organization solely dedicated to fostering Unity, Fellowship and Friendship within the community.  It allows individuals to come together across racial,  cultural, economic, religious and other stereotyping labels to create safe places and empowering atmospheres where we can share and learn from each other.  We welcome singles, couples, and famlies, because   "We Are 1". Please visit our website at www.infinitydiamondclub.com to learn more about IDC.  Thank you.