| | |
| --- | --- |
| TIANA VON JOHNSON'S "HOW TO BUILD A MULTIMILLON DOLLAR BRAND" MASTER CLASS - BAYONNE, NJ Only Minutes from NYC! Don't miss it! | |
Event Details
NOTE: SPACE IS LIMITED TO 30 PEOPLE.
DO NOT RSVP IF YOU CANNOT ATTEND OR YOU WILL NOT BE INVITED BACK.
TIANA VON JOHNSON'S "HOW TO BUILD A MULTIMILLON DOLLAR BRAND" MASTER CLASS AT TIANA'S PRIVATE LOFT IN NEW JERSEY - MINUTES!
TIANA'S FREE MASTER CLASS!
SAT, DEC 3, 2016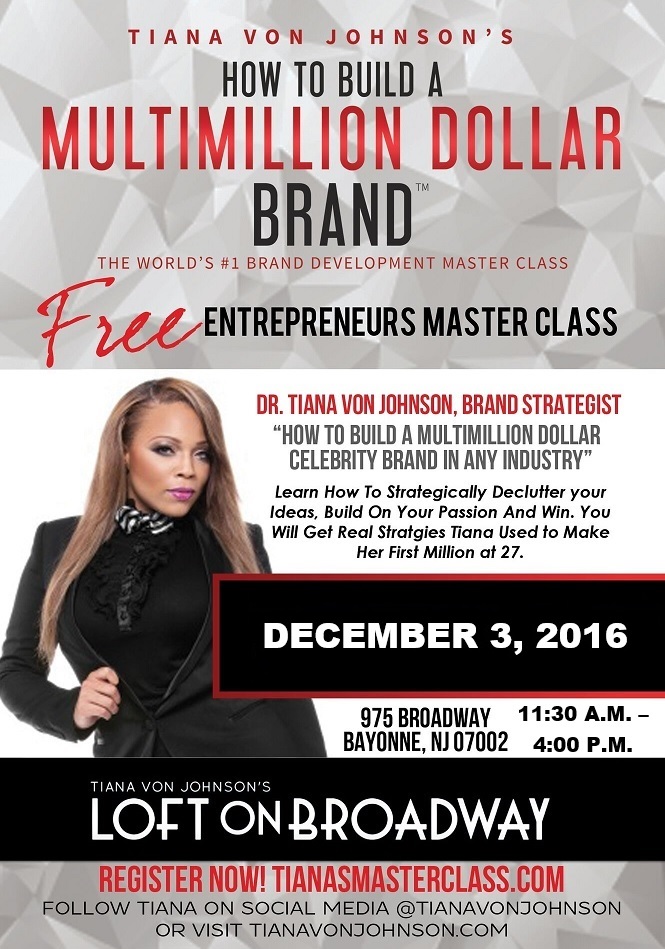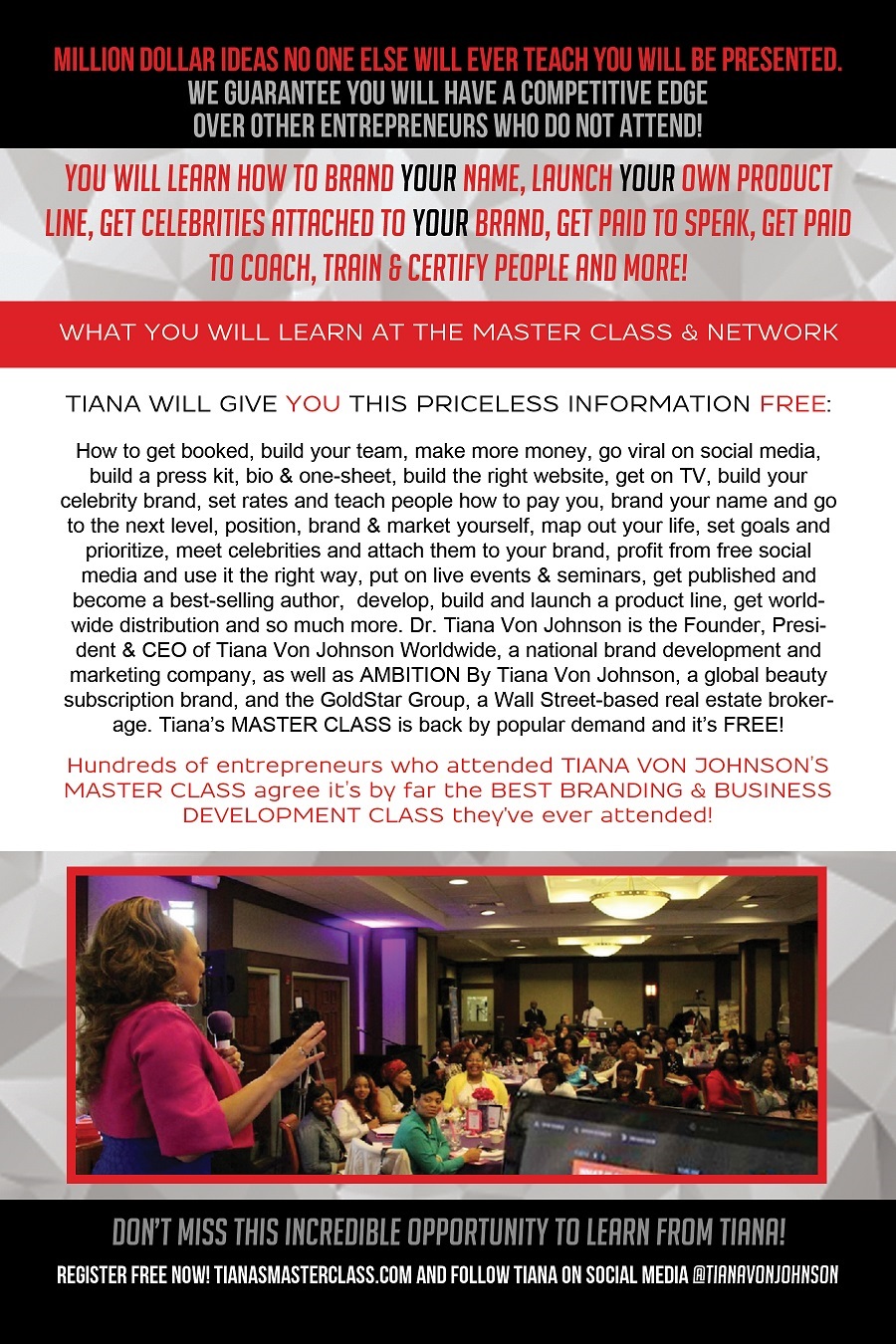 TIANA WILL GIVE YOU THIS PRICELESS INFORMATION FREE:
How to get booked, build your team, make more money, go viral on social media, build a press kit, bio & one-sheet, build the right website, get on TV, build your celebrity brand, set rates and teach people how to pay you, brand your name and go to the next level, position, brand & market yourself, map out your life, set goals and prioritize, meet celebrities and attach them to your brand, profit from free social media and use it the right way, put on live events & seminars, get published and become a best-selling author,  develop, build and launch a product line, get worldwide distribution and so much more. Dr. Tiana Von Johnson is the Founder, President & CEO of Tiana Von Johnson Worldwide, a national brand development and marketing company, as well as AMBITION By Tiana Von Johnson, a global beauty subscription brand, and the GoldStar Group, a Wall Street-based real estate brokerage.
 NO REFUNDS OR EXCHANGES.
 NO VIDEO OR AUDIO RECORDING ALLOWED INSIDE CLASS. 
BUSINESS CASUAL ATTIRE.
NO CHILDREN UNDER 16 ALLOWED AT THE CLASS. 
METERED AND STREET PARKING OUTSIDE. 
Have questions about TIANA VON JOHNSON'S "HOW TO BUILD A MULTIMILLON DOLLAR BRAND" MASTER CLASS - BAYONNE, NJ Only Minutes from NYC! Don't miss it!?
Contact Tiana Von Johnson
When & Where

Tiana Von Johnson's Loft on Broadway - Bayonne
975 Broadway
Bayonne, NJ 07002


Organizer
Tiana Von Johnson
NATURAL LEADER
Dr. Tiana Von Johnson is a million dollar brand strategist, multi-business entrepreneur, motivational speaker, author, publisher and beauty enthusiast. In addition to building her own empires, she helps hundreds of entrepreneurs build their businesses and brands through her personal coaching and mastermind club.
BORN TO WIN
Tiana began her climb to success when she was only seven-years-old. She developed a knack for negotiation and entrepreneurship by selling records on the streets with her father and honed her creative genius by watching her mother do hair, sew, cook, make dolls and design flowers. Combining the entrepreneurial and creative talents of her parents, she became quite a formidable force.
Over the years, Tiana has held various corporate leadership positions in social services and put herself through college. She received her Bachelor's in Business Administration at the age of 20; one year later she completed her Master's in Business Administration both from Metropolitan College of New York and studied for her PhD in Business Administration & Organizational Leadership from the University of Phoenix from 2007-2010. Although Tiana was determined and reached high levels of education and success in the corporate world, she felt this was not her true calling. Miserable with the predictable routine of her day job, the then 27-year-old single mother of two living paycheck to paycheck, Tiana took a step out on faith, quit her job and tried her hand at entrepreneurship.
RISE OF A MOGUL
Faced with fears and many setbacks, Tiana was determined to win and in her first year running her own business she mastered the art of branding and generated over $1 million. Her Wall Street luxury real estate firm, Goldstar and national investment company, Minority Investors Alliance (MIA) was a huge success leading to countless television and media interviews on TV One, Black Enterprise, CNN, Crain's New York Business, Curbed, Marie Claire, News 12, The Real Deal and more. In 2013, she signed a major television deal with NBC Universal for her very own show, Powerhouse.
EXPANDING AN ENTREPRENEURIAL EMPIRE
Always building brands and on the lookout for creative revenue streams, Tiana realized that she needed to be part of the $72 billion beauty industry. Seeing the high demand for products and services, she launched AMBITION By Tiana Von Johnson, a first of its kind, high-end beauty subscription.
GIVING BACK
Tiana did not want her years of sacrifice, tears, hard work, trials and tribulations to go in vain so she started her coaching program to help other entrepreneurs build their business and brands using her expertise and strategies. In addition, Tiana launched Women Doing It Big (WDIB) in 2012, an organization that motivates and educates women around the world to build their businesses, communities and families through entrepreneurship; her popular signature WDIB Conference is held annually in various cities.
Tiana holds an MBA from Metropolitan College of New York and she was awarded two Honorary Doctor of Philosophy degrees for over 15 years of global business development and philanthropic initiatives nationally and internationally.
FOLLOW TIANA ON SOCIAL MEDIA @TIANAVONJOHNSON AND VISIT TIANAVONJOHNSON.COM

TIANA VON JOHNSON'S "HOW TO BUILD A MULTIMILLON DOLLAR BRAND" MASTER CLASS - BAYONNE, NJ Only Minutes from NYC! Don't miss it!