Multiple Dates
TIANA VON JOHNSON'S HOW TO BUILD A MULTIMILLION BRAND WEBINAR--FREE ONLINE...
Description
TIANA'S MASTER CLASS WILL TEACH YOU HOW TO THINK MORE STRATEGICALLY, DECLUTTER YOUR IDEAS, BUILD ON YOUR PASSIONS AND WIN! THOUSANDS OF DOLLARS WORTH OF IDEAS NO ONE ELSE WILL EVER TEACH YOU WILL BE PRESENTED. WE GUARANTEE YOU WILL LEAVE EQUIPPED WITH WHAT YOU NEED TO TAKE YOUR BUSINESS AND BRAND TO THE NEXT LEVEL.
2 FREE WEBINARS AVAILABLE!
Tues, July 30, 2019 7PM EST
Wed, July 31, 2019 10AM EST

*Conference info will be sent once registered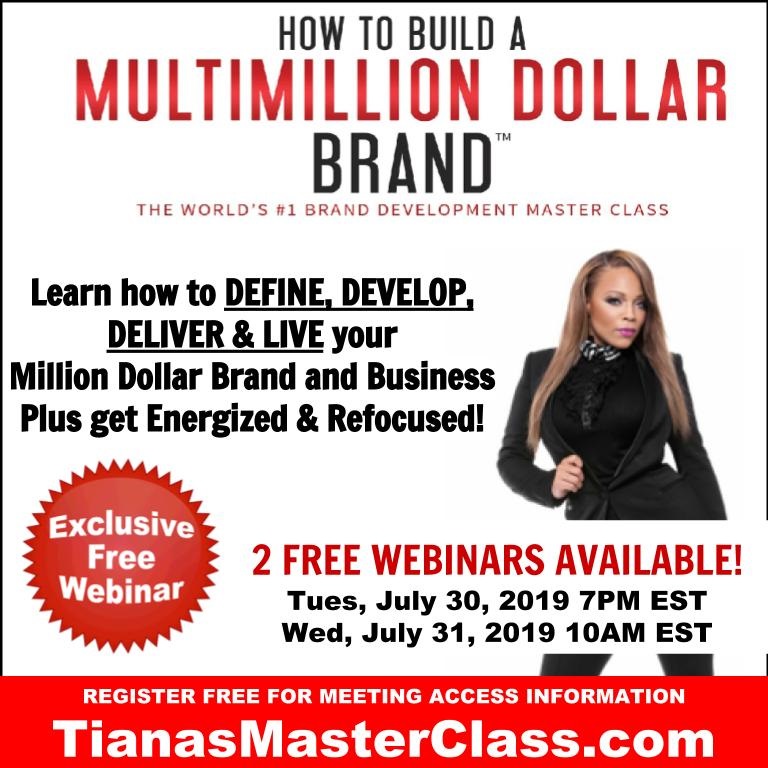 Learn how to build YOUR brand and generate millions like Tiana did at 27-years-old. Thousands of dollars worth of ideas no one will ever teach you will be presented.
YOU will learn how to attract new FREE money guaranteed, build YOUR celebrity brand, get a TV deal, launch a product line, sell on Amazon, put on live events, speak on stages, build a coaching program, write a book in 1-week and launch YOUR own magazine with worldwide distribution, how to go viral on social media, build real followers, get more bookings, build YOUR team and so much more!
Great for Entrepreneurs in any industry!
FOLLOW TIANA ON SOCIAL MEDIA @TIANAVONJOHNSON
REGISTER FOR MILLIONAIRE MASTERY WITH PERCY MILLER AKA MASTER P OCT 5TH -- NYC! Click Here