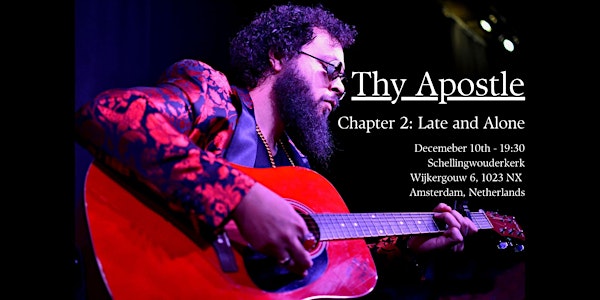 Thy Apostle - Chapter 2: Late and Alone - December 10th
Join Thy Apostle in the LIVE recording of his debut album - Chapter 2: Late and Alone.
When and where
Location
Schellingwoude church 6 Wijkergouw 1023 NX Amsterdam Netherlands
About this event
Thy Apostle presents: Chapter 2: Late and Alone. - Debut Album Live Recording!
You enjoy music, but have you ever been "in" music? Take part in this once-in-a-lifetime event as Thy Apostle records his debut album, Chapter 2: Late and Alone., in front of a live audience. You can be IN that audience and forever be immortalized in the vibrations of music and soul.
Thy Apostle's Chapter 2: Late and Alone. is set in the mysterious looking Schellingwouderkerk in Amsterdam North. This will be a night full of intrigue and unexpected wonder.
Six local artists (Kevin Groen - Jo Anna Leon - Alexander, (he/they) - Xina Mercken - Jędrzej Jędraszyk - Izadora Shin) will share the stage performing music, spoken word, and storytelling before Thy Apostle takes front and center as the main event.
Enter into the second installment of the Acts of Thy Apostle .
Cant't attend but want to support the artists? Donate a lil sumthin' sumthin' on Thy Apostle's GoFundMe!
TICKETS: €29.99p.p. - payable online or via QR Code at the door.
WHEN: December 10th, 2022 - 19:30. Doors open at 19:00.
WHERE: Schellingwouderkerk, Wijkergouw 6, 1023 NX Amsterdam, Netherlands
Dress Code: Please wear something nice and/or interesting.
No refunds.
DONATE HERE: GoFundMe