Description
The Pixie & The Scout bring their unique spirit of collaboration and committment to cooking and eating toward the future of the food to the farm for a one-time-only collaboration with Crown Finish Caves, a cheese-aging facility located in 1850's era brewery lagering tunnel 30 feet below the street in Crown Heights, Brooklyn.
CHEESE AND VEGETABLE LOVERS UNITE.
Expect lots of local, seasonal vegetables prepared with care and creativity, paired with a wide variety of world class chesses aged right here in Brooklyn.
$85/person / No substitutions please / Gratuity not included, please bring cash!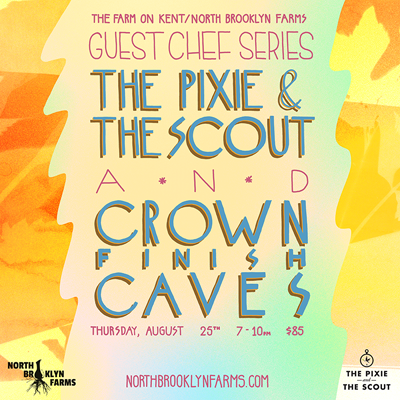 The Pixie & The Scout
After several years of cooking professionally in New York City and abroad, we decided to begin a dining project of our own. Borrowing a few of our favorite elements of great restaurant dining -- attention to detail; devotion to deliciousness; the buying power to support dozens of superb food producers -- we hoped that we could marry these elements to our own intimate and collaborative brand of hospitality.
What followed was a series of meals … some were goofy, some serious; some were elaborate, others rustic; some involved just a handful of people, others more. We began to feel like a band of foraging & cooking troubadours and it seemed we had stumbled upon a successful recipe: EQUAL PARTS DELICIOUS INGREDIENTS & INTELLIGENT HOSPITALITY PLUS ONE DASH OF DINING MAGIC (TO TASTE).
Today, The Pixie and The Scout is more than a roaming dinner series. What began as a delicious dinner party featuring the hard work of our farming & fishing friends, has grown into a robust brand of special events. We work with new clients every day who challenge us to come up with even better ways to tell the stories of the amazing food we bring. We are committed to the highest level of sustainability we can achieve in the way that we source, cook & serve food.
Crown Finish Caves
We are located in the historic former Nassau Brewery building in Crown Heights, Brooklyn. Our caves are the old lagering tunnels of the brewery, and at approximately 50 degrees fahrenheit year round, they are the perfect temperature for aging cheese. We don't make cheese here, we just age it; this is a centuries old practice called "affinage," and is a prominent industry throughout Europe. We receive young cheese (AKA "Green Cheese") from local, artisan producers, as well as from some more distant producers, even one in Italy! Most of our cheese is produced less than 250 miles from NYC, and it is always received when it is between 1-14 days old, and no rind has developed. We ripen our cheese in the ideal conditions of our historic tunnels, which were renovated into a state-of-the-art licensed NYS Dairy Plant. At full capacity, our main tunnel holds 22,000 pounds of cheese, and it's almost full.
You can find our cheeses throughout the NYC metropolitan area, as well as in Philadelphia, DC, Boston, Nashville, and Chicago.
FAQs
What if I cannot make it? What is the refund policy?
We're generally very understanding if something prevents you from attending supper. Tickets are fully refundable up to 7 days before the event. Refunds after that are at the discretion of the organizer. We are unable to issue refunds 48 hours before the event.
What if I am a vegetarian or vegan? What if I have severe food allergies?
We will be serving a set menu with no substitutions, but we will do our best to accommodate everyone! Please contact Kenny Monroe at kenny@northbrooklynfarms.com with any severe food allergies or dietary restrictions.