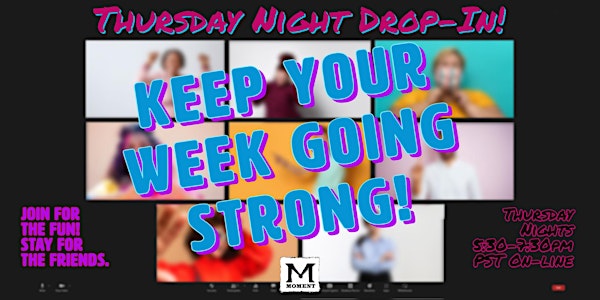 Multiple dates
Thursday ONLINE Drop-in Improv Class
Improv is like when you were a kid during recess and you played make-believe adventures with your friends. Get connected | Make new Friends
By Moment Improv Online Classes
Date and time
August 9, 2022 · 3pm - July 6 · 5pm PDT
About this event
Welcome to Moment Improv Online!
No prior experience necessary! Good for anyone wanting to explore the art form of improvisation online. These classes are longer than our free sessions and are similar to our regularly held IRL (in real life) drop-in classes. With over 15 uniquely crafted experiences on rotation, ya never know what joy you will discover when you come to play with others.
Notice: We are now offering this class as a pay what you can to help those who cannot afford the market price of $15.
So what is improv?
Improv is like when you were a kid during recess and you played make-believe adventures with your friends. Improv classes help you remember how to do that again.
Rediscover your creative side
Meet new people, make new friends
Learn to effectively listen and communicate
Mix it up a little and do something social
Improv can still provide connection and that much needed artistic space to create. Get lost in the moment with us online, make new friends, and let your imagination lead the way!
Check us out on Yelp! : https://www.yelp.com/biz/moment-improv-theatre-san-francisco
A minimum of four student are required for the class to proceed.
Legal Stuff...
I, the ticket purchaser/workshop attendee, do hereby submit my application for attendance and participation in said Moment Improv Theatre Class. I fully understand that though the activities performed in the workshop are inherently safe, and when performed properly injuries are rare, there are physical activities involved, and as such, participation includes a minimal risk of injury. I hereby assume full responsibility for any and all damages, injuries, or losses to myself or my property that I may sustain or incur, if any, while attending or participating. I agree to hold harmless and waive my right to all claims against the instructors and or facilities. I consent that any photos taken, video or other, of me in connection with this event can be used for publicity or promotion, and I waive compensation in regard thereto. I understand that the fee for the class must be paid in full prior to the beginning of instruction, and if fees are not paid, I may be excluded from participating. If for some reason I am not able to attend any of the workshop dates a refund will not be issued.
I have read, fully understand the above agreement and waiver and agree to the terms set forth by way of a ticket purchase.