Event Information
Location
Nathan Benderson Park
5851 Nathan Benderson Circle
Sarasota, FL 34235
Refund policy
Refunds up to 7 days before event
Two sets of jazz legends under the stars at Nathan Benderson Park.
About this event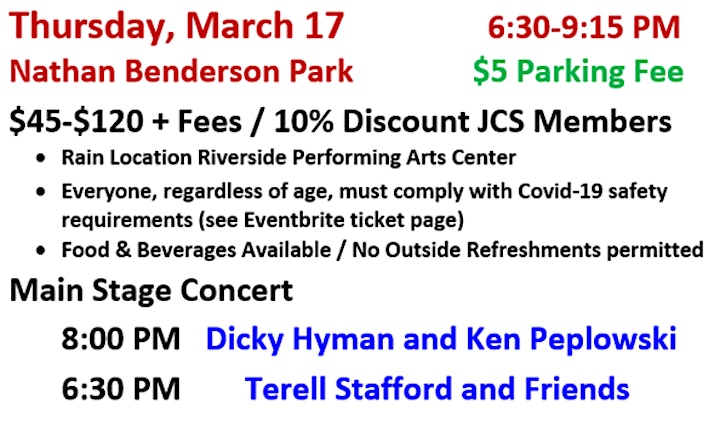 Dick Hyman & Ken Peplowski
Having played with the likes of Charlie Parker, Dizzy Gillespie, the Tommy Dorsey Orchestra, and many other jazz legends, piano virtuoso Dick Hyman and woodwind master Ken Peplowski share an encyclopedic knowledge of jazz and its history. Their partnership is anything but academic, however: For these two giants, a concert is all about the pure joy of spontaneous creation. Hyman's stylistic palette is immense, covering stride, boogie-woogie, bebop, swing, and every other subgenre of jazz — no doubt this is one of the reasons that Woody Allen hired him to score many of his movies. Peplowski's uncanny facility and gorgeous tone make every solo a memorable work of art. With a shared sense of humor that runs very deep, the pair is certain to serve up a performance that is as exhilarating as it is entertaining.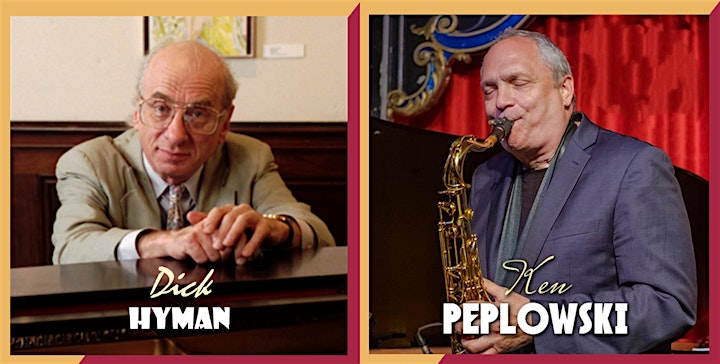 Terel Stafford & Friends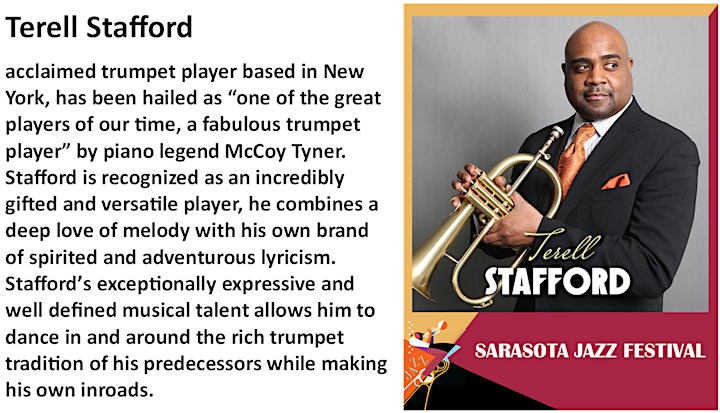 Presenting Sponsor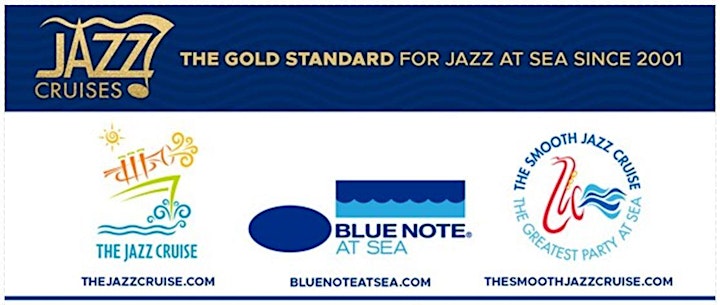 Presenting Partner
Select Your Concert Seats from 6 Tiers.
Yellow Tier available only as Full Week VIP Tickets.
5 Other Tiers available only as Single Night Tickets.
There are 940 outdoor seats at Nathan Benderson Park, and they are spaced12 inches apart.
The Riverview Performing Arts Center will serve as the back-up rain location for Main Stage Concerts only. The same seating pattern exists at both sites, so the seat you select at the park will be your same seat at the Arts Center. The last eight rows in the park are balcony seats at Riverview.
If this event is relocated to Riverview Performing Arts Center, Masks WILL BE REQUIRED at that location.
Tickets Sold Only on the Eventbrite site.
No Tickets Sold at the Door on the Day of the Event.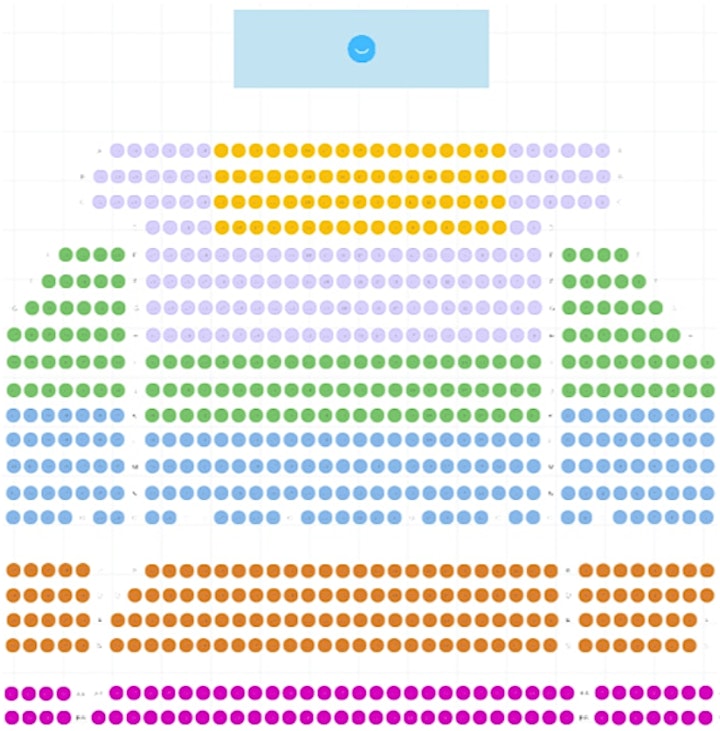 Location of Sarasota Jazz Festival at Nathan Benderson Park
The Jazz Festival concerts will be held near the Finish Line Tower on Regatta Island at the north end of the park. The address is 5851 Nathan Benderson Circle, Sarasota, FL 34235. This is just off of North Cattlemen Rd. The park is just south of the University Town Center (UTC) Mall.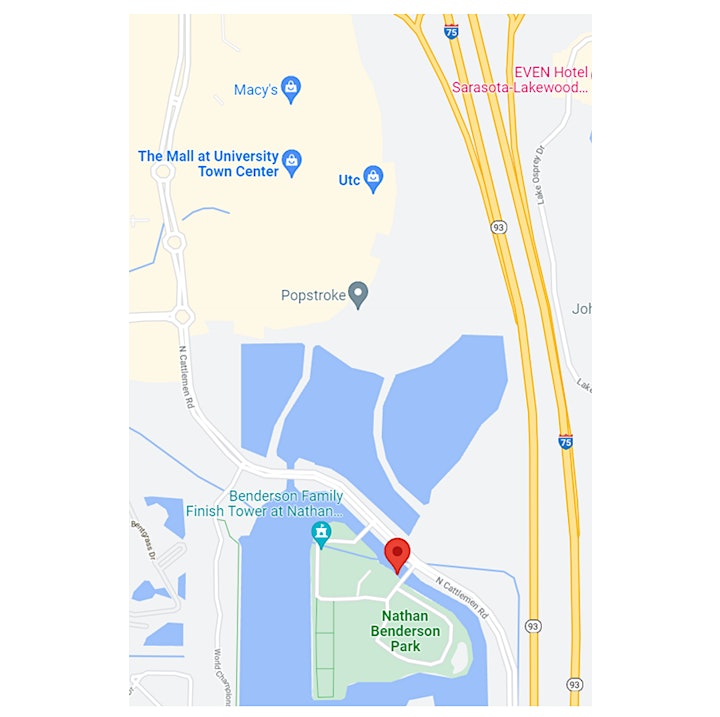 Covid-19 Precautions & Requirements:
NATHAN BENDERSON PARK LOCATION
All of the festival concerts will be held outdoors at Nathan Benderson Park, providing for a well-ventilated opportunity to enjoy the music. Seating at the four Main Stage Concerts will be well spaced with 12 inches between each chair. Masks are optional at these events
The Jazz Film and UTC Trolley Pub Crawl are both indoor events. Locations to be announced. Masks are highly recommended for these events and may be required by the venue operators.
STAFF & MUSICIANS
All Festival musicians, performers, technical and production staff, venue employees, volunteers and other individuals associated with any and all events produced by the Jazz Club of Sarasota must be fully vaccinated against Covid-19.
FESTIVAL ATTENDEES
ALL Festival Events require TICKETS which must be obtained on the Eventbrite Ticket Website. This includes the Free JAZZ IN THE PARK event.
Ticket purchasers are responsible for communicating the testing and alternative requirements to all members of their party.
All attendees ages five and up must show proof of a negative COVID-19 test certified by a test provider. The only acceptable tests include:
A negative PCR Test administered by a medical provider or official testing center no more than 72 hours prior to the event; or,
A negative Rapid Antigen Test administered by a medical provider or official testing center no more than 24 hours prior to the event.
Home Testing Will NOT BE Accepted.
OR as an alternative to testing
A CDC vaccination card proving an individual is fully vaccinated may be voluntarily presented at the door.
Photo ID must accompany presentation of vaccination card or test results.
Original, copies and electronic presentation of vaccination cards and test results will be accepted.
Face masks are recommended but optional at all outdoor events. Venue operators for the Film and UTC Trolley Pub Crawl will determine mask requirements.
Failure to meet any of the Festival Covid Requirements WILL NOT qualify ticket purchasers for refunds.
The above requirements may change at any time to reflect changes in public health recommendations from the CDC.
Jazz Club Member Discounts
Each active Jazz Club member is entitled to one 10% discounted ticket per event. That ticket will have to be ordered separately from any other ticket you may be purchasing.
To receive your discount, click the GREEN Tickets button near the top of this page. At the top of a new page you will see Enter Promo Code in small blue letters. Click that statement and a box will appear. Enter your four-letter Jazz Club code from your membership card and hit return. Your 10% discount will be applied. You then have to select your seat, respond to some important questions and enter your payment information.
BTW, those are the steps you have to follow whenever you are asking for your member discount for any Jazz Club/Eventbrite event.
Want to become a Jazz Club of Sarasota Member?
Refund Policy
Tickets may be refunded for any reason up to 7 days before this event begins. All festival events are rain or shine events. There will be no refunds or partial refunds less than seven days before this event begins. The only exception will be the cancellation of an event or events by the festival organizers. Refunds will be issued only for the specific event or events that are cancelled.
Date and time
Location
Nathan Benderson Park
5851 Nathan Benderson Circle
Sarasota, FL 34235
Refund policy
Refunds up to 7 days before event