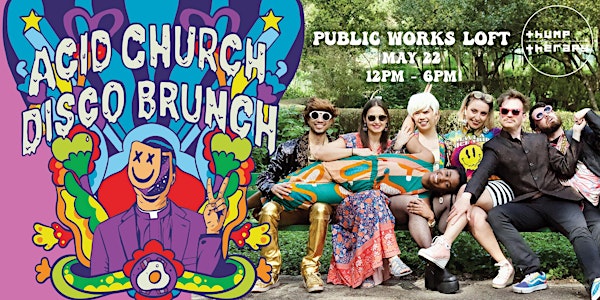 Thump Therapy presents: Acid Church Disco Brunch
Event Information
Location
Public Works Loft
161 Erie street
San Francisco, CA 94103
Thump Therapy presents: Acid Church Disco Brunch
About this event
Sunday May 22, 12pm - 6pm
Loft / 21+ / Limited Capacity
Gird your loins and prepare thine prayers. It's time for ACID CHURCH DISCO BRUNCH.
Put on your Psychedelic Sunday Best and meet us in the dance cathedral that is Public Works for the first edition of your new silly spiritual center. Don your grooviest and get a free glass of champagne when you arrive before 3pm, if our discerning door team deems your duds delightfully, acidically disco.
Decadently delectable brunch bites will be provided, from bacon skewers to breakfast sliders, fruit and berries to chicken and waffles, avocado toast and artisanal cupcakes, free while they last for revelers of particular panache.
Ascend to a new plane of existence by passing through the Gauntlet of Silly Sacraments; get on your knees and unload your guilt at the Kinky Confessional, then get Paddled for Penance before partaking in Spicy Communion. Wash it all down while upside down with the Champagne Baptism and be blessed with the mark of the Glitter Goddesses to earn your halo.
But beware… those who make it through the gauntlet may be tempted by dark forces of the seductively sinful. Will you make it out with your halo intact? Or will a horned headband of demonic delight replace your angelic adornment?
Only parishioners of Acid Church will find out.
━━━━━━━━━▲━━━━━━━━━
When you purchase tickets to this event you'll automatically be signed up for LOCAL 161, our SMS community where you'll get special invites + guestlist + other perks as a thank you for your support. You'll receive about 4 messages per month, message and data rates may apply, and you can text STOP to cancel at any time.
Date and time
Location
Public Works Loft
161 Erie street
San Francisco, CA 94103
Refund policy