Description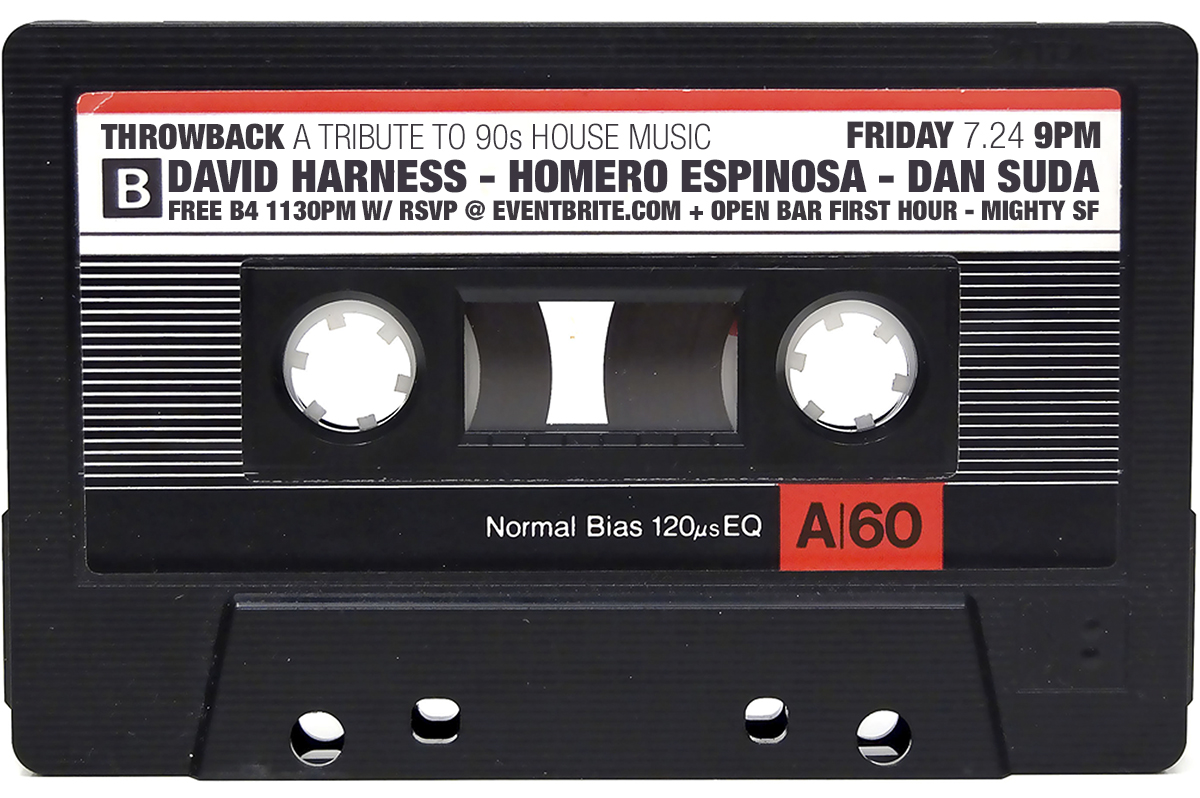 Another installment of Throwback, Mighty's tribute to 90s House music. Classics all night brought to you by Moulton Music's David Harness & Homero Espinosa, plus Dan Suda. Free entry b4 1130pm w/ RSVP @ eventbrite.com + open bar first hour. Party starts Friday, July 24th, 9pm.
HARNESS
David Harness is one of the most popular DJ/producers in the San Francisco Bay Area club scene. He has been described as 'a man who lives, breathes and emanates everything that is beautiful about deep house music and classic garage.' David is considered a 'rising star' within the dance community.' With influences varying from Barry White and the Love Unlimited Orchestra, Harold Melvin and the Blue Notes, Quincy Jones, the Jackson Five, Stevie Wonder, Parliament Funkadelic, the Isley Brothers and First Choice, among others it's easy to see why funk and soul have always been strong elements in his sound. In 1990, David began DJ'ing at the After Dark in his hometown of Monterey, California. As his popularity grew past the boundaries of Monterey, he was invited to establish a residency at Tilt and the Sound Factory in San Francisco.
ESPINOSA
Homero Espinosa began his career in the pioneering San Francisco Bay Area party scene of the early '90s as a DJ, promoter, and music enthusiast. Over the last two decades, he has cultivated his passion for music through a no-nonsense work ethic. Today, he applies his industrious temperament to everything from rocking a crowd, engineering a remix, or producing modern dance music. As a producer, his highly tuned feel for groove has earned him support with DJs like Mark Farina, DJ Heather and Miguel Migs. Farina has featured tracks by Homero on his Fabric and Ministry of Sound DJ mixes, while Migs recently signed a new EP to his Salted label.
SUDA

Raised in Santa Cruz, Dan Suda's career kicked off in 1999 when he hooked up with the legendary Tribal Funk crew. Now living in San Francisco, Dan's profile has continued to grow through gigs at local venues including The EndUp, Temple, Vessel, Pink, and Mighty. Behind the decks, he is well known for his unique blend of styles ranging all the way from deep, soulful house to techno.
In 2008, Dan hooked up with David Harness to help throw Super Soul Sundayz, where he has worked and graced the decks with the likes of Louie Vega, Quentin Harris, Dj Spen, Miguel Migs, Patrick Wilson and JoJo Florres. Always one to keep his ear to the underground, Dan's had his hands in a variety of SF warehouse parties and club series over the years, including his current flagship event, Elements.