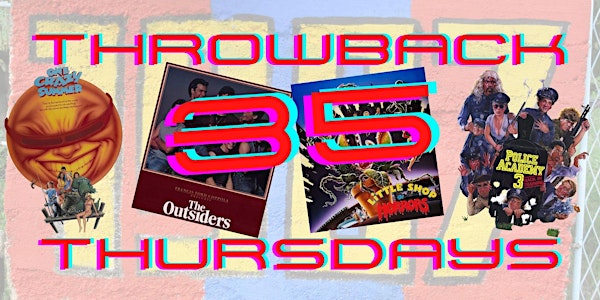 Throwback 35 Thursdays - Classic Movies at the Historic Select Theater
Location
The Historic Select Theater 114 North Johnson Street, Mineola, Texas 75773
114 North Johnson Street
Mineola, TX 75773
Refund policy
Contact the organizer to request a refund.
Eventbrite's fee is nonrefundable.
We're showing movies that were hits 35 years ago every Thursday in August! "One Crazy Summer", "The Outsiders", "Police Academy 3", & more!
About this event
We're showing movies that were hits 35 (or a smidgen more) years ago every Thursday in August! It's a flash back to the 1980's! We're throwing back time to bring back some beloved films that deserve to be introduced to a new generation!
August 4th - "One Crazy Summer" - 4PM - Romantic Comedy. After graduating from high school, art school hopeful Hoops McCann (John Cusack) struggles to complete his application to the Rhode Island School of Design. Resigning himself to a summer of boredom, McCann agrees to go along with his best friend, George Calamari (Joel Murray), on a family trip to Nantucket, Mass. But, after McCann and Calamari meet rocker-in-distress Cassandra (Demi Moore), it suddenly looks like it's going to be "one crazy summer."
August 11th - "The Outsiders" - 7PM - American coming-of-age drama film directed by Francis Ford Coppola. The film is an adaptation of the 1967 novel of the same name by S. E. Hinton. The film is noted for its cast of up-and-coming stars, including C. Thomas Howell (who garnered a Young Artist Award), Rob Lowe, Emilio Estevez, Matt Dillon, Tom Cruise, Patrick Swayze, Ralph Macchio, and Diane Lane. The film helped spark the Brat Pack genre of the 1980s. Dillon went on to star in two more films based on Hinton novels.
August 18th - "Police Academy 3: Back in Training" - 7:30PM - Comedy. When the governor announces the state can't afford to keep both of its police academies open, Commandant Lassard (George Gaynes) and Commandant Mauser (Art Metrano) are pitted against one another. Lassard asks some of his old cadets, including Sgt. Mahoney (Steve Guttenberg), to train the new recruits, who include high-strung Sweetchuck (Tim Kazurinsky) and loudmouthed Zed (Bobcat Goldthwait). As evaluation day approaches, each side tries to sabotage the other.
August 25th - "Little Shop of Horrors" -7:30PM - Musical Comedy. Meek flower shop assistant Seymour (Rick Moranis) pines for co-worker Audrey (Ellen Greene). During a total eclipse, he discovers an unusual plant he names Audrey II, which feeds only on human flesh and blood. The growing plant attracts a great deal of business for the previously struggling store. After Seymour feeds Audrey's boyfriend, Orin (Steve Martin), to the plant after Orin's accidental death, he must come up with more bodies for the increasingly bloodthirsty plant.